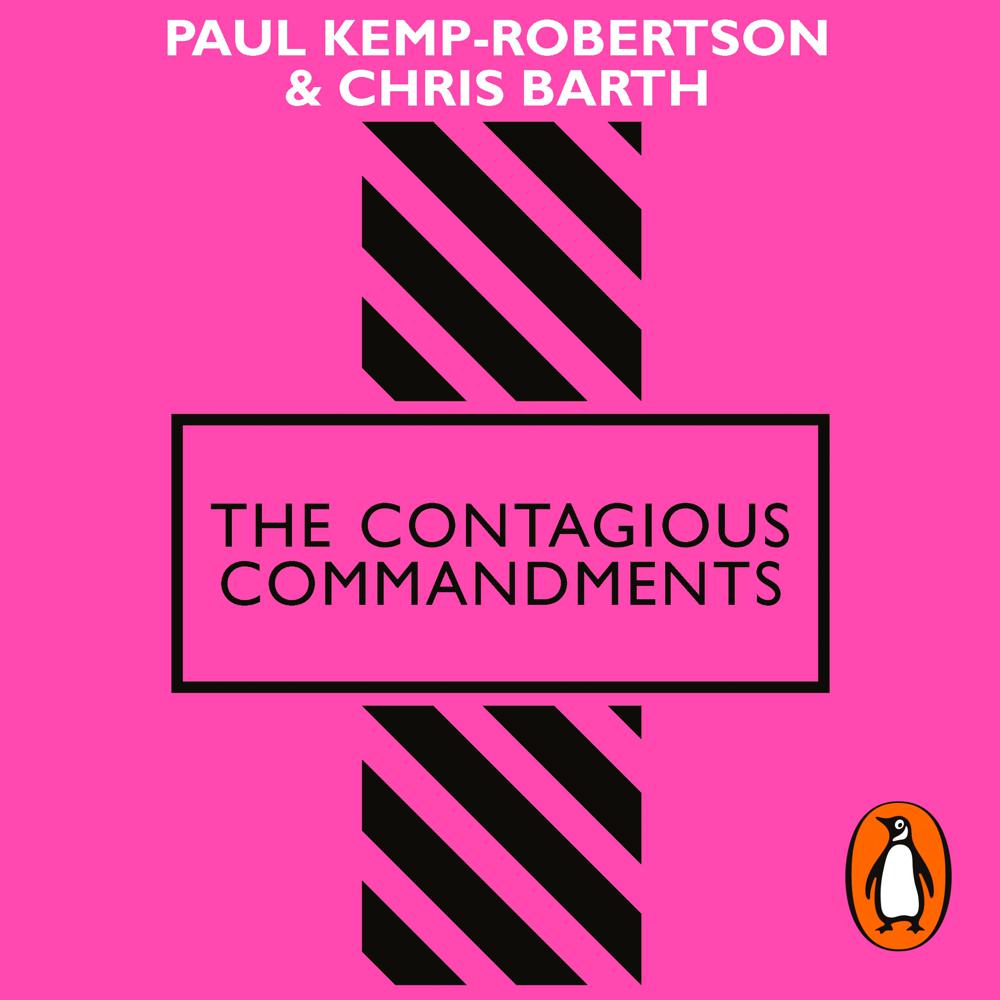 Narrated By: Paul Kemp-Robertson, Chris Barth
Duration: 8 hours and 56 minutes
What to expect
Penguin presents the audio edition of The Contagious Commandments written and read by Paul Kemp-Robertson and Chris Barth.
Contagion may alarm doctors but marketers thrive on it. Some concepts are so compelling you have to share them. But what makes an idea so infectious you can't keep it to yourself? And how can brands produce these kinds of ideas intentionally rather than by chance?
Contagious, the globally renowned intelligence resource for the marketing industry, is dedicated to identifying and interrogating the world's most exceptional creative trends. And in The Contagious Commandments, Paul Kemp-Robertson and Chris Barth condense this valuable research into ten strategic takeaways for your own marketing revolution.
Taking inspiration from disruptive campaigns from the likes of Patagonia, Nike, Safaricom, BrewDog, LEGO, Kenco, and dozens more, The Contagious Commandments explores how companies fuse creativity, technology and behavioural psychology to achieve truly original marketing ideas that have a positive impact on society and profits - and how your brand can too.
Genre
Business strategy, Business innovation, Office & workplace, Sales & marketing management, Public relations, Brands & branding
Listen to a sample
A must read for the modern marketer
In this world of ever louder and more irrelevant marketing crap, The Contagious Commandments is a clear, practical and compelling guide to creating brilliant campaigns that really stand out and get people to engage. This is one bug you have to catch
If you work in marketing, or if you're simply fascinated by the effect creative ideas can have, this book is a must-read. Full of the most compelling and disruptive ideas, it offers a practical framework to ignite exceptional ideas
Few have had their finger on the pulse of marketing in this brave new landscape quite like Paul Kemp-Robertson and the team at Contagious
Contagious has an encyclopaedic knowledge of what cutting edge creative is. Of the digital world and technologies that are fuelling creativity. He is also one of the best minds and nicest people in our industry. What a treat to have access to all that in this wonderful book
Contagious are world-class in their ability to create communications that capture the imagination of your consumers and in this invaluable book, they teach you how
A brilliant riposte to those who believe that all modern advertising is soulless, mechanical and computerised
Enthusiasm can be infectious. In a world which questions the relevance of advertising, here is the bible for brands built in a more modern age. This fantastic book details the most enthusiastic communications campaigns; ones where consumers, fans and punters jump for joy and share with glee. Don't leave home (for work) without it.
A wonderful journey across the ages, from branded prostitute's sandals in ancient Greece, to instagrammable Ice Cream museums, The Contagious Commandments is romp through the very best ideas that have simultaneously created excitement for punters, and growth for the businesses that backed them - an indispensable read.
This is the top of the list of any branding book I've read in the past 10 years. It's specific, prescriptive, actionable, and above all, opinionated in all the right ways. Simply love these commandments!