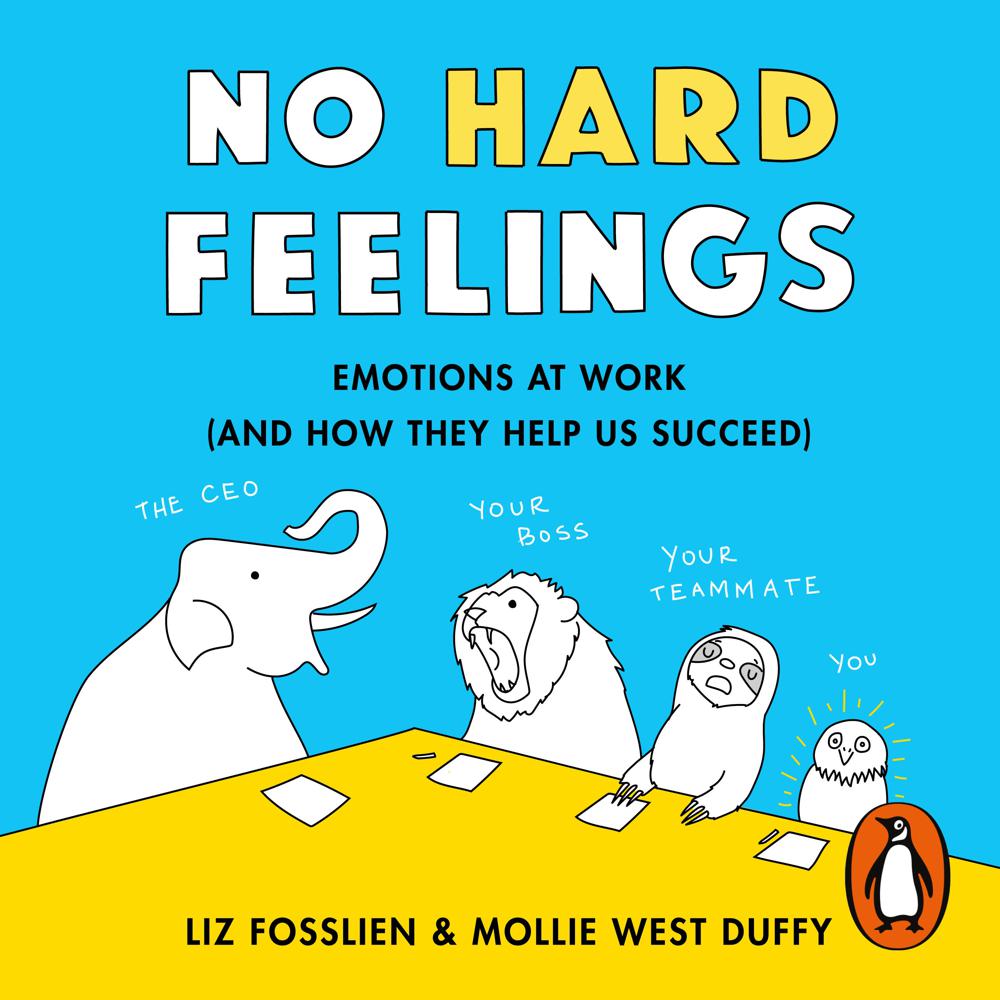 Narrated By: Mollie West Duffy, Liz Fosslien
Duration: 4 hours and 47 minutes
What to expect
Penguin presents the audiobook edition of No Hard Feelings written and read by Liz Fosslien and Mollie West Duffy.

'Full of lively illustrations and practical examples to show how you can harness emotions to become more creative, collaborative and productive' Adam Grant, author of Originals

'A must-read' Susan Cain, author of Quiet

How do you stop the office grouch ruining your day?
How do you enjoy a holiday without obsessing over your inbox?
Should you accept your colleague's request to follow you on Instagram?

The modern workplace can be an emotional minefield, filled with confusing power structures and unwritten rules. We're expected to be authentic but not too authentic. Professional but not stiff. Friendly but not an oversharer.

As organizational consultants and regular people, we know what it's like to experience uncomfortable emotions at work - everything from mild jealousy and insecurity to panic and rage. Ignoring or suppressing what you feel hurts your health and productivity but so does letting your emotions run wild.

In this book we'll help you figure out which emotions to toss, which to keep to yourself, and which to express in order to be both happier and more effective. We'll share the latest research and helpful tips, and reveal the surprising reason why you'll actually be more healthier and focused if you're less passionate about your job.

Drawing on what we've learned from behavioural economics, psychology and our own experiences at countless organizations, we'll show you how to bring your best self (and your whole self) to work every day.
Genre
Office and workplace, Psychology: emotions, Advice on careers and achieving success, Social, group or collective psychology, Occupational and industrial psychology, Popular psychology, Communication studies, Self-help, personal development and practical advice
Listen to a sample
Fortune.com's Top 10 Business Book of 2019
Liz Fosslien and Mollie West Duffy address the elephant in the room, dissecting the ways that emotions at the office impact our ability to lead and thrive at every level of our professional careers. With compassion, research and clever comics (did I mention the elephants?) No Hard Feelings makes a real attempt at digging deeper than introvert memes to address the reality of workplace emotions we all live with
Excellent advice!
Warm, witty and wise, No Hard Feelings is the missing manual for reconciling emotions with professionalism - intelligently
If you've ever thought it's best to check your emotions at the office door, this book will change your mind. It's full of lively illustrations and practical examples to show how you can harness emotions to become more creative, collaborative and productive
A Next Big Idea Club Selection
Don't send another email, attempt a serious conversation at work, or try to follow your intuition until you read this book. Your emotional intelligence at work is about to skyrocket. Equally valuable for the person who cries covertly in bathroom stalls and the kind who buries their emotions 20,000 leagues under the sea
A useful guide on how to be less stressed, more productive, and simply happier on the job. And who among us wouldn't want that?
No Hard Feelings dispels the myth that there's no place for emotions at work. You can't communicate clearly unless you're aware of your own emotions and the emotions you're sparking in others. You can't build productive relationships at work if you're showing up like a robot. This book will help you build the emotional discipline you need to succeed
A must-read that topples the idea that emotions don't belong in the workplace, No Hard Feelings offers a path towards a future I want to work in: an emotionally expressive, yet respectful (and high performing!) workplace
No Hard Feelings is both a charming, sparkling read and a clear-eyed roadmap to harnessing the things that make us most human into tools that will make you more productive, effective and happier at work. A must-read for every leader and every aspiring leader