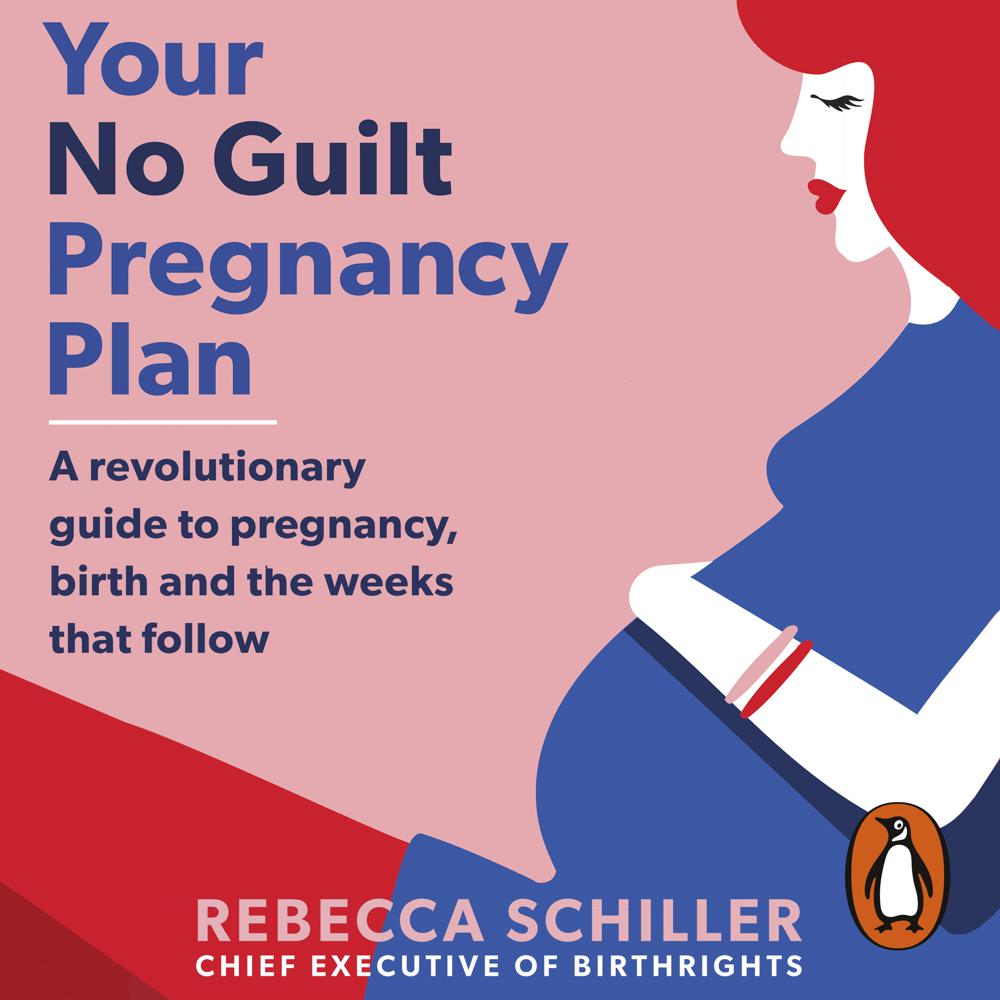 Narrated By: Rebecca Schiller
Duration: 9 hours and 9 minutes
What to expect
Penguin presents the audio edition of Your No Guilt Pregnancy Plan written and read by Rebecca Schiller.

Your No Guilt Pregnancy Plan is a revolutionary new guide to pregnancy and childbirth that puts the power firmly in your hands. It won't tell you what fruit your baby resembles week-by-week, but it will cover the huge shifts happening in your relationships, body, work and emotional life right now, giving you practical tools, tips and real stories to help you make a plan that is uniquely yours yet flexible enough to accommodate whatever your pregnancy, birth and life throw at you.

With so many decisions to make and so much conflicting advice from the internet, friends, healthcare professionals and in-laws, it's easy to feel overwhelmed during pregnancy. Throughout her career as CEO of Birthrights, the charity that promotes women's rights in childbirth, parenting journalist, and one of the UK's best known doulas, Rebecca Schiller has supported countless women through pregnancy, helping them to find the solutions that are right for them and their families. And she has discovered that whilst a stress-free pregnancy might not always be possible, a guilt-free one certainly is.

Packed full of unbiased information, helpful illustrations and a firm focus on your mental health and wellbeing, this is the definitive no-judgement companion to your pregnancy and birth, laying out all your options at every stage - from conception, to maternity leave and coping with labour, right through to your first weeks at home with your newborn. Full of Rebecca's characteristic warmth, reassurance and expertise, this book covers the topics that really matter in your life, equipping you with the knowledge and confidence to be your own expert, take care of yourself, know when to ask for help and have your baby your way.

'I wish there'd been a book like this when I was pregnant. It almost makes me want to have another child. Almost' Bryony Gordon

'The book has everything a pregnant woman needs ... I'm sure this will be the go-to book for women in years to come' - Helen Thorn host of the Scummy Mummies podcast

'Rebecca is a living, breathing Wonder Woman heroine. In a sea of complicated, important and sometimes angry debate around childbirth, she is a mast to hold onto.' - Cherry Healey, presenter and author of Letters to My Fanny
Genre
Pregnancy, birth and baby care: advice and issues, Child care and upbringing: advice for parents, Women's health, Birthing methods, Self-help, personal development and practical advice
Listen to a sample
This book is wonderful - beautifully written, warm and full of compassion and wisdom. I can't think of a panicky question I had thought of through either of my pregnancies (and I thought of them at a rate of five per second) that wouldn't have been answered by this book. I wish I had had it, in fact. A very empowering guide to becoming a mother. I loved it.
I picked up this up for a quick flick-through, 45 minutes later I was still deeply engrossed. Such an intelligent, informative and well-rounded guide to having a baby. It covers both the physical process, but also the impact it has on your sense of self. Love it!
It used to be that women could rely on a village to support them through the crazy rollercoaster that is pregnancy, birth and early parenthood. These days, what we invariably get is confusing and conflicting 'advice', endless judgment and crashing guilt. Enter the wonderful Rebecca Schiller, who counters this with wisdom, wit, genuine expertise - and absolutely zero judgement. She is a true sister for our times.
I wish there'd been a book like this when I was pregnant. It almost makes me want to have another child. Almost
Rebecca is a living, breathing Wonder Woman heroine. In a sea of complicated, important and sometimes angry debate around childbirth, she is a mast to hold onto. I think she is wonderfully balanced, informed, highly respectful and compassionate
I've spent most of my life as a midwife serving childbearing women and their families, and for the majority of that time, have striven to be open, to be alongside, and to create a unique space for each woman to be herself. Turning each page Your No Guilt Pregnancy Plan made my heart leap with joy, as I felt Schiller was trying to do the same. This book provides an expectant mother (or reader) with unbiased, not prescriptive, non-judgemental suggestions when negotiating pregnancy, labour and birth, and the first few weeks of motherhood. The content is easy to read, simple to navigate, with reminders and reference to useful sections. What's more, there is a dedicated website with more references and further reading - an excellent idea to keep content current and topical. Schiller is clear, the book isn't a prescriptive manual, but a resource that aims to support decision making, and to be a 'doula in your pocket' I think this book is THE one for 2018 and beyond, and I'll definitely be recommending to all
In Your No Guilt Pregnancy Plan Rebecca presents information, tips and suggestions about pregnancy, childbirth and the early days of motherhood in an accessible and honest way. Her approach is that every woman is unique and knows her own physical and emotional make up better than anyone else. She therefore avoids taking an ideological position on any issue and never uses words like must, allowed and can't. Instead women are supported to think through what they want and, even when life does not go to plan, to take control for themselves. This rights based approach is refreshing and hugely helpful for women. I loved and highly recommend this book
This is such an important book. I am going to be prescribing it on the NHS to every pregnant woman I meet.
When I gave birth I had Rebecca Schiller by my side, literally. Now every other pregnant woman can have her book. Real talk from real people about the glorious imperfection of it all
What a reassuring, informative and powerful tool for women! The book has everything a pregnant woman needs and is the perfect combination of facts and figures and personal stories and accounts of birth. I'm sure this will be the go-to book for women for many years to come
How very wonderful - there are so few books that present all the information about pregnancy and the following weeks without advising on how it 'should' be done. Rebecca goes out of her way to cover all the options but also shows real empathy for women going through these phases. As someone that has just done it for the third time, the changes are still massive, some bits are brutal, and having a kind voice guide you without judgement is just what any pre- and post-natal woman needs
Your No-Guilt Pregnancy Plan is destined to become THE BOOK you pass down to your sister with a little nod: as well as all the helpful stuff about babies, it's brilliant on prioritising your own mental health