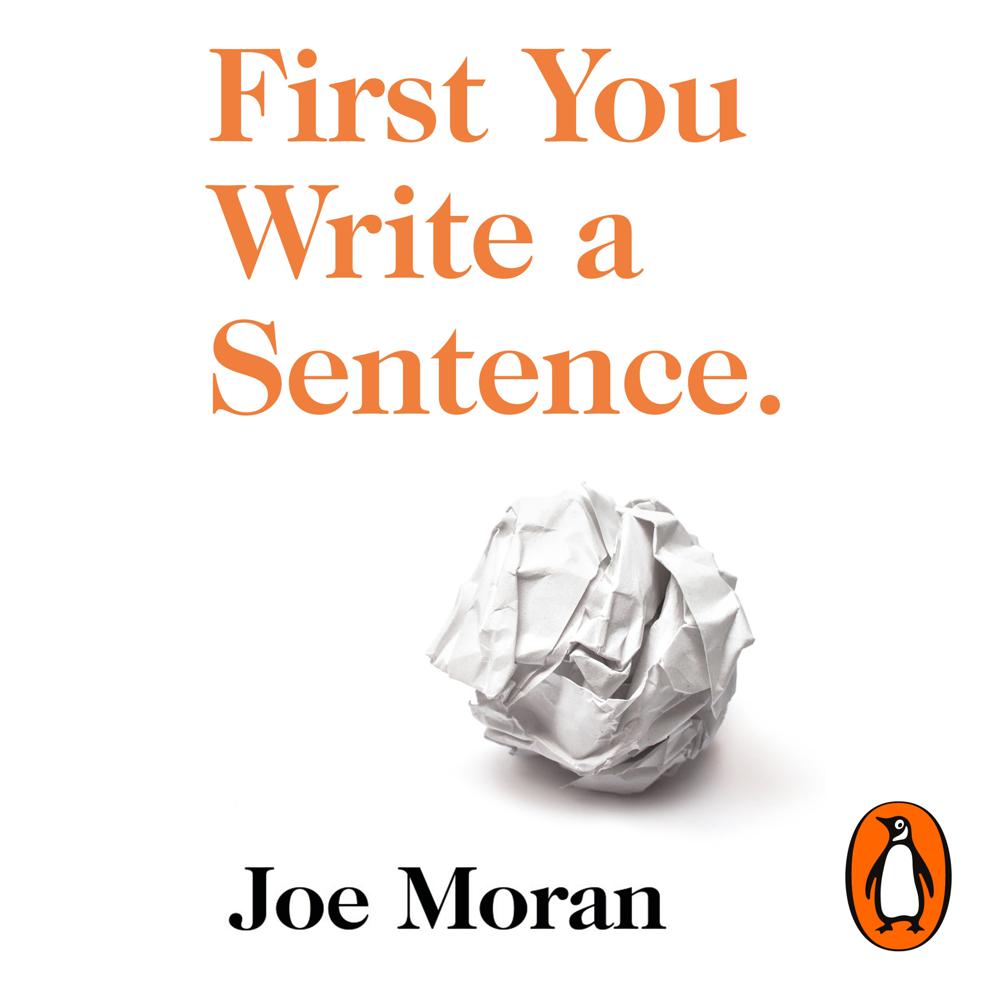 Narrated By: Roy McMillan
Duration: 8 hours and 14 minutes
What to expect
Penguin presents the audiobook edition if First You Write a Sentence by Joe Moran, read by Roy McMillan.

The sentence is the common ground where every writer walks. A poet writes in sentences, but so does the unsung author who came up with Items trapped in doors cause delays. A good sentence can be written (and read) by anyone if we simply give it the gift of our time, and it is as close as most of us will get to making something truly beautiful.

Enter acclaimed author Professor Joe Moran. Using minimal technical terms, First You Write a Sentence is his unpedantic but authoritative explanation of how the most ordinary words can be turned into verbal constellations of extraordinary grace. Using sources ranging from the Bible and Shakespeare to George Orwell and Maggie Nelson, and scientific studies of what can best fire the reader's mind, he shows how we can all write in a way that is clear, compelling and alive.

Whether dealing with finding the ideal word, building a sentence or constructing a paragraph, First You Write a Sentence informs by light example: much richer than a style guide, it can be read not just for instruction but for pleasure and delight. And along the way it shows how good writing can help us notice the world, make ourselves known to others and live more meaningful lives. It's an elegant gem in praise of the English sentence.

A style guide by stealth - how anyone can write well (and can enjoy good writing)

'Moran is a past master at producing fine, accessible non-fiction.' - Helen Davies, Sunday Times

'Joe Moran has a genius for turning the prosaic poetic' - Peter Hennessy
Genre
Creative writing & creative writing guides, Writing & editing guides, Semantics, discourse analysis, stylistics, Grammar, syntax & morphology
Listen to a sample
Moran is a wonderful, witty writer, and here he surpasses himself
Joe Moran is a wonderfully sharp writer, calm, precise and quietly comical . . . Moran's own sentences are perfect advertisements for the aims they espouse
Humane and witty . . . as a primer in generous and lively writing, First You Write a Sentence is blithe and convincing
Thoughtful, engaging, and lively exposé of the quirks and beauties of the full sentence . . . It's a style guide by stealth: when you've read it, you realise you've changed your attitude to writing (and reading).
Moran has fast become Britain's foremost explorer and explainer of the disregarded
Moran's genius is to show us what was right in front of us all along
Thoughtful reflections on how to write well
Whether you're composing an ad for a shop or embarking on your first literary masterpiece, it is indispensable. As an inspiration to savour every encounter, to train your lazy brain to be alert to a beautifully devised phrase, a poetic alleviation, a mood-changing bon mot, it is even more rewarding
Moran is a past master at producing fine, accessible non-fiction. His trick is to take what might be considered a perfectly ordinary behaviour ... and uncover fact after fascinating fact
Joe Moran is the most perceptive and original observer of British life that we have
Joe Moran has a genius for turning the prosaic poetic
Exquisite...Moran's own sentences are so deliciously epigrammatic that I considered giving up chocolate in favour of re-reading his book...He is more mentor than instructor
Compelling . . . There's plenty in Moran's book to delight grammar and language nerds
What a lovely thing this is: a book that delights in the sheer textural joy of good sentences. Joe Moran has written a book about writing that is itself a collection of sentences to inspire, divert and console. Any aspiring writer should read it, if only to be reminded how crazily hard it is to write words 'in such a way that they can be deciphered in your absence'
Joe Moran is a wonderfully gifted social historian...he has the poet's ability to find the remarkable in the commonplace
Moran is a past master at producing fine, accessible non-fiction.