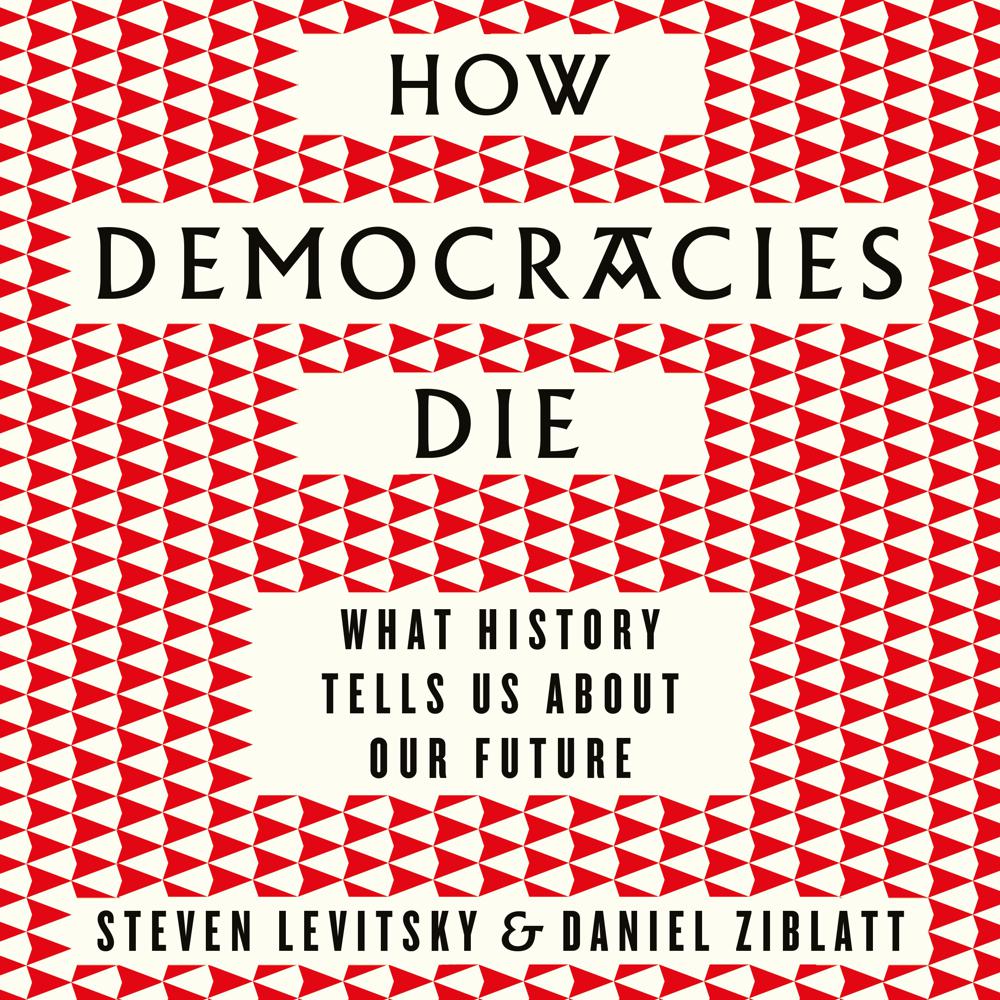 Narrated By: Fred Sanders
Duration: 8 hours and 25 minutes
What to expect
Penguin presents the audiobook edition of How Democracies Die by Steven Levitsky and Daniel Ziblatt, read by Fred Sanders.

Two Harvard professors explain the dangerous world we face today

Democracies can die with a coup d'état - or they can die slowly. This happens most deceptively when in piecemeal fashion, with the election of an authoritarian leader, the abuse of governmental power and the complete repression of opposition. All three steps are being taken around the world - not least with the election of Donald Trump - and we must all understand how we can stop them.

In How Democracies Die, Harvard professors Steven Levitsky and Daniel Ziblatt draw insightful lessons from across history - from the rule of General Augusto Pinochet in Chile to the quiet undermining of Turkey's constitutional system by President Recip Erdogan - to shine a light on regime breakdown across the twentieth and twenty-first centuries. Notably they point to the dangers of an authoritarian leader faced with a major crisis.

Based on years of research, they present a deep understanding of how and why democracies die; an alarming analysis of how democracy is being subverted today in the US and beyond; and a guide for maintaining and repairing a threatened democracy, for governments, political parties and individuals.

History doesn't repeat itself. But we can protect our democracy by learning its lessons, before it's too late.
Genre
Political structures: democracy, Comparative politics, Narrative theme: Politics, Geopolitics, Religion & politics
Listen to a sample
How Democracies Die by Steven Levitsky and Daniel Ziblatt is a useful primer on the importance of norms, institutional restraints and civic participation in maintaining a democracy - and how quickly those things can erode when we're not paying attention
[An] important new book.
The political-science text in vogue this winter is How Democracies Die.
The greatest of the many merits of Steven Levitsky and Daniel Ziblatt's contribution to what will doubtless be the ballooning discipline of democracy death studies is their rejection of western exceptionalism. They tell inspiring stories I had not heard before...excellent, scholarly and readable, alarming and level-headed.
The most thought-provoking book comparing democratic crises in different nations
There are two must-read books about the Trump presidency at the moment. This is the one you probably haven't heard of. It is also the one that is most useful to British readers. Steven Levitsky and Daniel Ziblatt are anti-Donald Trump politics professors at Harvard. And the big advantage of political scientists over even the shrewdest and luckiest of eavesdropping journalists is that they have the training to give us a bigger picture.
They set out some rules about the slow, internal collapse of democracies, which are entirely relevant to Britain...
Levitsky and Ziblatt show how democracies have collapsed elsewhere-not just through violent coups, but more commonly (and insidiously) through a gradual slide into authoritarianism.... How Democracies Die is a lucid and essential guide to what can happen here.
We owe the authors a debt of thanks for bringing their deep understanding to bear on the central political issue of the day.
With great energy and integrity [Levitsky and Ziblatt] apply their expertise to the current problems of the United States.
Anyone who is concerned about the future of democracy should read this brisk, accessible book. Anyone who is not concerned should definitely read it.
The most important book of the Trump era was not Bob Woodward's Fear or Michael Wolff's Fire and Fury or any of the other bestselling exposés of the White House circus. Arguably it was a wonkish tome by two Harvard political scientists, Steven Levitsky and Daniel Ziblatt, published a year into Donald Trump's presidency and entitled How Democracies Die
Grander, more didactic ambitions underpin "How Democracies Die" ... a more scholarly approach
What's the worst thing to happen to US democracy recently? Most answers to that question start and end with Donald Trump. Steven Levitsky and Daniel Ziblatt, though as horrified by Trump as anyone, try to take a wider view. This book looks to history to provide a guide for defending democratic norms when they are under threat, and finds that it is possible to fight back. Provocative and readable.
We're already awash in public indignation-what we desperately need is a sober, dispassionate look at the current state of affairs. Steven Levitsky and Daniel Ziblatt, two of the most respected scholars in the field of democracy studies, offer just that.