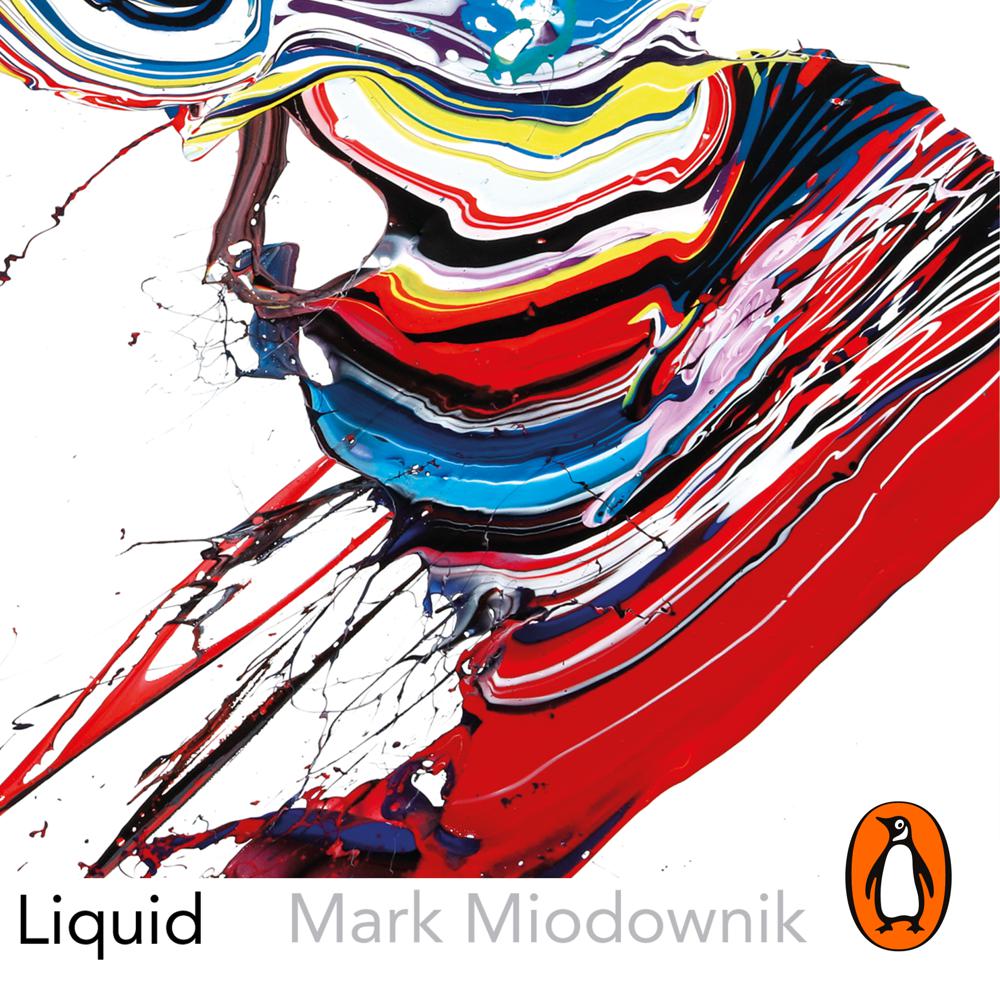 Narrated By: Daniel Weyman
Duration: 6 hours and 50 minutes
What to expect
Penguin presents the audiobook edition of Liquid by Mark Miodownik.

A series of glasses of transparent liquids is in front of you: but which will quench your thirst and which will kill you? And why? Why does one liquid make us drunk, and another power a jumbo jet?

Sometimes dangerous, often delightful, and always fascinating, discover the secret lives of liquids, from one of our best-known scientists.

From the bestselling author of Stuff Matters comes a fascinating tour of the world of these surprising or sinister substances - the droplets, heartbeats and ocean waves we encounter day-to-day. Structured around a plane journey which sees encounters with water, wine, and oil, among others, Miodownik shows that liquids are agents of death and destruction as well as substances of wonder and fascination. Just as in Stuff Matters his unique brand of scientific storytelling brings them and their mysterious properties alive in a captivating new way, revealing why liquids flow up a tree but down a hill, why oil is sticky, how waves can travel so far, why things dry, how liquids can be crystals, the future of liquid self-healing roads, and how to make the perfect cup of tea.

In Liquid Miodownik unlocks the mysterious properties of the slippery, dark, explosive, delicious, and poisonous liquids that Airport Security are rightly worried about and that we have come to rely on.
Genre
Popular science, Materials science, History of science, Food chemistry, Polymer chemistry, Industrial chemistry & manufacturing technologies
Listen to a sample
Miodownik yet again makes the seemingly mundane awe-inspiring. I'll never look at a ballpoint pen the same way again
Miodownik's appeal comes not only from his ability to explain the complexities of science and engineering but also from his acute social observations . . . original and entertaining
Mark Miodownik flies high again in Liquid. It's a treat to see the world through his eyes as he flows from topic to topic, and under his gaze even the most mundane things-ballpoint pens, ketchup bottles, a cup of tea-sizzle with significance
Miodownik packs this delightful book with so much 'well, I never knew that' information. Not only does he know his stuff but, just as importantly, he knows how to tell a good story. A truly delightful read
Once again, Miodownik has written a book much like the substances it describes: exciting, anarchic and surprising. Like the sea, it covers a lot of ground. And like a perfectly made cup of tea, it is warm, comforting and very refreshing
Miodownik is a materials scientist, but really he is an alchemist; he transforms knowledge of everyday stuff into literary gold. His book on liquids oozes brilliance on every page
This book delivers exactly what it promises . . . It's a treat. I lost count of the number of "but why?" questions it answers . . . This is a winning and hugely readable book
A brilliantly navigated journey through the scientific marvels of the fluid world, from coffee to kerosene, from tea to tar, from honey to hydrophobia, from peanut butter to perfluorocarbons. A thrilling read, from start to finish
Miodownik uses a routine transatlantic flight from London to San Francisco - and the liquids that he encounters on the way - as a vehicle for a sparkling exposition of materials in science and engineering. His lively analysis takes in kerosene fuel, wines from the drinks trolley, glues holding the aircraft together, the entertainment system's liquid crystal display, clouds outside the cabin, and much more besides.)
It's a little known fact that liquids are the coolest state of matter. And if anyone can spread that message all around him, it's Mark Miodownik. From ink to saliva, coffee to soap, this is an exhilarating, eye-opening ride.