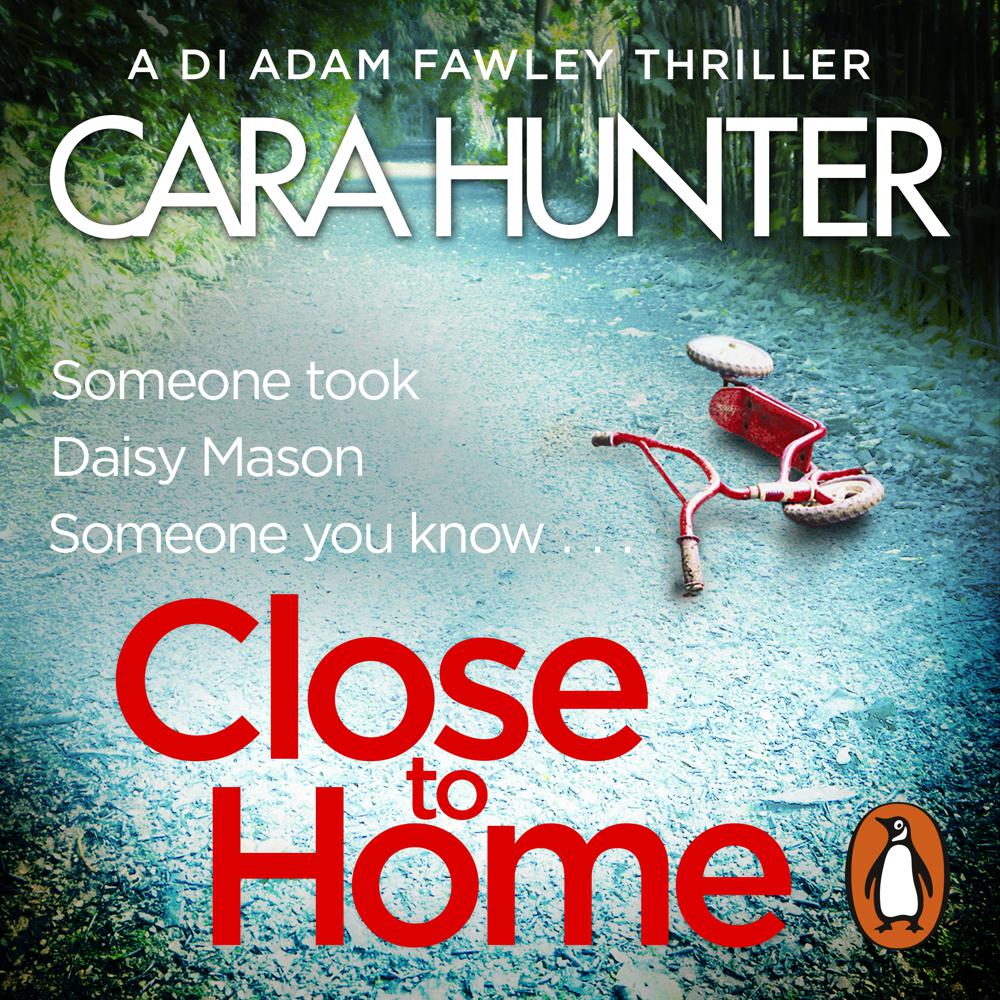 Narrated By: Lee Ingleby, Emma Cunniffe
Duration: 9 hours and 35 minutes
What to expect
Penguin presents the audiobook edition of Close to Home by Cara Hunter, read by Emma Cunniffe and Lee Ingleby. Featuring 37 cameo voices including Cara Hunter.

HOW CAN A CHILD VANISH WITHOUT A TRACE?

Last night, 8-year-old Daisy Mason disappeared from a summer party at her home. No one at the party noticed her leave. Even her parents aren't sure of the last time they saw her.

DI Adam Fawley is trying to keep an open mind. But he knows that in nine cases out of ten, it's someone close to the victim.

When a pair of bloody tights is discovered, Fawley's worst suspicions are concerned.

Someone knows where Daisy is.
And her time is running out.

Introducing DI Fawley and his team of Oxford detectives, CLOSE TO HOME is the new crime series readers and authors are raving about.

'A MAZEY, GRIPPING READ' Ian Rankin

'One of the best crime thrillers I have ever read' Kathryn Croft

'The last twist was a genuine stroke of genius' John Marrs
Genre
Crime & mystery: police procedural, Crime & mystery: hard-boiled crime, noir fiction, Thriller / suspense fiction, Crime & mystery: women sleuths
Listen to a sample
A thrilling opener to a hugely promising new series, with a cop who sidesteps all of those weary 'maverick' tropes while staying kind, compassionate, clever and just that bit out of the ordinary
'a gripping page turner'
Close to Home had me so gripped I couldn't put this chilling book down. Cara Hunter is a masterful storyteller
I finished Close to Home in one sitting! Such a cleverly written, chilling and twisty read
Cara Hunter's writing....lifts this from a run-of-the-mill crime thriller to a gripping page-turner. The result is an immersive experience, with many twists and turns. Compulsivereading
THE HOTTEST NEW CRIME SERIES OF 2018

From a ferocious new talent, this pulse-pounding race against time to find a missing girl will be loved by fans of Susie Steiner, Tana French and Ruth Rendell.
Close To Home hit the ground running and didn't stop right until the final page...the last twist was a genuine stroke of genius... sets the bar for new crime writers
Close to Home is an utterly immersive story that pulls you into the heart of a search for a missing child. Compulsive, with an ending you will not see coming
One of the best crime thrillers I have ever read!
Hunter has a keen sense of contemporary mores...The most compelling thing about the novel is its portrait of a self-absorbed mother whose inability to love her children leads to a breathtaking denouement.
'In this gripping mystery, Hunter keeps her readers guessing about Daisy's fate until the last page.'
A mazey, gripping read
Cara Hunter has written like a pro, with admirable command of pace and rising tension