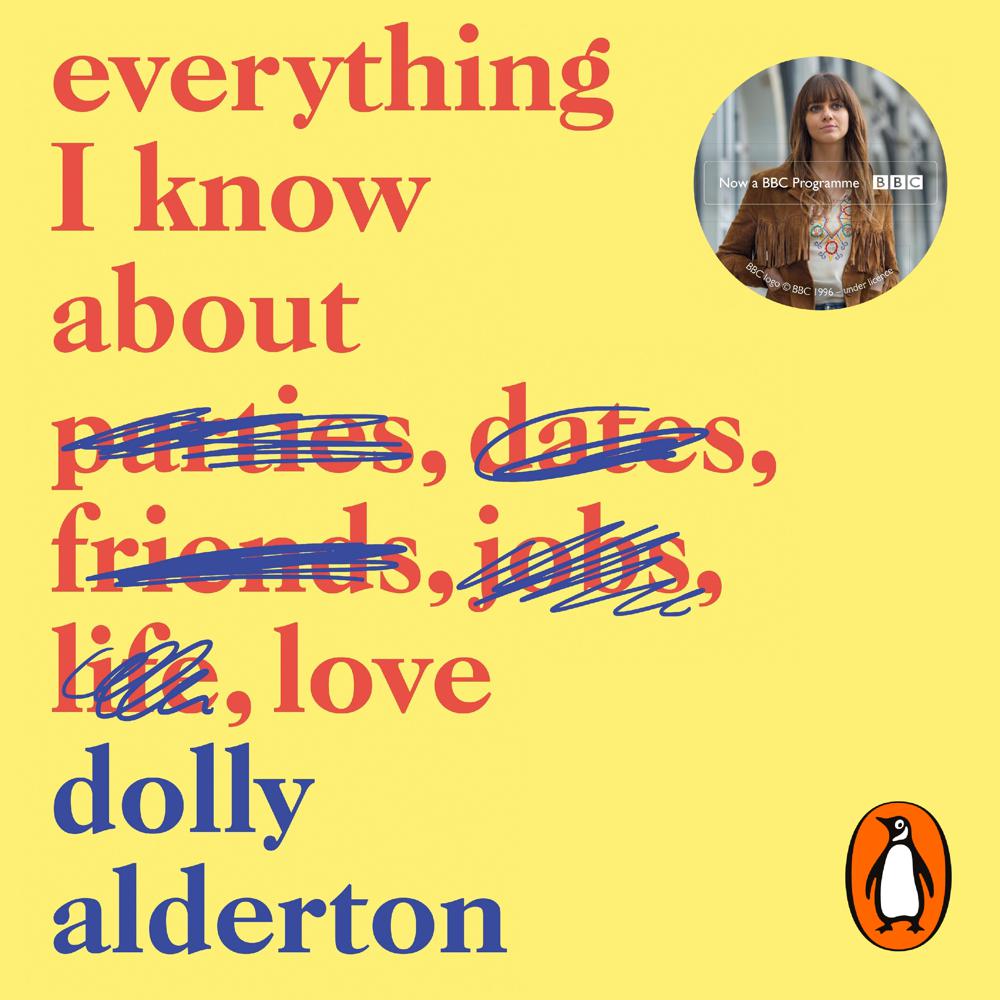 Narrated By: Dolly Alderton
Duration: 8 hours and 34 minutes
What to expect
Brought to you by Penguin.

*Narrated by Dolly Alderton*

THE SUNDAY TIMES BESTSELLER WITH A NEW CHAPTER ON TURNING THIRTY
*Winner of Autobiography of the Year at the National Book Awards 2018*
*A Waterstones Paperback of the Year 2019*
*A Sunday Times paperback of the year 2019*
*Selected for Stylist's The Decade's 15 Best Books by Remarkable Women*

Award-winning journalist Dolly Alderton survived her twenties (just about) and in Everything I Know About Love, she gives an unflinching account of the bad dates and squalid flat-shares, the heartaches and humiliations, and most importantly, the unbreakable female friendships that helped her to hold it all together. Glittering with wit, heart and humour, this is an audiobook to press into the hands of every woman who has ever been there or is about to find themselves taking that first step towards the rest of their lives.
'There is no writer quite like Dolly Alderton working today and very soon the world will know it' Lisa Taddeo, author Three Women

'The book we will thrust into our friends' hands. Alderton feels like a best friend and your older sister all rolled into one and her pages wrap around you like a warm hug' Evening Standard

'Alderton is Nora Ephron for the millennial generation' Elizabeth Day

© Dolly Alderton 2018 (P) Penguin Audio 2018
Genre
Memoirs, Diaries, letters & journals, Humour, Feminism & feminist theory, Family & relationships: advice & issues
Listen to a sample
Very, very, very funny. Don't hate me when I tell you that Everything I Know About Love is Sex And The City for millennials, because I mean it as high praise
A sensitive and funny account of growing up millennial.
I thought I knew a lot about love. Not as much as Dolly. Read as soon as possible.
Witty and warm, this is ostensibly a memoir about romantic love - and it is filled with plenty of stories about great and terrible men. But the most touching parts were on friendship, and how powerful and comforting the love of a good friend is
Witty and insightful
Hilarious and moving. Alderton is Nora Ephron for the millennial generation
Will have you hooked and nodding from the first page. Hilarious and moving
Poignant, witty, comic, and self-deprecating. A laugh-out-loud, lightning quick journey through the years that will resonate with anyone who's ever been young and in love.
Sure to leave you smiling
Exquisite, hilarious, I loved every page. I was dazzled by her warmth and wisdom: Dolly has written an extraordinary book that all women will be able to relate to
Alderton is an old soul - she has learned life lessons while not yet out of her twenties that many of us post-menopausal matrons are still struggling with. A wonderful writer, who will surely inspire a generation the way that Caitlin Moran did before her.
Mesmerising, brilliant
Weaving first-person stories and lists with email parodies and recipes, it's Nora Ephron for the Tinder generation
With courageous honesty, Alderton documents the highs and the lows - the sex, the drugs, the nightmare landlords, the heartaches and the humiliations. Deeply funny, sometimes shocking, and admirably open-hearted and optimistic
If Nora Ephron is the cool aunt you wish you'd had, Dolly Alderton is your favourite cousin. I loved it and I can't imagine anyone who wouldn't; it's a genuine delight
I loved it so much, I wanted it to go on forever, Dolly Alderton is so gifted at making people care. A rare talent
Funny, sexy and clever, Dolly Alderton is never less than dazzling on the travails of the human heart. She writes with breathtaking honesty about falling into lust and out of love, and each chapter reads like those late night conversations with your best girlfriend that you never want to end
An effervescent guide to millennial life
Alderton proves a razor-sharp observer of the shifting dynamics of long term female friendship
Steeped in furiously funny accounts of one-night stands, ill-advised late-night taxi journeys up the M1, grubby flat-shares and the beauty of female friendships, as Alderton joyfully booze-cruises her way through her twenties
You will quite literally laugh and cry as Dolly crashes her way through her teens and twenties. This is about growing up and all the mess that comes with it. I loved it.
Honest, funny and touching
Her fun and moving stories of bad dates and good friends melted my heart
I loved its truth, its self awareness, humour and most of all, its heart spilling generosity. The power of female friendships is such great, uncharted territory, and just when you think it's going one (wonderful) way, it takes you somewhere infinitely more rugged, complicated and all the more affectingly tender. A joy. In short, it's a stone cold classic
I so recommend Dolly Alderton's millennial memoir, which takes you on an uncomfortable journey through love and anxiety, to an unexpectedly happy ending. It's just lovely
If you're ever feeling a tad down and need to climb into bed with a book, Emerald Street would prescribe Heartburn by Nora Ephron...Fortunately, it now has a millennial companion piece courtesy of writer and journalist, Dolly Alderton
Funny, touching and wholly delightful