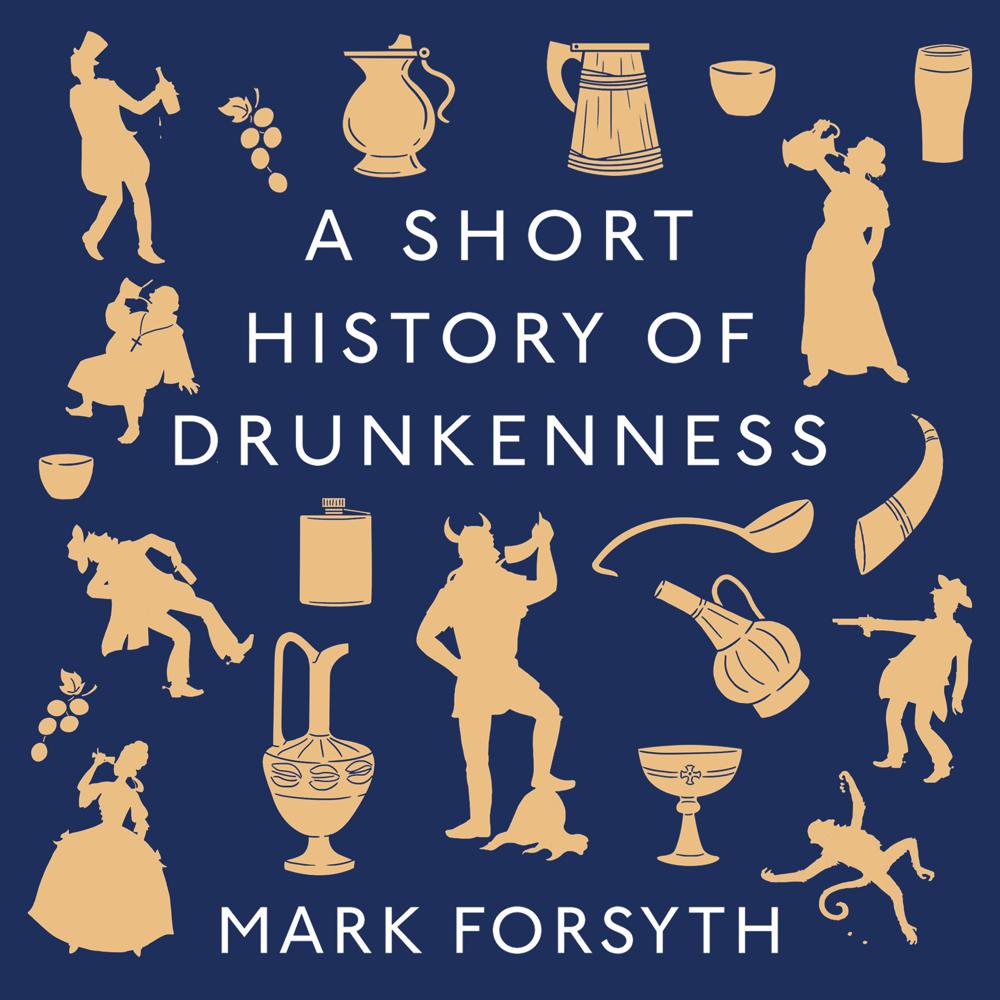 Narrated By: Richard Hughes
Duration: 5 hours and 31 minutes
What to expect
Penguin presents the audiobook edition of A Short History of Drunkenness by Mark Forsyth, read by Sh*tfaced Shakespeare's Richard Hughes.

Almost every culture on earth has drink, and where there's drink there's drunkenness. But in every age and in every place drunkenness is a little bit different. It can be religious, it can be sexual, it can be the duty of kings or the relief of peasants. It can be an offering to the ancestors, or a way of marking the end of a day's work. It can send you to sleep, or send you into battle.

A Short History of Drunkenness traces humankind's love affair with booze from our primate ancestors through to Prohibition, answering every possible question along the way: What did people drink? How much? Who did the drinking? Of the many possible reasons, why? On the way, learn about the Neolithic Shamans, who drank to communicate with the spirit world (no pun intended), marvel at how Greeks got giddy and Romans got rat-arsed, and find out how bars in the Wild West were never quite like in the movies.

This is a history of the world at its inebriated best.
Genre
Social & cultural history, General & world history, Humour, Food & drink: beers & ciders, Food & drink: wines, Food & drink: spirits, liqueurs & cocktails, Food & drink: non-alcoholic beverages
Listen to a sample
Sometimes you see a book title that simply gladdens the heart. Everyone I showed this book to either smiled broadly or laughed out loud . . . This is a book of some brilliance - probably best consumed with a restorative glass of something by your side.
As Mark Forsyth brilliantly shows, civilisation is built on booze. Egypt (beer), Greece and Rome (wine) depended on alcohol to create their mighty works. Where man drinks, he prospers, and vice versa. A toast to this spirits-fuelled spirits-lifter. Staggering!
Well researched and recounted with excellent humour, Forsyth's alcohol-ridden tale is sure to reduce anyone to a stupor of amazement.
A treat for the connoisseur who enjoys a robust anecdote from the past with his drink
This year's must-have stocking filler ... the essential addition to the library in the smallest room is Mark Forsyth's The Etymologicon
I thought I knew quite a bit about drinking but A Short History of Drunkenness made me look at inebriation anew. Each chapter amazed, challenged and stimulated me so much that I needed a stiff drink at the end of it.
Mark imparts knowledge about Christmas traditions from the essential to the (very) abstruse in wry and sardonic style. An effortless and enjoyable way to learn more about this fulcrum of our calendar
Everything we ever thought about Christmas is wrong! Great stuff
Reading like a TED talk delivered by a stand-up comedian, this made me laugh out loud more than my first ever night out on absinthe. As essential as a hip flask or a pack of pork scratchings for any true connoisseur of booze. A Short History of Drunkenness is this year's Châteauneuf-du-Pape of Christmas books, no less. Bloody entertaining.
This charming book proved so engrossing that while reading it I accidentally drank two bottles of wine without realising.
With a great eye for a story and a counterintuitive argument, Mark Forsyth has enormous fun breezing through 10,000 years of alcoholic history in a little more than 250 pages.
[The Etymologicon is] a perfect bit of stocking filler for the bookish member of the family, or just a cracking all-year-round-read. Highly recommended
Witty and revelatory. Blooming brilliant
Mark Forsyth wears his considerable knowledge lightly. He also writes beautifully
With his casual elegance and melodious voice, Mark Forsyth has an anachronistic charm totally at odds with the 21st century
This entertaining study of drunkenness makes for a racy sprint through human history
My favourite book of this and possibly any other Christmas is Mark Forsyth's A Short History of Drunkenness
Haha! . . . Highly suitable for Xmas!
Forsyth's jokes are snappy and well delivered. Unlike most comical writers he never falls into the trap of confusing long-windedness with irony
A brisk and brilliant romp through our hiccoughing history, drenched with wit. Bloody marvellous from first sip to last burp
As good as promised - could have been thrice as long