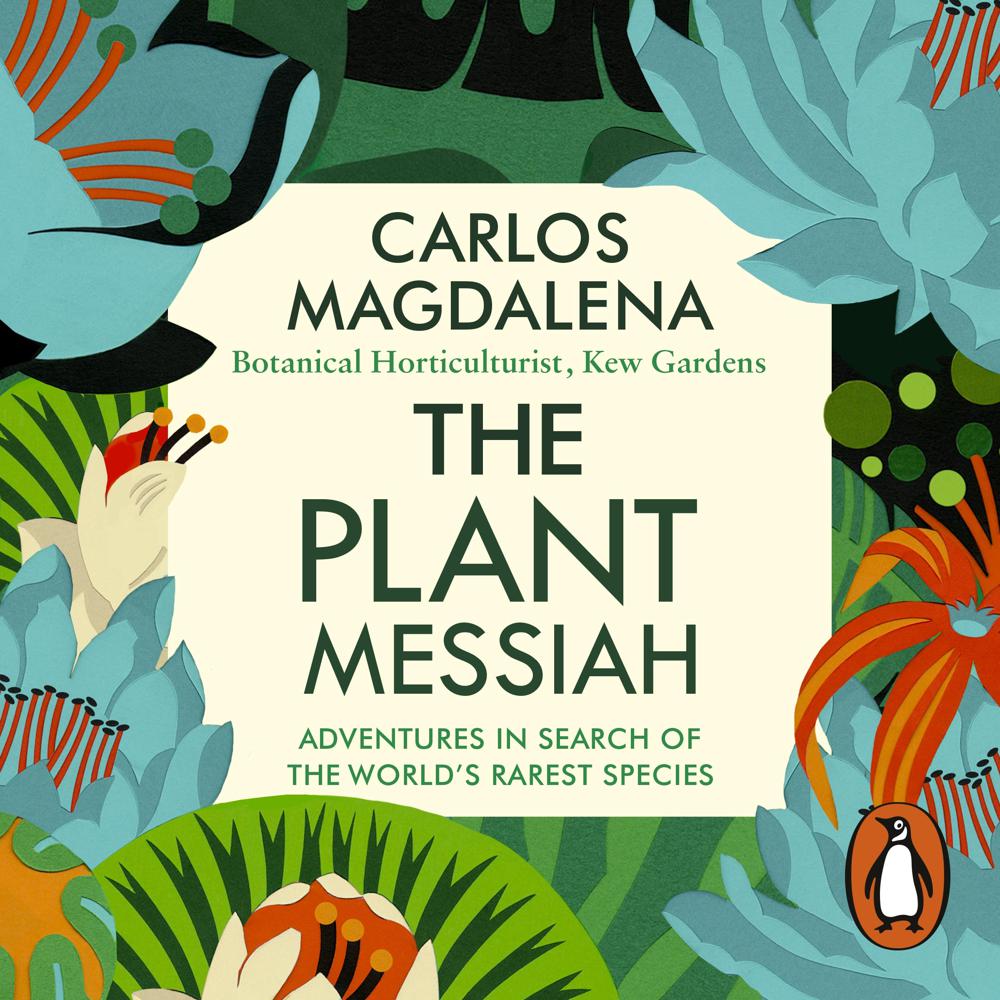 Narrated By: Roy McMillan
Duration: 8 hours and 3 minutes
What to expect
Penguin Audio presents The Plant Messiah by Carlos Magdalena, read by Roy McMillan.
Carlos Magdalena of Kew Gardens is not your average botanical horticulturist. He's a man on a mission to save the world's most endangered plants from ecological destruction and thieves hunting for wealthy collectors. He is a plant messiah.
From the planet's tiniest waterlily - the Nymphaea thermarum - to Huarango trees with roots over 50 metres long, Carlos has a miraculous ability to bring breathtakingly beautiful plants back from the brink of extinction. He has travelled to the most remote and dangerous parts of the world - from the mountains of Peru to isolated Indian Ocean islands to the deepest Australian outback - in search of the rarest exotic species. Then, back in the Tropical Nursery at Kew, he uses pioneering, left-field techniques to help them propagate and prosper.
Now he's here to spread the gospel. The Plant Messiah is the inspirational story of a man who has devoted - and risked - his life to save incredible species, all in the name of making this Earth a greener and happier place.
Amen to that.
Genre
Botany & plant sciences, Popular science, Commercial horticulture, Ecological science, the Biosphere, Conservation of the environment
Listen to a sample
For anyone who might have considered plants dull stuff, Mr. Magdalena delivers a thrilling and inspirational account of adventures in the botanical world.
This full-throttle memoir is a window on the exploits that underpin the Royal Botanic Gardens, Kew . . . reveals the rare mix of zeal and patience needed to hunt vanishing plants
Eye-popping... The Plant Messiah reads like a detective novel. [This] is a thrillingly uplifting book. There is a beguiling energy to his prose that clearly he has in person
An entertaining, planterly romp around the world and a glimpse inside one of the world's great botanical institutions from this Kew botanist
Carlos has been able to achieve things with plants that no one else can do
Carlos Magdalena is Kew's codebreaker
In a world whose ecology is changing so fast, only a special kind of obsessive would concern himself with saving endangered plant species. That's Magdalena... who recounts adventures that have taken him from the Amazon to the jungles of Mauritius on a quest to preserve as much flora as he can.
Botany, on its face, doesn't sound particularly thrilling. This book will change your mind
An engaging piece of work
He has the uncanny ability to bring plants back from the brink of extinction
Impressive, gripping and important . . . Some 30,000 plants have recorded uses for humans. Most people, the messiah preaches, are blind to these everyday miracles. This book will teach them to see
Carlos is an inspiration to me. He's the perfect spokesperson for the plants of the world
[I]t is fascinating to follow Magdalena as he travels from remote Australian billabongs full of rare water lilies to the dry forests of western Peru, where the last gnarled huarango trees grow in the shadow of the Andes. But the greater accomplishment of The Plant Messiah is the compelling case that Magdalena makes from caring about plants in general.