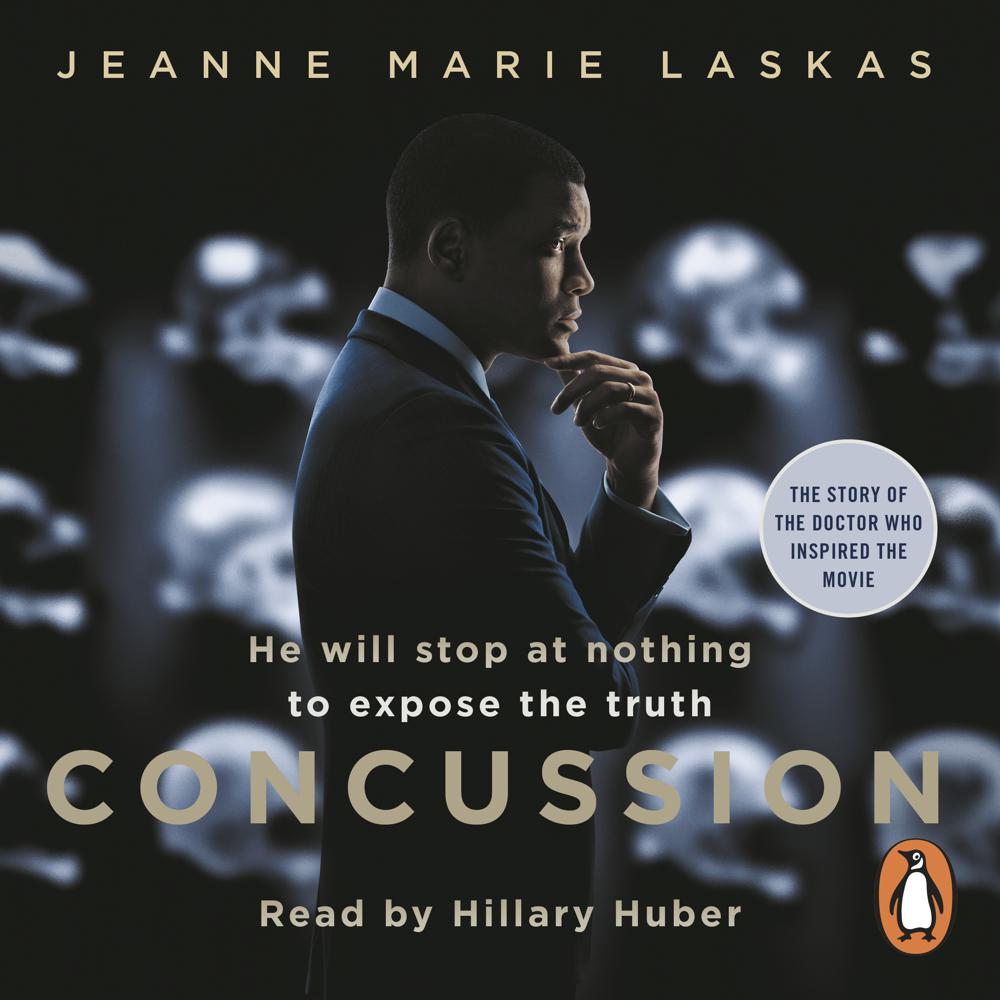 Narrated By: Hillary Huber
Duration: 9 hours and 51 minutes
What to expect
Penguin presents the unabridged, downloadable audiobook edition of Concussion by Jeanne Marie Laskas, read by Hillary Huber.
This is the story of one man's fight against a multibillion dollar colossus. A man who stood up for what was right, whatever the cost.
The brilliant young forensic pathologist had no idea that the body on the slab in front of him would change his life, and ultimately change the world.
The body belonged to legendary American Footballer Mike Webster, whose mental health had rapidly declined after he had stopped playing - he had ended up Tasering himself to relieve his chronic back pain and fixing his rotting teeth with Superglue.
Dr Bennet Omalu found that the psychosis suffered by "Iron Mike" was no accident. His autopsy unearthed evidence of a trauma-related disease - the direct result of years of blows to the head in games. He knew it would keep killing scores of other sportsmen unless something was done. He believed that the NFL (National Football League), one of the most powerful corporations in America, would welcome the discovery. But it was the one truth they wanted to ignore.
Omalu himself became a target.
'This is classic David and Goliath stuff, and as exciting as a great courtroom drama. A riveting, powerful human tale . . . a masterclass on how to tell a story'
Charles Duhigg, New York Times columnist and bestselling author of The Power of Habit
Genre
Biography: sport, Sport & the law, Biography: business & industry, Biography: science, technology & medicine, Social & ethical issues, True stories of discovery, Impact of science & technology on society, True stories of heroism, endurance & survival, Popular beliefs & controversial knowledge, Ethical issues: censorship, Ethical issues: scientific, technological & medical developments, Law as it applies to other professions & disciplines, Neurosciences
Listen to a sample
Bennet Omalu forced football to reckon with head trauma. The NFL doesn't want you to hear his story, but Jeanne Marie Laskas makes it unforgettable. This book is gripping, eye-opening, and full of heart.
This is classic David and Goliath, and Jeanne Marie Laskas - one of my favourite writers on earth - makes it as exciting as a great courtroom drama. A riveting, powerful human tale... and a masterclass on how to tell a story
A gripping medical mystery and a dazzling portrait of the young scientist no one wanted to listen to. Bennet Omalu's struggle to force the NFL to reckon with head injuries should give us all hope - and pause. A fabulous, essential read.