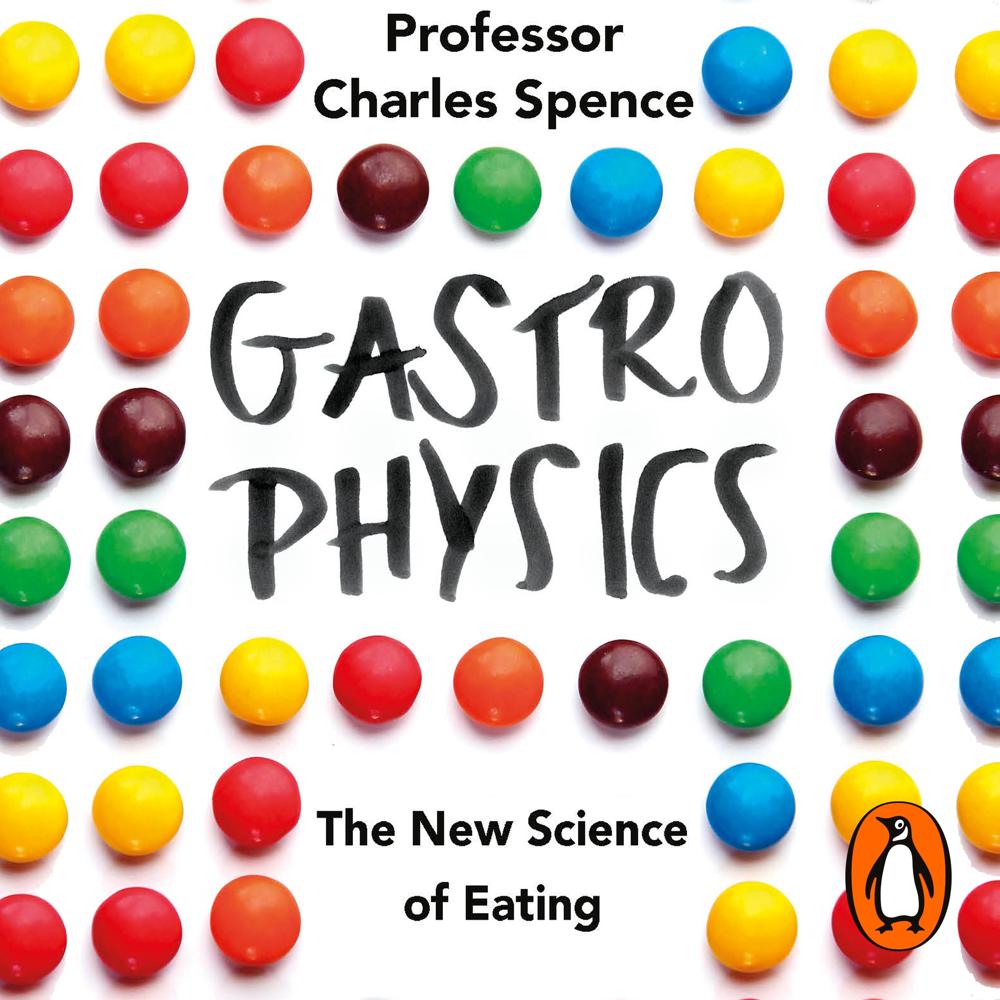 Narrated By: John Sackville
Duration: 10 hours and 14 minutes
What to expect
Penguin presents the unabridged, downloadable audiobook edition of Gastrophysics: The New Science of Eating by Charles Spence, read by John Sackville.

A ground-breaking book by the world-leading expert in sensory science: Freakonomics for food

Why do we consume 35% more food when eating with one more person, and 75% more when with three? Why are 27% of drinks bought on aeroplanes tomato juice? How are chefs and companies planning to transform our dining experiences, and what can we learn from their cutting-edge insights to make memorable meals at home?

These are just some of the ingredients of Gastrophysics, in which the pioneering Oxford professor Charles Spence shows how our senses link up in the most extraordinary ways, and reveals the importance of all the "off-the-plate" elements of a meal: the weight of cutlery, the colour of the plate (his lab showed that red is associated with sweetness - we perceive salty popcorn as tasting sweet when served in a red bowl), the background music and much more. Whether dining alone or at a dinner party, on a plane or in front of the TV, he reveals how to understand what we're tasting and influence what others experience. Meal-times will genuinely never be the same again.
Genre
Cognition & cognitive psychology, Cultural studies: food & society, Food & beverage technology, Neurosciences, Popular science
Listen to a sample
Wonderfully curious and thought-provoking . . . brilliant
The scientist changing the way we eat
Spence romps around such factoids in the style of a Blue Peter presenter . . . fascinating and provocative
His delight in weird food facts is infectious...fascinating
It can't fail to entertain, inform and ultimately dazzle

Spence cheerily whisks the reader through the senses like a magician . . . a mind-bending menu of fascinating insights
A fascinating look at the science of food and how our perception is shaped by all our senses, not just taste
Spence takes a jovial pleasure in puncturing our perceptions and showing that there's a lot more going on in our mouths than what we think we're tasting . . . Spence has given us much food for thought
If simply changing the name of a dish on a menu or the color of the plate on which it is served can dramatically alter our perception of taste and food quality, then everyone in the restaurant industry needs to read this and take a deeper look at the scientific secrets Professor Spence reveals in Gastrophysics
Truly accessible, entertaining and informative. On every page there are ideas to set you thinking and widen your horizons
I wanted to reach out and thank you for your absolutely brilliant book Gastrophysics. As a thirty year restaurant veteran just venturing out on my own into the wild world of consulting, I found your research confirmed many of my long-held beliefs while adding tons of things I had never considered.
Revealing, very interesting and well worth understanding . . . highly enlightening
Spence allows people to appreciate the multisensory experience of eating
Not many people are as ready to realize the importance of the senses as Charles Spence
A chatty whirl through the latest discoveries and their real-world applications
This is partly serious tome and partly an amusing guide for the layperson to a whole new gustatory world. Gastrophysics is packed with such tasty factual morsels that could be served up at dinner parties. If Spence can percolate all these factual morsels to the mainstream, the benefits to all of us would be obvious
Popular science at its best. Insightful, entertainingly written and peppered throughout with facts you can use in the kitchen, in the classroom, or in the pub