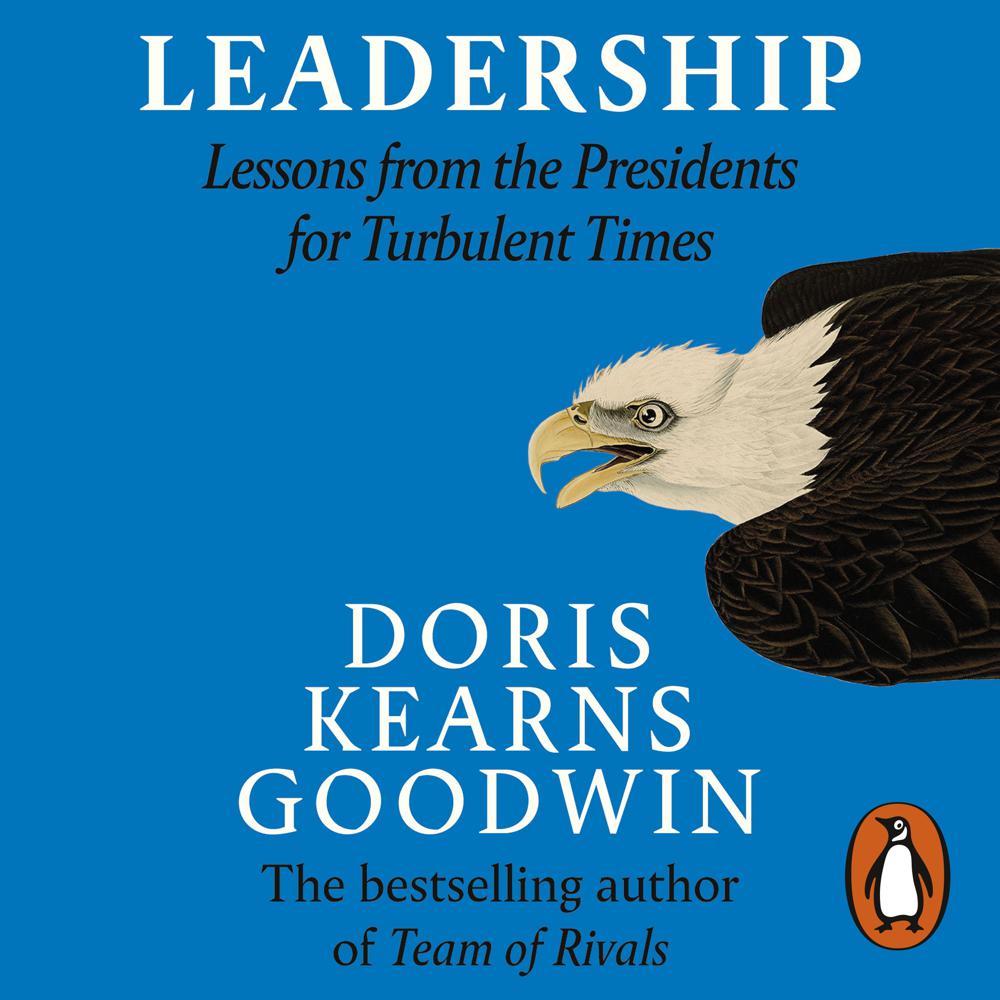 Narrated By: Doris Kearns Goodwin, Richard Thomas, Jay O. Sanders, David Morse
Duration: 18 hours and 4 minutes
What to expect
Penguin presents the audiobook edition of Leadership written and read by Doris Kearns Goodwin, with additional narration from Beau Bridges, David Morse, Jay O. Sanders and Richard Thomas.
Are leaders born or made? Where does ambition come from? How does adversity affect the growth of leadership? Does the leader make the times or do the times make the leader?
In Leadership Goodwin draws upon four of the presidents she has studied - Abraham Lincoln, Theodore Roosevelt, Franklin D. Roosevelt and Lyndon B. Johnson - to show how they first recognized leadership qualities within themselves, and were recognized as leaders by others. By looking back to their first entry into public life, when their paths were filled with confusion, hope, and fear, we can share their struggles and follow their development into leaders.
Leadership tells the story of how they all collided with dramatic reversals that disrupted their lives and threatened to forever shatter their ambitions. Nonetheless, they all emerged fitted to confront the contours and dilemmas of their times.
No common pattern describes the trajectory of leadership. Although set apart in background, abilities and temperament, they shared a fierce ambition, a hunger to succeed beyond expectations. All four, at their best, were guided by a sense of moral purpose that led them at moments of great challenge to summon their talents to enlarge the opportunities and lives of others.
This seminal work provides a roadmap for aspiring and established leaders. In today's polarized world, these stories of authentic leadership in times of fracture and fear take on a singular urgency.
'Well-researched and well-written ... Superb' Professor Andrew Roberts, author, Churchill: Walking with Destiny
'A marvelous banquet with four great presidents who provide lessons for all. Pull up a chair' Warren Buffett
Genre
Political leaders & leadership, Management: leadership & motivation, Management decision making
Listen to a sample
I have not enjoyed a history book as much for years
Leadership should help us raise our expectations of our national leaders, our country and ourselves
A marvelous banquet with four leaders whose lives provide lessons for all. Pull up a chair
An inspiring guide to the very best of human endeavour - a book filled with well-told stories and lessons
A timely study of what makes a great President . . . Few are better placed to explain the current vacuum, and predict what might fill it, than Doris Kearns Goodwin. The 75-year-old swam with Lyndon Johnson at his ranch, worked with Steven Spielberg on Lincoln and dined with Barack Obama at the White House. It is not, as the title implies, an opportunistic entry into the ever-expanding Trump canon. She began work on it five years ago . . . She considers what lessons they offer for transformational crisis management, turnaround and visionary leadership, but sugars the pill with telling details and funny anecdotes
Pulitzer- and Carnegie Medal-winning historian Goodwin draws on 50 years of scholarship in this strong and resonant addition to the literature of the presidency . . . extremely relevant
Doris Goodwin is the grand master of presidential biography. Now, in this marvelous synthesis, Goodwin deploys her deep knowledge of four towering individuals-Lincoln, TR, FDR, and LBJ-to create a masterwork on how good leaders become great leaders. She shows how burning personal ambition can be elevated into driving ambition for a cause greater than self, how egotism can be transformed into humility born of crushing setbacks, and how fierce individual resolve can be transferred into collective will to do what must be done. Riveting, uplifting, and incisive, Leadership is a culminating work of a true intellectual artist
What Doris Kearns Goodwin brings to this book -- above all her other attributes -- is a true sense of wisdom. A lifetime of writing important and thought-provoking books means that she has thought deeply on the crucial subject of leadership, and about the way that lessons learned in the political and military spheres might translate into the business and social ones. The profundity of her thought on these issues is evident on every well-researched and well-written page. Superb.
Full of life and colour
It is to Goodwin's credit that she teases out the variety and peculiarities among the four presidents . . . she renders her characters with a depth and intricacy that not all academic historians seek to attain. We can only hope that a few of Goodwin's many readers will find in her subjects' examples a margin of inspiration
Colourful, fun and illuminating...a master storyteller
Business students invariably ask me: 'With what historical figure would you like to have lunch?' Doris Kearns Goodwin has prepared a marvelous banquet with four great presidents who provide lessons for all. Pull up a chair
Riveting . . . Goodwin appraises in illuminating detail
A masterwork on how good leaders become great leaders. A culminating work of a true intellectual artist
She writes easily and attractively; the reader is carried along effortlessly with the narrative sweep of her prose . . . engrossing . . . it is impossible not to admire the skill with which Goodwin tells four absolutely riveting stories
Remarkable ... comprehensive, human, and engaging, clearly the results of long study.
A fabulously engrossing, exciting narrative in the grand old style ... overflowing with colour and character
This is a wonderful book, which illuminates and entertains. In analysing the leadership qualities of four very different presidents, Doris Kearns Goodwin underlines how these attributes are almost wholly missing from the political equipment of the present incumbent of the Oval Office.
Team of Rivals was a huge bestseller . . . this book may do even better. It is a safe bet that Leadership will soon sit on the nightstand of every chief executive officer in the land and will be avidly read by the legion of ambitious young people who want their jobs
She is the most fluent, most wide-ranging of modern presidential chroniclers . . . compelling. There is much in Leadership that offers lessons, even consolations that apply universally. Kearns Goodwin shows they offer lessons that can be embraced by the businessman, the aspiring politician and the striving individual
Pulitzer Prize-winning author Doris Kearns Goodwin demonstrates how leaders are made, not born, as she thoughtfully explores the highs and lows of four U.S. presidents who faced moments of horrific national crisis. Goodwin's clean, assured sentences set the stage as each future president discovers within himself the desire to enter politics, the calamitous blows that knocked each one down, and how they tackled the struggles that tore at the sinews of the country. Most fascinating is Goodwin's revelations about how very differently Abraham Lincoln, Theodore Roosevelt, Franklin D. Roosevelt, and Lyndon B. Johnson approached not only their political careers but how they developed the character traits that helped them see-or make-a path toward a critical response that many others disagreed with. Lincoln's delivery of the Emancipation Proclamation, Theodore Roosevelt's handling of labor strikes, FDR's battle against the Great Depression in his first 100 days, and Johnson's prioritization of civil rights while a nation mourned were actions that could have ripped the country further apart but eventually bound it together and strengthened its democratic foundations. The rare weakness within Leadership: In Turbulent Times is the outlining of specific qualities, such as "Take the measure of the man" and "Set a deadline and drive full-bore to meet it," that are meant to distill leadership wisdom into bullet points, like contemporary business books. Goodwin's strength is in the rich context she provides as she shows that great leaders develop in dissimilar ways but ultimately have a vision they reach for and rely on when times are at their most turbulent.