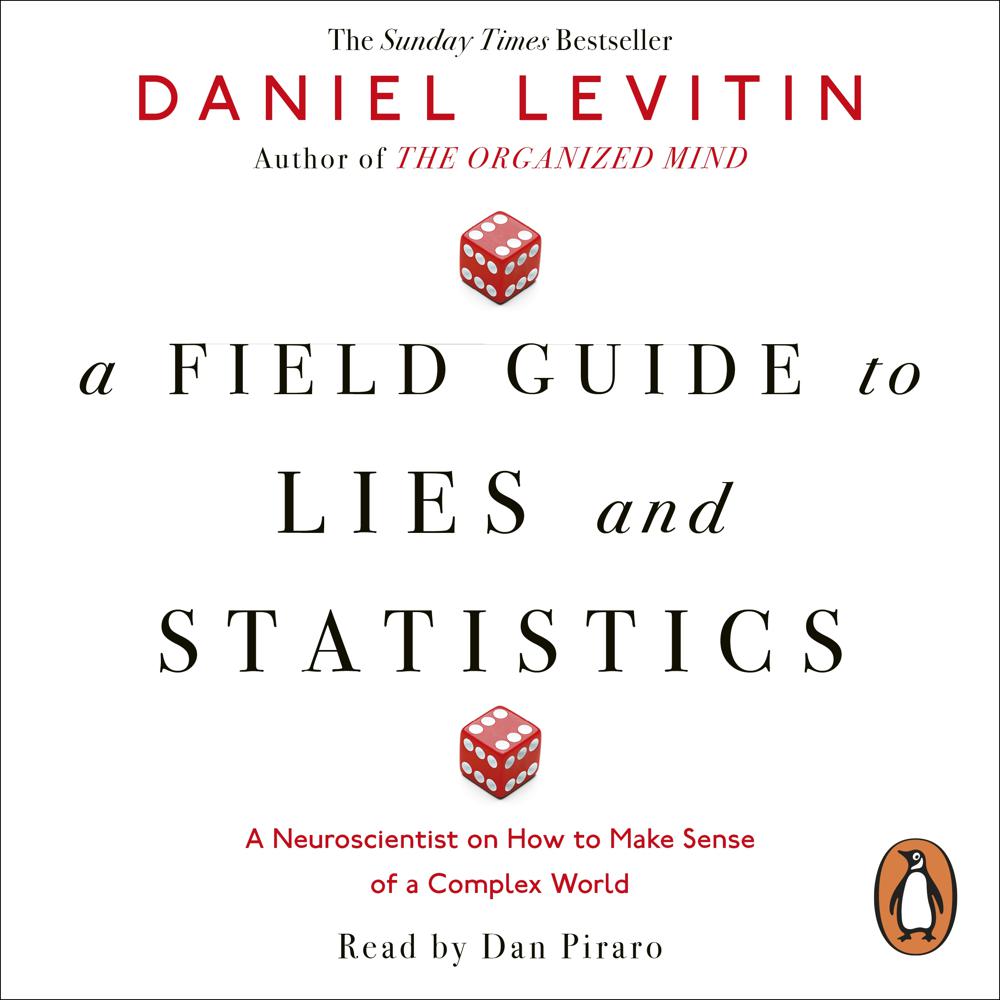 Narrated By: Dan Piraro
Duration: 7 hours and 5 minutes
What to expect
Penguin presents the unabridged, downloadable, audiobook edition of a Field Guide to Lies by David Levitin, read by Dan Piraro.

The bestselling author of The Organized Mind explains and debunks statistics in the information age

We live in a world of information overload. Facts and figures on absolutely everything are at our fingertips, but are too often biased, distorted, or outright lies. From unemployment figures to voting polls, IQ tests to divorce rates, we're bombarded by seemingly plausible statistics on how people live and what they think. In a world where anyone can become an expert at the click of a button, being able to see through the tricks played with statistics is more necessary than ever before. Daniel Levitin teaches us how to effectively ask ourselves: can we really know that? And how do they know that?

In this eye-opening, entertaining and accessible guide filled with fascinating examples and practical takeaways, acclaimed neuroscientist Daniel Levitin shows us how learning to understand statistics will enable you to make quicker, better-informed decisions to simplify your life.

PLEASE NOTE: When you purchase this title, the accompanying reference material will be available in your Library section along with the audio.
Genre
Popular psychology, Probability & statistics, Social research & statistics, Econometrics & economic statistics, Cognitive & behavioural neuroscience
Listen to a sample
Valuable tools for anyone willing to evaluate claims and get to the truth of the matter
Dan Levitin has more insights per page than any other neuroscientist I know
The world is awash with data, but not always with accurate information. A Field Guide to Lies does a terrific job of illustrating the difference between the two with precision-and delightful good humour
Deservedly a bestseller
This is a wonderful book. It covers so many of the insights of science, logic, and statistics that the public needs to know, yet are sadly neglected in the education that most of us receive.
Daniel Levitin's field guide is a critical thinking primer for our shrill, data-drenched age. From the way averages befuddle to the logical fallacies that sneak by us, every page is enlightening
Insightful and entertaining-an excellent work
Just as Strunk and White taught us how to communicate better, the Field Guide to Lies is an indispensable guide to thinking better.
I could not put this book down. I am so impressed with Levitin's writing style, which is clear and simple, unlike much of the murky stuff that is written by statisticians and many others.
A valuable primer on critical thinking that convincingly illustrates the prevalence of misinformation in everyday life