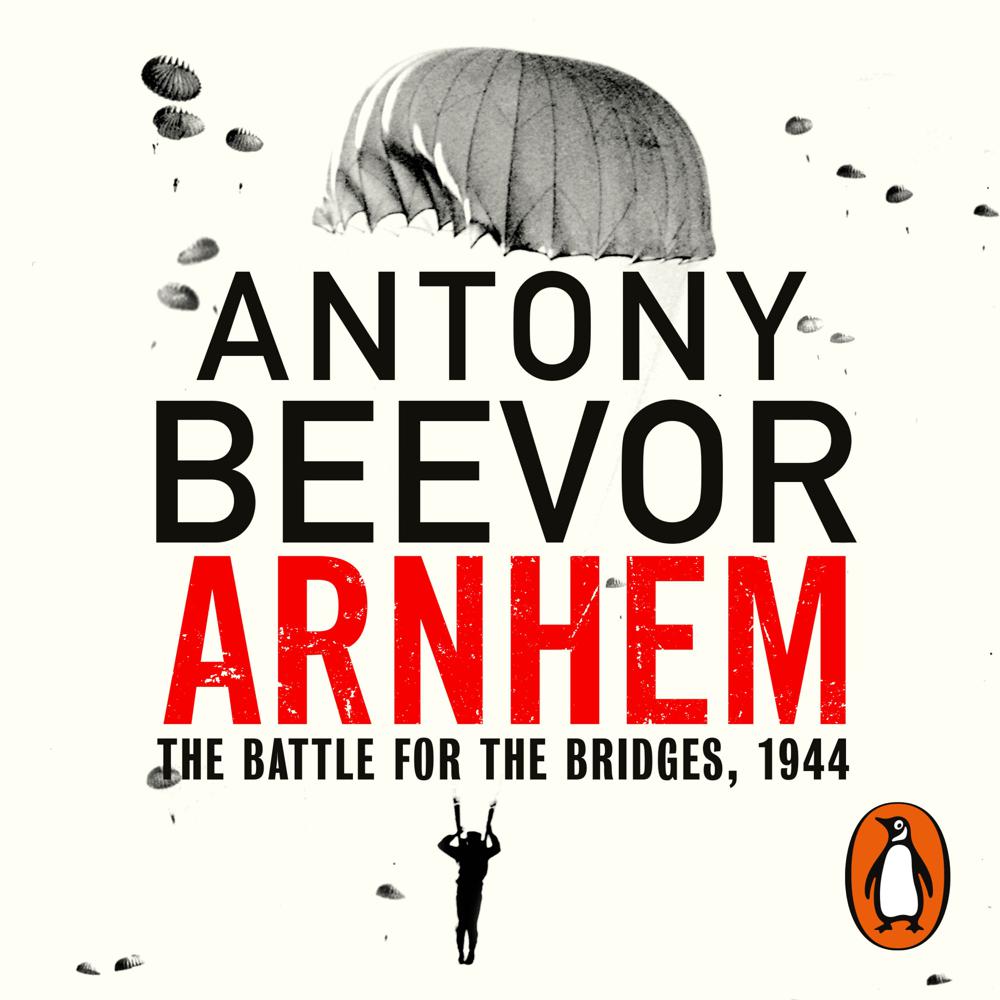 Narrated By: Sean Barrett
Duration: 16 hours and 47 minutes
What to expect
Penguin presents the audiobook edition of Arnhem by Antony Beevor, read by Sean Barrett.

On 17 September 1944, General Kurt Student, the founder of Nazi Germany's parachute forces, heard the growing roar of aero engines. He went out on to his balcony above the flat landscape of southern Holland to watch the vast air armada of Dakotas and gliders,carrying the British 1st Airborne and the American 101st and 82nd Airborne Divisions. He gazed up in envy at the greatest demonstration of paratroop power ever seen.

Operation Market Garden, the plan to end the war by capturing the bridges leading to the Lower Rhine and beyond, was a bold concept: the Americans thought it unusually bold for Field Marshal Montgomery. But the cost of failure was horrendous, above all for the Dutch who risked everything to help. German reprisals were cruel and lasted until the end of the war.

The British fascination for heroic failure has clouded the story of Arnhem in myths, not least that victory was possible when in fact the plan imposed by Montgomery and General 'Boy' Browning was doomed from the start. Antony Beevor, using many overlooked and new sources from Dutch, British, American, Polish and German archives, has reconstructed the terrible reality of this epic clash. Yet this book, written in Beevor's inimitable and gripping narrative style, is about much more than a single dramatic battle. It looks into the very heart of war.
Genre
Military history, General & world history, Theory of warfare & military science, Military & defence strategy
Listen to a sample
Beevor's superlative new book . . . Arnhem sees him return to Stalingrad form. Forensic is too soft a word to describe the breadth of detail he brings.
With devastating command of his subject, Antony Beevor shows how one commander's hubris destroyed an army . . . No one beats Beevor at recreating the bewildering cacophony of war
Masterly...illuminated by a host of hitherto unpublished anecdotes and quotations, together with the fruits of his own labors in Dutch archives. A meticulous, wonderfully vivid, and justly angry account of one of the great cock-ups of World War II
This absorbing new account of the battle with the eye for telling detail which we have come to expect from Antony Beevor. . . this time, though, he turns his brilliance as a military historian to a subject not just of defeat, but dunderhead stupidity.
The compressed time scale and limited strategic scope of Market Garden ideally suit the author's testimony-rich approach . . . Beevor is a highly accomplished architect of what the American literary scholar Samuel Hynes calls 'battlefield gothic': the nightmarish horrors and absurdities of combat
As Antony Beevor showed in Stalingrad, he is a master of his craft as a military historian. . . We have here a definitive account of one of the most painful episodes of the Second World War.
Beevor tells a story that is more human and complex than what he calls "the great myth of heroic failure", a tale of vanity, hubris, occasional incompetence, human frailty and remarkable grit. . . In Beevor's hands, Arnhem becomes a study of national character.
It is, in short, a chapter of the Second World War that was crying out for the storytelling talents of Sir Antony Beevor, arguably the finest narrative historian of his generation. This is the result - and his many fans will not be disappointed . . . Beevor's particular skill is his ability to unearth new sources that articulate the experience of war felt by ordinary people: soldiers and civilians, men and women. . . Beevor has produced another superb book, tirelessly researched and beautifully written, that will long be the benchmark for this subject.
Complete mastery of both the story and the sources. The beauty is in the details. . . . This gripping book, with its tightly focused timescale and subject matter, shows him once again at his very best.
Another masterwork from the most feted military historian of our time. . . Does the story need to be retold? Beevor is such a good writer, with a gift for clarity and a knack for the telling personal portrait, that the answer is undoubtedly yes.
This is destined to be a World War II military history classic . . . Beevor's superb latest offering, in keeping with his established record of excellence, is a must-read
Arnhem brings a wealth of new detail to a major World War II disaster . . . Beevor brings to the familiar story a vast amount of research in German, British, American, Polish, and Dutch archives. As usual, his narrative bristles with specifics, including countless observations gleaned from eyewitnesses to every stage of Market Garden. Devoted readers of military history will enjoy the wealth of details
Antony Beevor's magnificent account. . . Beevor's skill lies in his ability to recreate the tumultuous brutality of battle. . . With stark honesty, Beevor describes the terrible panoply.
Arnhem was one of the most epic engagements of WW2 and Antony Beevor gives it his usual excellent and fascinating big battle treatment, which makes for a gripping read
On holiday I read and am wholly absorbed by Antony Beevor's Arnhem. Though I am defeated by much of the military detail, the human side of the action, the troops in the gliders, their fears and all too often their fates, are beautifully told, with some of the bloodshed and killing unbearable
The analysis he has produced of the disaster is forensic. Aficionados of military history will revel in Beevor's microscopic detail, with every skirmish given its rightful place. . . Beevor's prodigious research has nevertheless unearthed many treasures, particularly his record of the sufferings of Dutch civilians who risked their necks by nursing wounded allied soldiers.
Our greatest chronicler of the Second World War . . . The drama of manoeuvre and counter-thrust, the courage and cowardice of soldier and civilian, the follies and vanities of commanders, which are especially rich in this story, are deployed with colour and humanity. His fans will love it.