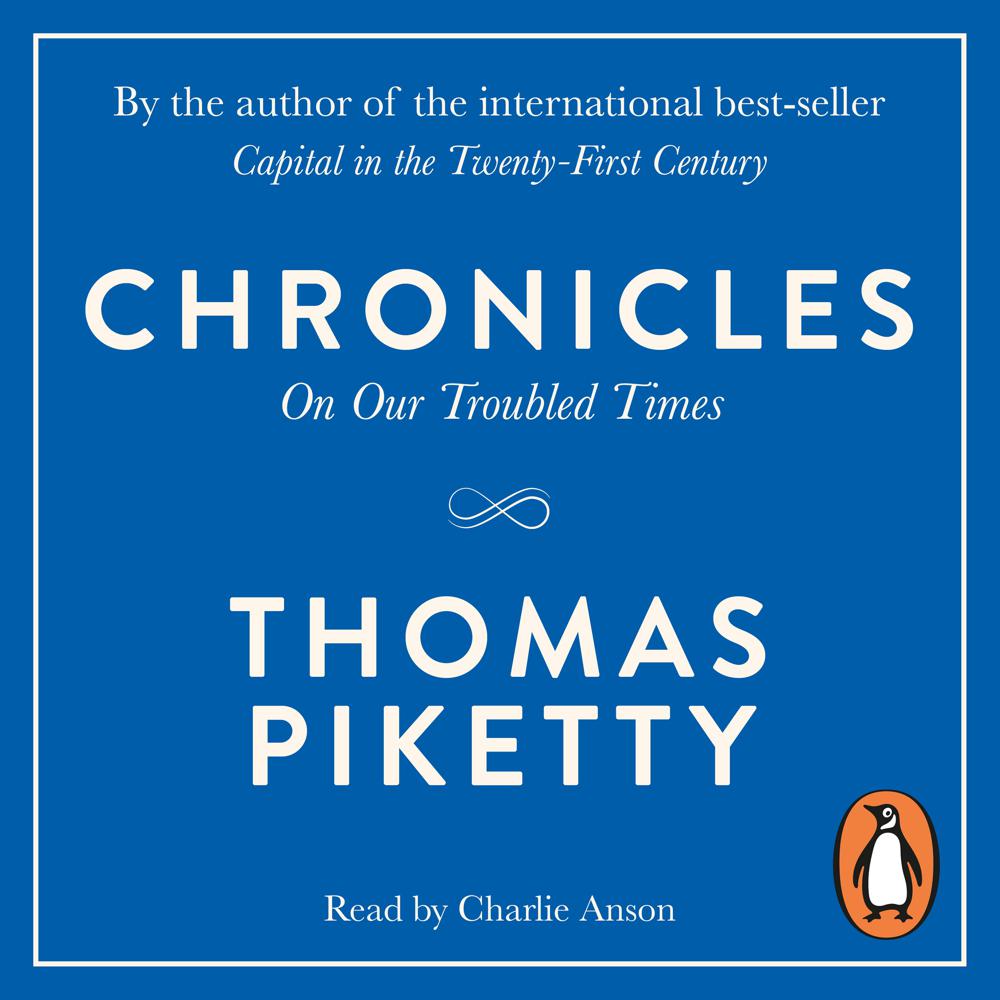 Narrated By: Charlie Anson
Duration: 4 hours and 18 minutes
What to expect
Penguin presents the unabridged, downloadbale, audiobook edition of Chronicles: On Our Troubled Times by Thomas Piketty, read by Charlie Anson.

The return of the best-selling, award-winning economist extraordinaire

With the same powerful evidence, and range of reference, as his global bestseller Capital in the Twenty-First Century - and in columns of 700 words, rather than 700 pages - Chronicles sets out Thomas Piketty's analysis of the financial crisis, what has happened since and where we should go from here.

Tackling a wider range of subjects than in Capital, from productivity in Britain to Barack Obama, it comprises the very best of his writing for Liberation from the past ten years. Now, translated into English for the first time, it will further cement Piketty's reputation as the world's leading thinker today.
Genre
Popular economics, Economic theory & philosophy, Economic & financial crises & disasters, Monetary economics, Political economy, Economic history
Listen to a sample
Amazing, inspiring, forward-thinking, and pragmatic. There is a pattern forming -- Marx, Keynes, Piketty. As our world changes the surest explanations and most practical solutions change in turn
The strength of Piketty's book is his close attention to the different sources of inequality, the massive documentation underpinning his history and conclusions, and his impressive culls from sociology and literature, which exhibit the richness of 'political economy' compared to its thin mathematical successor that has attained such prominence. [...] Piketty's book is a timely intervention in the current debate about inequality and its causes
The strength of his thesis is that it is founded on evidence rather than ideology. Piketty has researched data over more than a century in order to derive his understanding of the dynamics of modern capitalism ... What Piketty has done is provide a strong factual understanding for how modern capitalist economies diverge from the image of risk-taking and productive commercial activity. At the very least, the book effectively debunks the notion that there is an economic imperative for low tax rates and a smaller state
Piketty's economic analysis and historical proofs are breathtaking
Seven hundred pages on the evolution of inequality in economically advanced societies by the most fashionable new theorist to emerge for a long time. Many have been waiting for such a comprehensive critique of capitalism
The author, an inequality expert, is distinguished. The work is acclaimed. The book's empirical detail is already the stuff of legend
Piketty's treatment of inequality is perfectly matched to its moment ... [He] has emerged as a rock star of the policy-intellectual world ... His work richly deserves all the attention it is receiving
Capital has enraptured the left and infuriated the right
The most important work of political economy to be published in decades
Piketty has transformed our economic discourse. We'll never talk about wealth and inequality the same way we used to
French economist Thomas Piketty has written an extraordinarily important book. Open-minded readers will surely find themselves unable to ignore the evidence and arguments he has brought to bear
The questions explored in these brilliant essays cut to the heart of our failing economic and democratic systems. If you have been influenced by Piketty's landmark work on inequality, make sure to read this next.
A book of such magisterial sweep... Piketty deserves huge credit for kickstarting a debate about inequality and illuminating the distribution of income and wealth