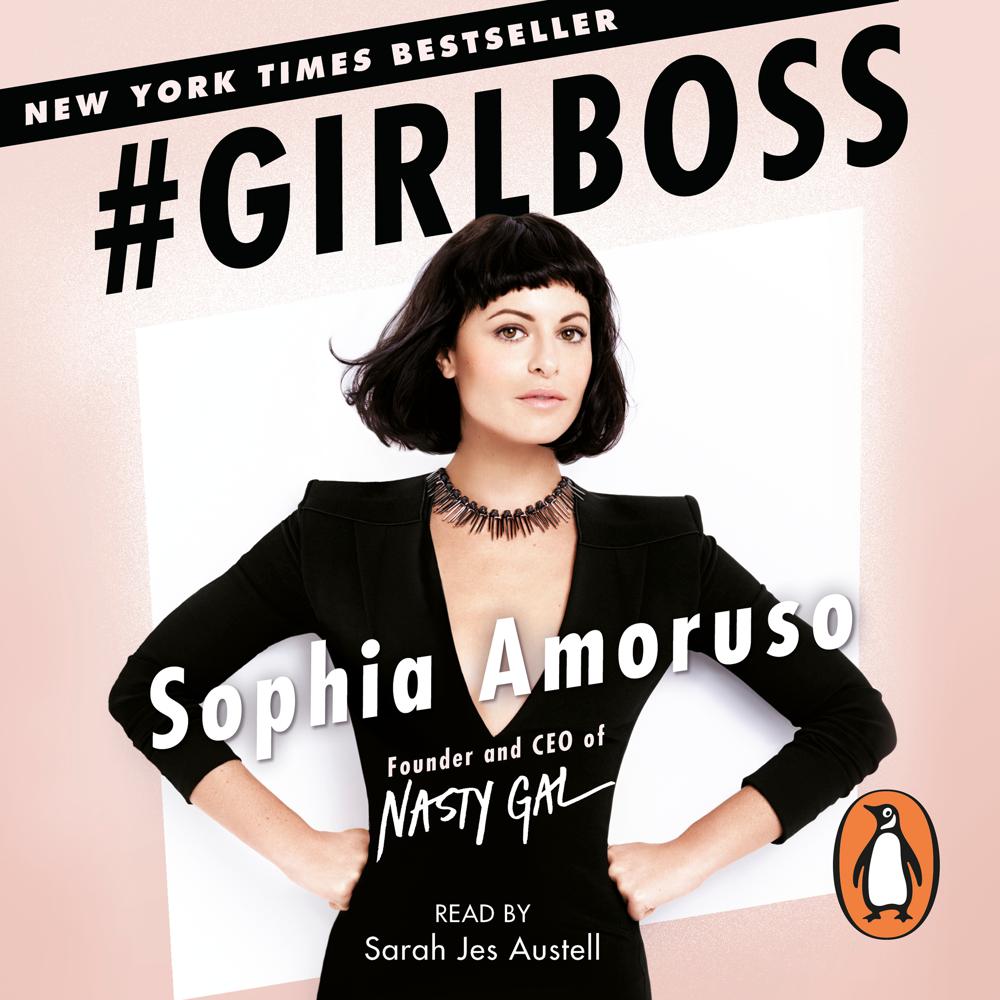 Narrated By: Sarah Jes Austell
Duration: 4 hours and 41 minutes
What to expect
*#GIRLBOSS NETFLIX ORIGINAL OUT NOW*

Penguin presents the unabridged, downloadable, audiobook edition of the New York Times bestselling sensation #GIRLBOSS by Sophia Amoruso, read by Sarah Jes Austell.

'#GIRLBOSS is more than a book . . . #GIRLBOSS is a movement' Lena Dunham

'A millennial alternative to Lean In' New York Magazine

'A compellingly motivational read' The Telegraph

'The book you need in your life' Marie Claire

*Winner of the 2014 Goodreads Choice Award for Best Business Book*

In the space of ten years, Sophia Amoruso has gone from high-school dropout to founder and Executive Chairman of Nasty Gal, one of the fastest-growing retailers in the world.

Sophia's never been a typical executive, or a typical anything, and she's written #GIRLBOSS for other girls like her: outsiders (and insiders) seeking a unique path to success.

Filled with brazen wake-up calls, cunning and frank observations, and behind-the-scenes stories from Nasty Gal's meteoric rise, #GIRLBOSS covers a lot of ground. It proves that success doesn't come from where you went to college or how popular you were in school. Success is about trusting your instincts and following your gut, knowing which rules to follow and which to break.

Inspiring, motivating and empowering, #GIRLBOSS will give you the kick up the ass you need to reach your potential.
Genre
Autobiography: business & industry, Entrepreneurship, Feminism & feminist theory, Biography: business & industry, Small businesses & self-employment, Business studies: general, Interpersonal communication & skills, Time management
Listen to a sample
If you read one book with a hashtag for a title this year, make it #GIRLBOSS
A power manifesto for strong, ambitious young women ... Amoruso teaches the innovative and entrepreneurial among us to play to our strengths, learn from our mistakes, and know when to break a few of the traditional rules
The book you need in your life ... a simultaneously funny, warm, inspiring and straight-talking guide on how to go about getting shit done
The Cinderella of tech
Fashion's new phenom
A millennial alternative to Lean In
A compellingly motivational read
Starkly brilliant
Filled with great advice for all millennial women ready to take over the world
Amoruso's voice is accessible and charmingly self-deprecating without losing the effortless cool that characterizes her clothes...Being anti-establishment is teh old cool. The new cool is playing by your own rules and still winning by their standards
#GIRLBOSS is more than a book and Sophia Amoruso is more than a purveyor of (fine and fly) garments. #GIRLBOSS is a movement - a philosophy for making your work life as fun, fresh and raunchy as your personal adventures. Sophia encourages us to own the qualities we've previously been ashamed of (bossiness, crudeness, petty thievery) in order to become the masters of our own destiny, financially independent and radically ourselves. I'm so in
Deeply personal and filled with brazen, hilarious moments and cunning and frank observations, don't be surprised if you laugh out loud
Part memoir, part management guide and part girl-power manifesto. A sort of Lean In for misfits, it offers young women a candid guide to starting a business and going after what they want
It's easy to get the sense, reading Lean In, that Sandberg is writing for women who've already made it. #GIRLBOSS is for those who haven't, which means it is aimed at people who have nothing to lose, which makes it a much riskier and more enjoyable manifesto