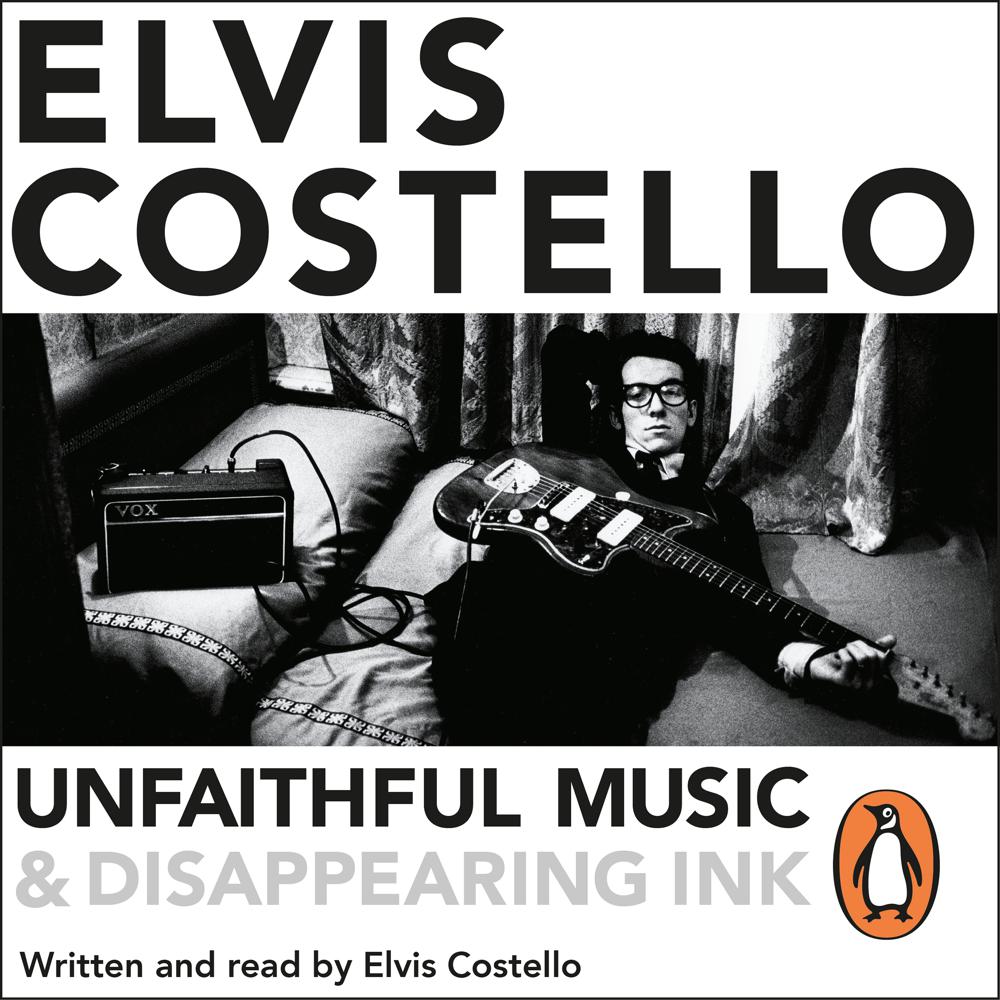 Narrated By: Elvis Costello
Duration: 17 hours and 51 minutes
What to expect
Penguin presents the unabridged, downloadable, audiobook edition of Unfaithful Music and Disappearing Ink, written and read by Elvis Costello.
'I asked my dad if he needed "Please, Please Me" any more. He laughed and handed the record to me . . ."
In a career spanning four decades, Elvis Costello (born Declan MacManus) has made himself a huge reputation through his tunes, lyrics and occasional bad behaviour. Now, for the first time, he is telling his story.
From miming on Top of the Pops, to becoming one of the industry's elder statesmen, Costello's memoir - which he has written himself and will promote assiduously - is a one-man history of British music. A warm, deep and surprisingly funny insight into an amazing life, it is rich with anecdotes about family, musicians and the creation of his famous songs.
Genre
Musicians, singers, bands & groups, Autobiography: arts & entertainment, Popular music
Listen to a sample
[Unfaithful Music] is truly remarkable in the way it presents a riveting, honest portrait of the author and the many A-listers he's tread the boards with, while ricocheting through the years at an almost breathless pace ... even the most ardent Costello fan will come away having learned more about the man than any of us ever dared hope to discover
Without doubt, one of the greatest self-penned appraisals of a popular entertainer's life and work...What makes this book a classic (yes, you heard me) is the beauty of the writing, the seemingly effortless imagery of situations, saints and sinners (EC puts himself in the latter category, often), and the persuasive nature of the text that should make even the most casual reader clamour for more after 670 pages
Revelatory, evocatively crafted, [and] highly entertaining
Often brilliant and wholly idiosyncratic
Long one of music's wittiest, smartest, and most perceptive lyricists, Costello has done his legacy proud with his new book, which, thankfully, goes far beyond his angry-young-man days, most movingly in its frequent reminiscences about the relationship between the singer and his musician father
Vivid ... It's not surprising that one of rock's most literate songwriters would pen such a deep, free-form memoir
The book is fantastic - maybe the best about music by a musician that I've read....The stuff about the collaborations alone - McCartney, Burt Bacharach, Allen Toussaint, the Roots, the Brodsky Quartet - is riveting
Written elliptically, episodically beautiful ... this man's knowledge is breath-taking
His book is almost essential as an idiosyncratic history of 20th-century pop music
This is a big book, literally, by one of the best rockers in the business. Given the singular, and eclectic, nature of his career, it is no surprise that Elvis Costello's anecdotal autobiography is an idiosyncratic journey through his music and the people and places that have inspired him ... A must for Costello fans everywhere.
Enthralling ... This is family history as musical encyclopedia, and to listen to Costello recount his life is to be buttonholed by an enthusiastic fan. Fandom for Costello is inseparable from the compulsion to write songs and, it seems, to understand his own life ... Fortunately for the fan of Costello's music the topic of discussion is often his own songs, and he is, unsurprisingly, a witty and eloquent guide
Elvis Costello delivers an impeccably detailed autobiography. He's often as brilliant at turning a phrase in prose as he is in his lyrics
With an encyclopedic knowledge and appreciation for, and deep love of, music, and with an expressive power and heart, Costello's memoir will take its place in the highest echelons of the genre
The story unfolds like a movie that jumps across time, more thematic than chronological, as boyhood anecdotes and obsessions intersect with mature songs and adult reckoning.... The book doubles as a selective mini-history of 20th century music, as told by a discerning guide. He addresses artists both towering (Bob Dylan, Joni Mitchell, Johnny Cash) and relatively unheralded (David Ackles, Robert Wyatt) with a fan's affection and music scholar's insight
One of the finest musical biographies I have ever read ... an engrossing and rewarding read
Costello['s] book is capacious, clever, and full of heart and soul
Punctuated with sardonic and self-aware truths
Remarkable for its breadth and candour about everything: childhood, family, marriages, musical collaborations, love life, heroes, villains, screw-ups (even the most painful) and his songs...there are treasurable moments in profusion for admirers panning for gold...or diving for pearls
Typically sharp and funny on songwriting
Writers like Costello because he's always taken writing seriously. That's obvious to anyone who pays attention to his lyrics, and it's even more apparent to anyone who reads Unfaithful Music & Disappearing Ink, his charming new autobiography. The book is refreshingly free of salacious gossip and needless name-dropping; it's an intelligent self-assessment from a musician who went from angry young man to elder statesman of pop ... a defiantly fun autobiography.
A truly weighty rock memoir ... There's plenty of insight into his art here, a smattering of gossip, a wealth of pop-cultural knowledge, and just enough self-flagellation to keep things interesting
The writing is as good as you would expect from such an accomplished lyricist. The tone is wise, warm and often rueful, befitting a 61-year-old elder statesman, and the story a compelling one
The greatest songwriter of our generation ... a tremendous read
Plenty of tales to keep the pages turning. Readers will be fascinated by Costello's stories...his book feels like a discussion between friends over a pint.
[Costello] pens books with the same clever writing that he uses in song
By turns lachrymose, self-flagellating and impassioned. Unsurprisingly, it is beautifully written. It is also often extraordinarily moving.
His witty, word-playing voice transmits loud and clear....there are smart snapshots of vanished worlds...all his sins and virtues are displayed in this stylish, astute book
Costello's prose cuts with the same spiky wit and observational power as his well-known lyrics ... packed with great lines, vivid anecdotes ... a treat for his many fans.
Better written than your average rock memoir ... Costello is one the greatest writers of the 20th Century. It's funny, observant and clear of purpose
Studded with entertaining anecdotes
For serious music fans? It has to be Elvis Costello's Unfaithful Music & Disappearing Ink (Viking). Utterly definitive and clearly, painstakingly penned by Costello himself, who doesn't want to miss a detail
A winningly droll and good-natured guide to his life and many works throughout
In a world littered with uneven (and largely ghosted) celebrity memoirs, "Disappearing Ink" is a beautifully written revelation ... The book is not just for fans. "Unfaithful Music" is a lyrical tale that stretches across generations, geography and a century of popular song."
It really is stunning. Hugely illuminating, fiercely passionate, funny, moving and beautifully written.
Streaked with some of the best writing - funny, strange, spiteful, anguished - we've ever had from an important musician ... dark gems twinkle here in abundance.
A series of wryly comic tales that surely deserve the full Penguin Classic treatment randomly afford Morrisey
Every page exudes his deep love and knowledge of modern music
Costello ultimately emerges as a clever, compassionate, self-aware man, brave enough to acknowledge his faults and fortunate enough to have overcome the worst of them