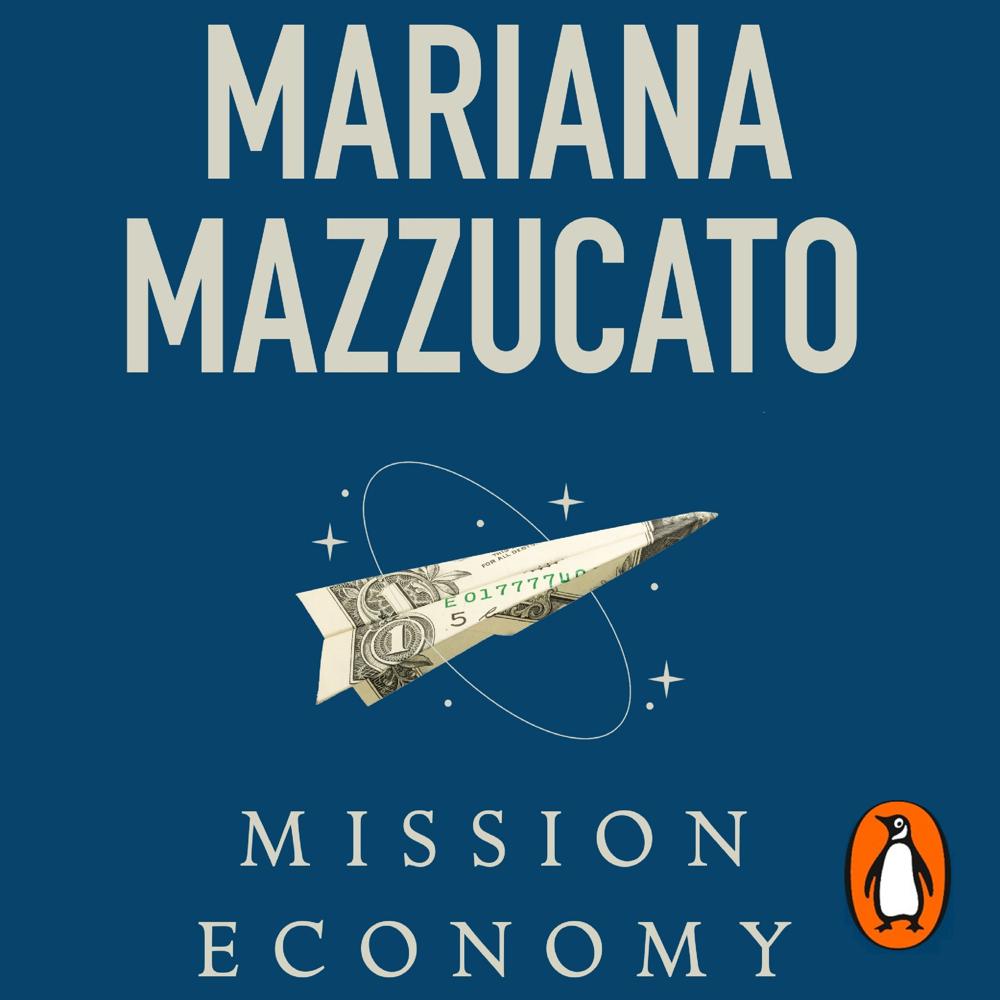 Narrated By: Lexie McDougall
Duration: 6 hours and 45 minutes
What to expect
Brought to you by Penguin.

Even before the Covid-19 pandemic in 2020, capitalism was stuck. It had no answers to a host of problems, including disease, inequality, the digital divide and, perhaps most blatantly, the environmental crisis. Taking her inspiration from the 'moonshot' programmes which successfully co-ordinated public and private sectors on a massive scale, Mariana Mazzucato calls for the same level of boldness and experimentation to be applied to the biggest problems of our time. We must, she argues, rethink the capacities and role of government within the economy and society, and above all recover a sense of public purpose. Mission Economy, whose ideas are already being adopted around the world, offers a way out of our impasse to a more optimistic future.

© Mariana Mazzucato 2021 (P) Penguin Audio 2021
Genre
Popular economics, Economic theory and philosophy, Capitalism, Political economy, Political science and theory
Listen to a sample
The case for a new approach is overwhelming and Mariana Mazzucato's project is ambitious ... Mission Economy injects the kind of vision, ambition and imagination so desperately missing from government today ... All those in favour of a better future - of prosperity that is broadly shared, first class public services to be enjoyed by all, and a solution to the climate crisis - should read this book.
One of the most agile thinkers on post-Brexit, post-Covid Britain.
a wider and more radical critique of modern capitalism ... Mazzucato is a fantastic example of a charismatic policy entrepreneur having a real impact ... Mazzucato rightly shows that the state can rise to grand challenges and set ambitious missions.
A timely and optimistic vision ... Mazzucato presents her arguments so simply and clearly that they can seem obvious. In fact, they are revolutionary. Rethinking the role of government nationally and in the international economy - to put public purpose first and solve the problems that matter to people - are now the central questions for humanity
In Mission Economy Mariana Mazzucato argues that societies ought to abjure tired ideologies and embrace the policy approach that put astronauts on the Moon. By setting grand missions for themselves, she writes, and deploying the power of the state in practical ways, they can become more prosperous and equitable ... Mazzucato is an Italian-born economist of a heterodox bent, whose work has long challenged standard economic thinking about the role of markets and government in generating innovation ... compelling ... arresting
Mazzucato's new book criticises the narrowness of the philosophy that says the only role for government is to correct "market failures," stepping in when the private sector cannot deliver adequately by itself ... Mission Economy argues for a more agile, flexible public sector, free to adapt to changing circumstances and new challenges. Mazzucato advocates institutional innovation and citizen engagement in the setting of missions and challenges.
Mazzucato's solution is to redesign capitalism in the interests of stakeholders rather than shareholders, and to reshape the relationship between government and the state as a "mission economy". Civil servants should be active, not passive ... Britain and America, she believes, need to abandon the neoliberal belief in minimalist government that merely regulates the market and lets the private sector drive innovation.
In her new book, Mission Economy: A Moonshot Guide to Changing Capitalism, she argues that the state must lead the way ... Mazzucato is particularly good on the dubious benefits of outsourcing government functions to management consultants and other carpetbaggers.
Mazzucato's ... boldness and long-term vision ... argues Western market-led capitalism has failed. Years of privatising state-owned companies and outsourcing essential services, she says, have left governments weakened without benefitting society or saving taxpayers' money ... Governments, economist Mariana Mazzucato contends, should now channel the same spirit and back bold goals to improve the planet and society.