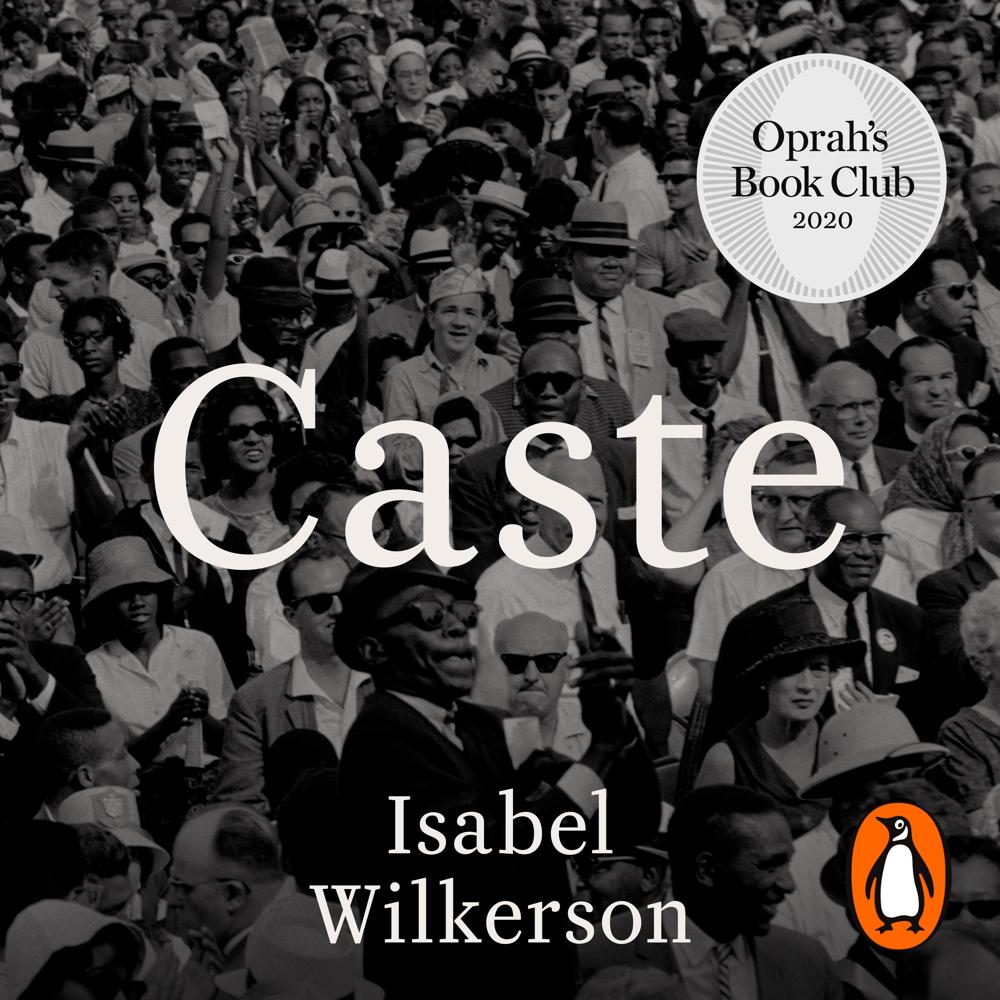 Narrated By: Robin Miles
Duration: 14 hours and 26 minutes
What to expect
Brought to you by Penguin.

'The hierarchy of caste is not about feelings or morality. It is about power - which groups have it and which do not'

Beyond race or class, our lives are defined by a powerful, unspoken system of divisions. In Caste, Pulitzer Prize-winning author Isabel Wilkerson gives an astounding portrait of this hidden phenomenon. Linking America, India and Nazi Germany, Wilkerson reveals how our world has been shaped by caste - and how its rigid, arbitrary hierarchies still divide us today.

With clear-sighted rigour, Wilkerson unearths the eight pillars that connect caste systems across civilizations, and demonstrates how our own era of intensifying conflict and upheaval has arisen as a consequence of caste. Weaving in stories of real people, she shows how its insidious undertow emerges every day; she documents its surprising health costs; and she explores its effects on culture and politics. Finally, Wilkerson points forward to the ways we can - and must - move beyond its artificial divisions, towards our common humanity.

Beautifully written and deeply original, Caste is an eye-opening examination of what lies beneath the surface of ordinary lives. No one can afford to ignore the moral clarity of its insights, or its urgent call for a freer, fairer world.

© Isabel Wilkerson 2020 (P) Penguin Audio 2020
Genre
Social classes, Social discrimination and equal treatment, Sociology, Far-right political ideologies and movements
Listen to a sample
[A] deeply affecting, finely crafted and heroic book. . . .Wilkerson has taken on one of the most important demographic upheavals of the past century--a phenomenon whose dimensions and significance have eluded many a scholar--and told it through the lives of three people no one has ever heard of....This is narrative nonfiction, lyrical and tragic and fatalist. The story exposes; the story moves; the story ends. What Wilkerson urges, finally, isn't argument at all; it's compassion. Hush, and listen.
This is a brilliant book, well timed in the face of a pandemic and police brutality that cleave along the lines of a caste system.
Propulsive...Should be required reading for generations to come. Caste removes the tenuous language of racial animus and replaces it with a sturdier lexicon based on power relationships. Using examples from around the world, Wilkerson demonstrates how the codification of caste has hardened economic and political inequality into seemingly permanent markers of difference.
This enthralling exposé deserves a wide and impassioned readership."
Wilkerson's book arrives at a key inflection point, an opening for us to imagine, and then create, a system that's better than the one we've inherited.
A landmark piece of nonfiction . . . sure to hold many surprises for readers of any race or experience....A mesmerizing book that warrants comparison to The Promised Land, Nicholas Lemann's study of the Great Migration's early phase, and Common Ground, J. Anthony Lukas's great, close-range look at racial strife in Boston....[Wilkerson's] closeness with, and profound affection for, her subjects reflect her deep immersion in their stories and allow the reader to share that connection
Destined to become a classic ... urgent, essential reading for all.
PRAISE FOR THE WARMTH OF OTHER SUNS:
A brilliant and stirring epic, the first book to cover the full half-century of the Great Migration... Wilkerson combines impressive research...with great narrative and literary power. Ms. Wilkerson does for the Great Migration what John Steinbeck did for the Okies in his fiction masterpiece, The Grapes of Wrath; she humanizes history, giving it emotional and psychological depth.
Magnificent. Profound. Eye-opening. Sobering. Hopeful.
A transformative new framework through which to understand identity and injustice.
Caste makes a convincing, often scorching case that caste was there at the birth of the nation, and we wrestle every day with that legacy. It upsets the already rickety national myth that anyone in the United States can be anthing-albeit, without entirely abandoning that hope
Isabel Wilkerson's Caste is probably the most important piece of non-fiction published this year.
Vital, brilliant and necessary
Impressively researched and well written ... If you haven't read Caste yet, you absolutely must.
There is a deeper and more intractable system that hides behind the chimera of race, and that system is properly called American caste ... Wilkerson's book is a powerful, illuminating and heartfelt account of how hierarchy reproduces itself, as well as a call to action for the difficult work of undoing it.
Persuasive and unsettling ... beneath the veneer of meritocratic idealism lie deeper layers of the American psyche where white supremacy still reigns. But the case Wilkerson puts forward is inspiring and hopeful ... caste can be dismantled, setting everyone free.
A consummate storyteller ... Isabel Wilkerson has written important book that reminds us of a comradeship of interwoven histories.
Surprising and arresting... the idea of caste challenges fundamental notions of America as a meritocratic society ... Wilkerson's epilogue feels like a prayer for a country in pain, offering new directions through prophetic new language
Haunting yet strangely consoling, in a world defined by its divides, Caste connects. It reveals the 'unseen skeleton' embedded in heinous acts of power but, in evocative prose that is full of poise, reminds us what's possible when people come together. I closed the book feeling enlightened and energised, ready to roll up my sleeves and get on with the good work.
Powerful and timely ... I cannot recommend it strongly enough
It should be at the top of every American's reading list.
Searching, gorgeously crafted... Wilkerson builds her arguments with nuance and meticulous research. Her reporting is nimble and her sentences exquisite... Caste is a luminous read, bearing its own torch of righteous wrath in a diamond-hard prose that will be admired and studied by future generations.
Wilkerson's genius as a writer is her ability to tell you the big story of what happened, but to make that story matter by linking it to the lives of those who survived it. That is, to me, her unique contribution: what in the hands of another writer would feel like an abstraction attains, in her work, the vividness and emotional power of lived experience.
Important and timely ... America does not merely have a problem with "race", but it is also haunted by the ugly issue of caste, a set of embedded practices that presume it is natural - and correct - to divide humans into different groups and keep them in a hierarchy. ... If repudiation of past assumptions is the first step towards healing, Wilkerson's book offers a powerful frame for this. It is essential reading for anybody who feels angry, guilty or threatened by the tangled issue of "race" in America today.
Extraordinary ... an instant American classic and almost certainly the keynote nonfiction book of the American century thus far ... It made the back of my neck prickle from its first pages, and that feeling never went away. Wilkerson has written a closely-argued book that largely avoids the word "racism," yet stares it down with more humanity and rigor than nearly all but a few books in our literature. It's a book that seeks to shatter a paralysis of will. It's a book that changes the weather inside a reader.
Caste will spur readers to think and to feel in equal measure
Wonderful...Prepare to have your mind expanded, your heart break and your head slowly shake by Wilkerson's sublime combination of skilful, analytical dissection and raw, emotional testimony...
Profound, necessary and an absolute delight to read
Magnificent . . . a trailblazing work on the birth of inequality . . . Caste offers a forward-facing vision. Bursting with insight and love, this book may well help save us
An expansive interrogation of racism, institutionalised inequality and injustice ... This is an American reckoning and so it should be. Wilkerson activates history in her pages, bringing all its horror and possibility to light. It is a painfully resonant book and could not have come at a more urgent time.
Such is Wilkerson's gift as a writer that she leaves you looking at the world differently.