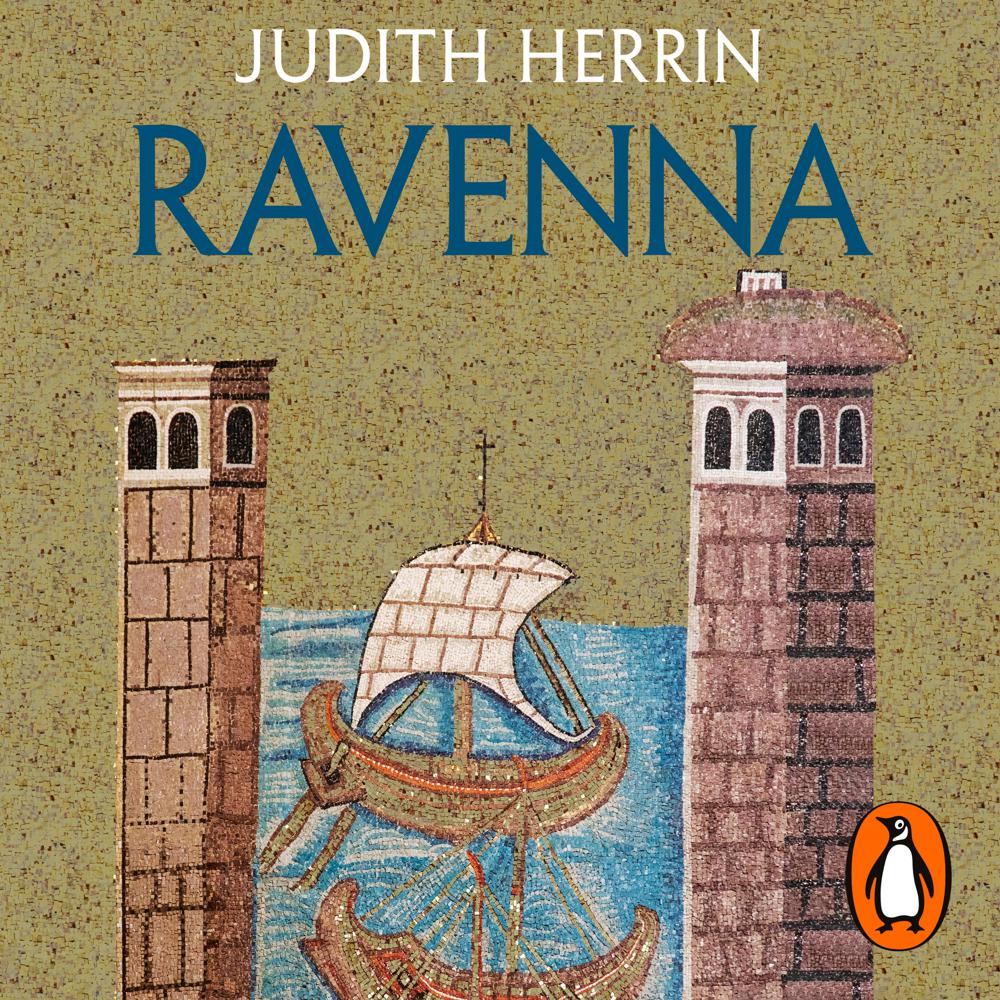 Narrated By: Phyllida Nash
Duration: 19 hours and 4 minutes
What to expect
Brought to you by Penguin.

In 402 AD, after invading tribes broke through the Alpine frontiers of Italy and threatened the imperial government in Milan, the young Emperor Honorius made the momentous decision to move his capital to a small, easy defendable city in the Po estuary - Ravenna. From then until 751 AD, Ravenna was first the capital of the Western Roman Empire, then that of the immense kingdom of Theoderic the Goth and finally the centre of Byzantine power in Italy.

In this engrossing account Judith Herrin explains how scholars, lawyers, doctors, craftsmen, cosmologists and religious luminaries were drawn to Ravenna where they created a cultural and political capital that dominated northern Italy and the Adriatic. As she traces the lives of Ravenna's rulers, chroniclers and inhabitants, Herrin shows how the city became the meeting place of Greek, Latin, Christian and barbarian cultures and the pivot between East and West. The book offers a fresh account of the waning of Rome, the Gothic and Lombard invasions, the rise of Islam and the devastating divisions within Christianity. It argues that the fifth to eighth centuries should not be perceived as a time of decline from antiquity but rather, thanks to Byzantium, as one of great creativity - the period of 'Early Christendom'. These were the formative centuries of Europe.

While Ravenna's palaces have crumbled, its churches have survived. In them, Catholic Romans and Arian Goths competed to produce an unrivalled concentration of spectacular mosaics, many of which still astonish visitors today. Beautifully illustrated with specially commissioned photographs, and drawing on the latest archaeological and documentary discoveries, Ravenna: Capital of Empire, Crucible of Europe brings the early Middle Ages to life through the history of this dazzling city.

'Magisterial - an outstanding book that shines a bright light ON one of the most important, interesting and under-studied cities in European history. A masterpiece.' Peter Frankopan

'A wonderful new history of the Mediterranean from the fifth to eighth centuries through a lens focussed on Ravenna, gracefully and clearly written, which reconceptualizes what was "East" and what was "West".' Caroline Goodson

'A masterwork by one of our greatest historians of Byzantium and early Christianity. Judith Herrin tells a story that is at once gripping and authoritative and full of wonderful detail about every element in the life of Ravenna. Impossible to put down.' David Freedberg

© Judith Herrin 2020 (P) Penguin Audio 2020
Genre
European history: medieval period, middle ages, Ancient history
Listen to a sample
Herrin's claims for Ravenna are both sweeping and convincing. ... Herrin's book, then, is about a good deal more than its ostensible subject. It aims to answer some fundamental historical questions. How did the Roman empire in western Europe decay and mutate? What were the influences on the civilisation of medieval Christendom, and how did they interfuse? To what extent was Christianity touched by the trace elements of Greek and Roman civilisation? Notoriously problematic though these issues are, they are ones that Herrin has spent a distinguished career studying, and which Ravenna brilliantly serves to elucidate.
the book is absolutely gorgeous, with magnificent colour reproductions of Ravenna's churches and mosaics. Relics of an age that seems almost impossibly remote, they are the foundations on which modern Europe stands.
Judith Herrin's Ravenna is an erudite but wonderfully readable over-view of the life of a city that is often ignored, forgotten or misplaced.
This book is a triumph of accessible, innovative, lively scholarship from one of the very best Byzantine historians we have. It casts an unexpected but deeply illuminating light on how the "European" political and religious mind became what it is.
Herrin spent nine years researching her narrative of the three and a half centuries of Ravenna's ascendancy ... By the time we can easily visit Ravenna the city again it should be with the advantage of having read Ravenna the book
Herrin is a superb historian who tells us that she's tethered to the tangible evidence of primary sources. Praise the Lord, I thought. Someone's still doing history the right way.
Beautifully illustrated, impeccably researched and accessibly presented, it traces Ravenna's career as the capital of the Roman empire in the west ... Buildings are also brought to life alongside the people who built and used them. ... It is this linking of tangible remains and historical record that is the book's great strength
Judith Herrin's Ravenna ... performs the seemingly impossible task of rescuing its subject from obscurity, charting an improbably journey from marsh-enfolded outpost to imperial capital and cultural dynamo.
Others in recent years have made worthy efforts to interest us in the Byzantine achievement, but none has made it live in quite the way that Herrin does ... Free from portentousness and pretentiousness, she doesn't insist on her subject's importance or relevance: the freshness and enthusiasm of her book is its real point. Not just an important work of scholarship but a delight to read, this study works a minor miracle in raising Byzantium, Lazarus-like, from its dusty grave.
Reviews for Byzantium: The Surprising Life of a Medieval Empire
The northern Italian city of Ravenna, with its wondrous mosaicked churches and gilded mausolea that miraculously survived the aerial bombardments of the second world war, was manifestly also a Byzantine city. Herrin shows how this was so in her scrupulously researched history of the city in its imperial heyday through the period Edward Gibbon chose to call the Dark Ages ... eminently worth reading. The colour plates are so sumptuous that the Ravenna mosaics fairly glow on the page.
Herrin tells the changing story of Ravenna as it unfolds from the end of the fourth century to the ninth in a series of short, accessible sections with the aid of luscious illustrations.
the city was "the melting pot of Europe" ... the hinge between the old Roman empire, the refounded Rome of Byzantium and the second new Rome of Charlemagne, who plundered its monuments for his capital at Aachen. Herrin's book ... is a welcome addition to a golden era of scholarship devoted to late antiquity and the early Middle Ages in Europe
Ravenna shows us an earlier stage in the relationship between Byzantium and the west. It was an impregnable port city, selected as a redoubt during the depredations of Attila the Hun. It was the residence of the western Roman emperors, of the Gothic kings who succeeded them and then of the exarchs, Byzantine officials who preserved this toehold of imperial control into the eighth century. It was also the seat of powerful archbishops, whose rivalry with the Pope in Rome fills pages of local history. Each of these different rulers left their own stamp on the city through their building work and mosaics. Judith Herrin's book provides a rich illustration and analysis of this legacy ... Herrin is equally adept at drawing out the wider, international legacy of Ravenna. An important example of this comes after the city's heyday, when ... Charlemagne, the Frankish emperor, was a visitor to the city, and in Ravenna he saw models of Roman rulership expressed in stone and mosaic.
A sweeping and engrossing history ... an accessible narrative that brings to life the men and women who created the city during this period and who fashioned its hybrid Christian culture of Latin, Greek and Gothic elements. The narrative is periodically elevated by discussions of the city's most famous attractions and its glorious churches, brilliantly illustrated in the book's 62 color plates. It is also enlivened by recurring digressions on daily life in the city at each phase in its history.
Judith Herrin, a Professor at King's College London, is already Britain's best-known living Byzantinologist. Learned and witty, her books and articles have brought her subject out of shadow into a daylight where the dealings of emperors, exarchs and bishops become comprehensible, often lively, often concerned with issues acute in our own times ... She is original in wider ways, too: not only in her painstaking reconstruction of social and economic life in Ravenna from often fragmentary documents, but in her broad take on the whole period from about the fourth to the ninth century ... the gorgeous, plentiful illustrations help the reader to grasp the sheer scale of Herrin's triumphant history. This book is a master-work of scholarship and sharp intelligence.
Judith Herrin's Ravenna aims to set the mosaics, the buildings they ennoble and the urban landscape they inhabit back within a meaningful historical context. It's a worthy project that surprisingly has not really been attempted before ... it takes a scholar of Herrin's brilliance to bring events to life within a meaningful evocation of a time and a place. That skill, and a wonderfully pellucid prose style, ensures that even readers frustrated by the archaic narrative will find a great deal to admire and indeed learn from.
She presents Byzantium as a vibrant, dynamic, cosmopolitan reality which somehow escaped the constraints of its official ideology
lively, startling ... The author evokes lost worlds in surprising anecdotes ... From chariot races to bust-ups between neighbourhood gangs, readers are vividly reminded that for all its grandeur, Ravenna was in its heyday a flawed and hectic place.