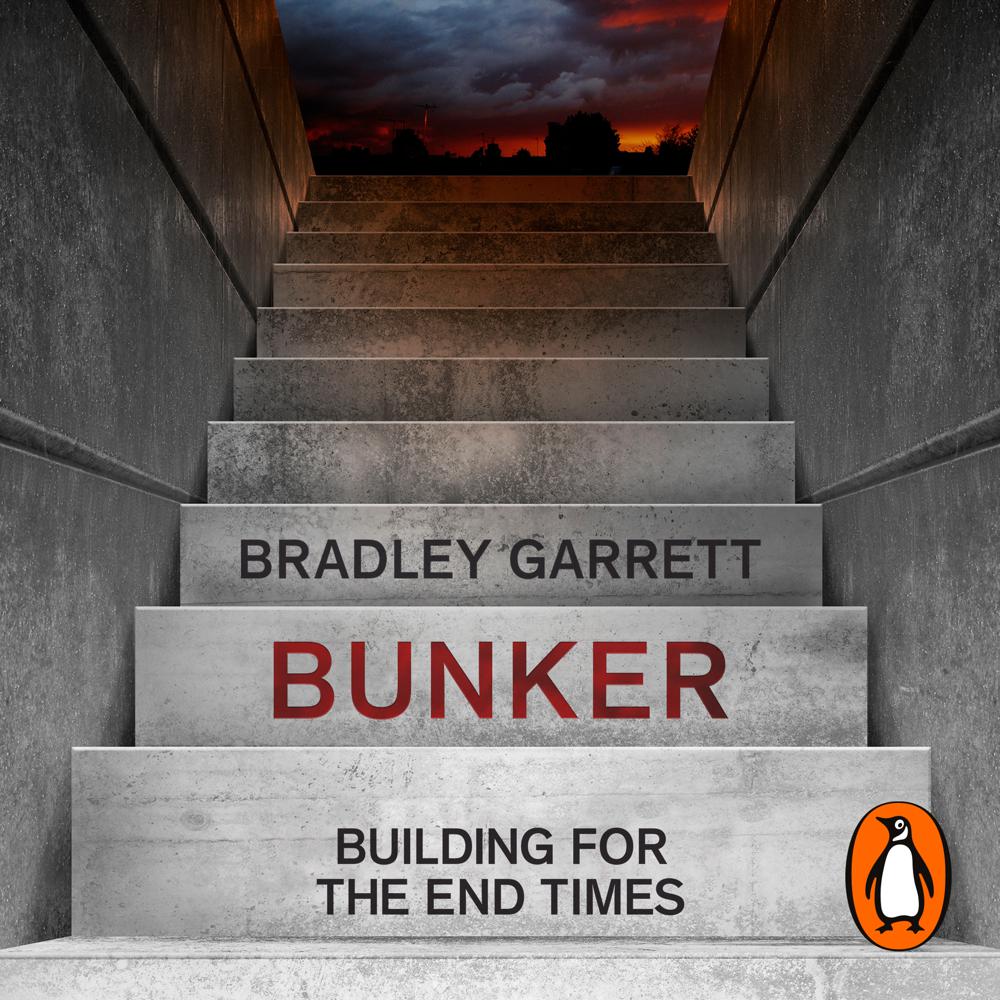 Narrated By: Adam Sims
Duration: 10 hours and 29 minutes
What to expect
Brought to you by Penguin.

Since prehistory, bunkers have been built as protection from cataclysmic social and environmental forces, and as places of power and transformation. Today, the bunker has become the extreme expression of our greatest fears: from pandemics to climate change and nuclear war. And once you look, it doesn't take long to start seeing bunkers everywhere.

In Bunker, acclaimed urban explorer and cultural geographer Bradley Garrett explores the global and rapidly growing movement of 'prepping' for social and environmental collapse, or 'Doomsday'. From the 'dread merchants' hustling safe spaces in the American mid-West to eco-fortresses in Thailand, from geoscrapers to armoured mobile bunkers, Bunker is a brilliant, original and never less than deeply disturbing story from the frontlines of the way we live now: an illuminating reflection on our age of disquiet and dread that brings it into new, sharp focus.

The bunker, Garrett shows, is all around us: in malls, airports, gated communities, the vehicles we drive. Most of all, he shows, it's in our minds.

© Bradley Garrett 2020 (P) Penguin Audio 2020
Genre
Social & political philosophy, Architecture: castles & fortifications, Popular culture, Contemporary non-Christian & para-Christian cults & sects, Social forecasting, future studies, Social groups: alternative lifestyles
Listen to a sample
Bunker benefits from the mere fact of taking its protagonists seriously as humans and as members of society, rather than as outlandish characters.
There are many strands in this book ... [Garrett] brings sharp insight to a subject that no longer seems so remote or speculative.
A highly addictive book ... What makes Garrett's book fascinating is his portrayal of the balance between fringe thinking and the real world.
Garrett is a bright and buoyant guide and Bunker rattles briskly along ... A necessary read.
How prescient and timely ... This is a tartly thoughtful work, by turns witty and philosophical, with an undercurrent of anger at the way we are governed and the commodification of existential fear. He writes pacily, bringing to vivid life a gallery of survivalist wingnuts, conmen and evangelists.
This baseball-cap wearing academic is the world's leading expert on survivalists ... But he never expected Bunker to be so topical.
A kind of apocalyptic Super Size Me, in which the author force feeds himself a steady diet of paranoia, conspiracy, eschatology and end-times architecture.
Bradley Garrett spent three years meeting doomsday preppers for his book Bunker ... If we work together, he thinks, there is no reason that a future global catastrophe has to become an apocalypse. Well, that's something.
For Garrett, physical exploration is merely the outward manifestation of a deeper philosophical inquiry. The theoretical DNA of much of his work traces back to the concept of "psychogeography"
Brilliant ... Bunker, self-evidently a work for our times, shimmers with a Ballardian imagery of disaster and melt-down.
Garrett's book forces readers to reassess other assumptions about bunkers and those who own them.
A scary, unputdown-able account ... No book could be more timely as we stay in our own little bunkers to avoid infection, strip the supermarket shelves of loo paper, and squirrel away supplies of food to see us through the shortages that many fear will follow a no-deal Brexit.
Garrett spent several years travelling the world, going down into bunkers and talking to their owners and tenants. His book is an incredible record of that journey, and also functions as a philosophical or psychological disquisition about space, about freedom, about survival. Bunker is an incredible read and will surely sell in quite enormous numbers, assuming the human race remains intact and can still read.
This is a gripping and timely book about both the 'architecture of dread' and its multi-billion dollar industry, and what the growing appetite for bunkers reveals about the social conditions in which we live.
Bunker is a thoughtful study into the nature of paranoia and the people who try to profit from it - and it makes for a page-turning read.
Garrett's research has involved hanging out with millenarian fruitcakes, disaster profiteers and the uber-rich, not to mention tooled-up, swivel-eyed anarcho-libertarians from America to Australia ... His sense is that disaster gives us an opportunity to rethink how we live. What will we learn?
This study of bunker sites and the people preparing for the worst couldn't be better timed.
Bunker is an extraordinary achievement; a big-thinking, deep-diving, page-turning study of fear, privilege and apocalypse told through the space of the bunker. Garrett has written a gripping, grim, witty work of geography and ethnography, which he completed - with eerie timeliness - in the first weeks of the COVID pandemic. A book about prepping and prognostication, then, which had already foretold its own future.