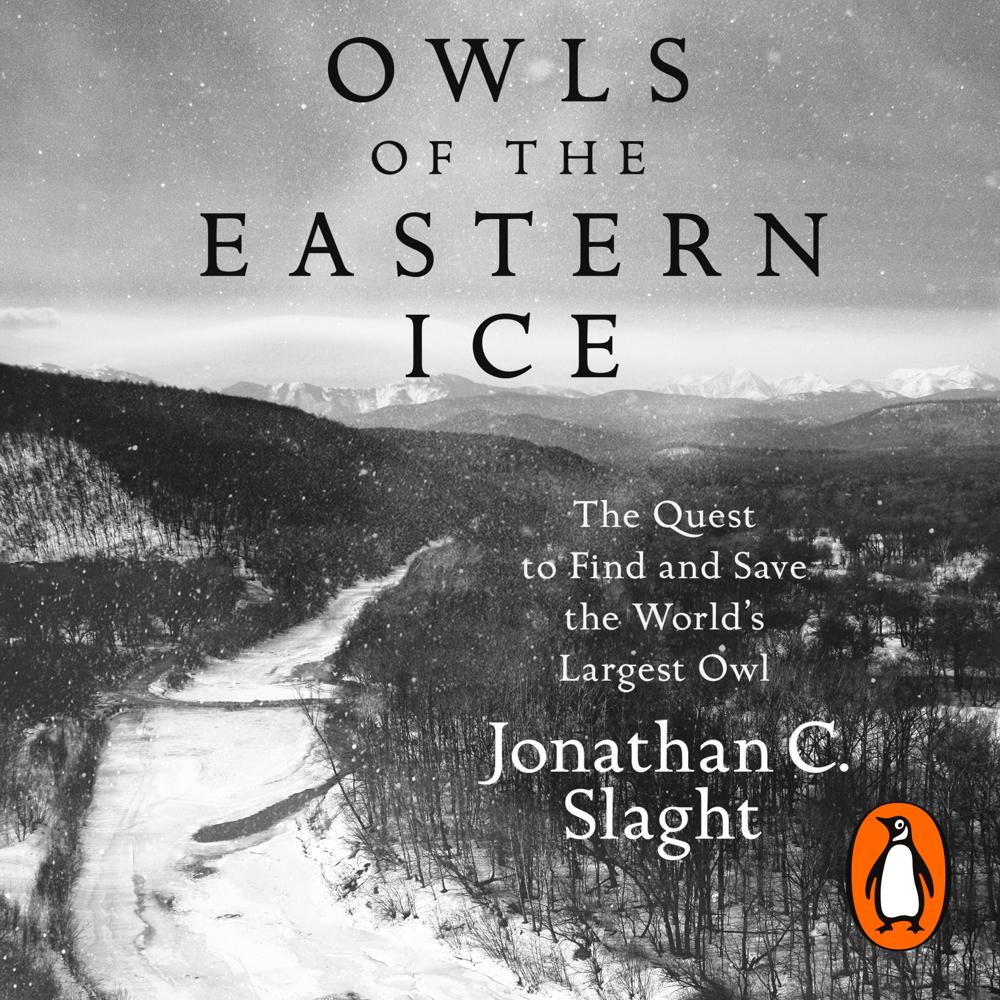 Narrated By: Jonathan C. Slaght
Duration: 8 hours and 44 minutes
What to expect
Brought to you by Penguin.

'Remarkable. If only every endangered species had a guardian angel as impassioned, courageous and pragmatic as Jonathan Slaght' Isabella Tree, author of Wilding

'Gripping' Dave Goulson, author of A Sting in the Tale

Primorye, a remote forested region near to where Russia, China and North Korea meet in a tangle of barbed wire, is the only place where brown bears, tigers and leopards co-exist. It is also home to one of nature's rarest birds, the Blakiston's fish owl. A chance encounter with this huge, strange bird was to change wildlife researcher Jonathan C. Slaght's life beyond measure.

This is the story of Slaght's quest to safeguard the elusive owl from extinction. During months-long journeys covering thousands of miles, he has pursued it through its forbidding territory. He has spent time with the Russians who struggle on in the harsh conditions of the taiga forest. And he has observed how Russia's logging interests and evolving fortunes present new threats to the owl's survival. Preserving its habitats will secure the forest for future generations, both animal and human - but can this battle be won? Exhilarating and clear-sighted, Owls of the Eastern Ice is an impassioned reflection on our relationship with the natural world and on what it means to devote one's career to a single pursuit.

'Slaght makes the people, wildlife and landscape of the Russian Far East come alive. I haven't enjoyed a book on remote Russia as much as this since Ian Frazier's Travels in Siberia'
Sophy Roberts, author of The Lost Pianos of Siberia

'True epic. Powerful, passionate' Charles Foster, author of Being a Beast

© Jonathan C. Slaght 2020 (P) Penguin Audio 2020
Genre
Travel writing, Wildlife: birds & birdwatching: general interest, Conservation of wildlife & habitats, Zoology: birds (ornithology)
Listen to a sample
Slaght's story reveals the patience and determination of a true conservationist. And the ears and eyes of a poet. Above all, he makes the people, wildlife and landscape of the Russian Far East come alive for armchair travellers. I haven't enjoyed a book on remote Russia as much as this since Ian Frazier's Travels in Siberia
A detailed and thrilling account of efforts to conserve an endangered species. . . Slaght evinces humor, tirelessness, and dedication in relating the hard and crucial work of conservation. Readers will be drawn to this exciting chronicle of science and adventure, a demonstration that wilderness can still be found.
Excellent...The brutality of human habitation is counterpoised with the brutality of the natural world. The reader becomes, like the author, "stunned by the quiet violence of this place."
A thoroughly engaging read which will appeal both to those specifically interested in owls, as well as those with a wider interest in the natural world. Will make armchair and keyboard conservationists envious and uncomfortable in equal measures
A gripping account of the author's obsessive quest to save one of the world's most magnificent birds.
This is an epic tale of hangovers, violence and obsessive ornithology. It is a superb depiction of a far-flung corner of the world where bears, tigers and men battle with relentless environment and each other. It is a powerful antidote to saccharine nature writing; Slaght encounters such a host of pickled gritty characters that you could imagine the Coen brothers adapting it for the screen.
The remarkable story of one man's heroic quest to save the astonishing fish owl. If only every endangered species had a guardian angel as impassioned, courageous and pragmatic as Jonathan Slaght.
A vivid dispatch from the front line of conservation, Owls of the Eastern Ice is engrossing and uplifting; an inspiring story of vital work undertaken with utter determination in wild and distant places.
A fascinating account of one man's quest to conserve the magnificent fish owl of Eastern Asia, this is a book that feels both urgent and relevant.
From the very first pages, Slaght grips readers with vivid language and tight storytelling ... The cast of characters he brings to life - both human and avian - illuminate the delicate symbiosis of the natural world and shed a welcome light on the remarkable creatures that are too little known. Top-notch nature writing in service of a magnificent, vulnerable creature.
True epic. A powerful, passionate and highly readable reflection on the wildness both inside us and out there in the forest.
Slaght has a rare gift for startling evocations of the natural world...A refreshingly old-school, tautly strung adventure