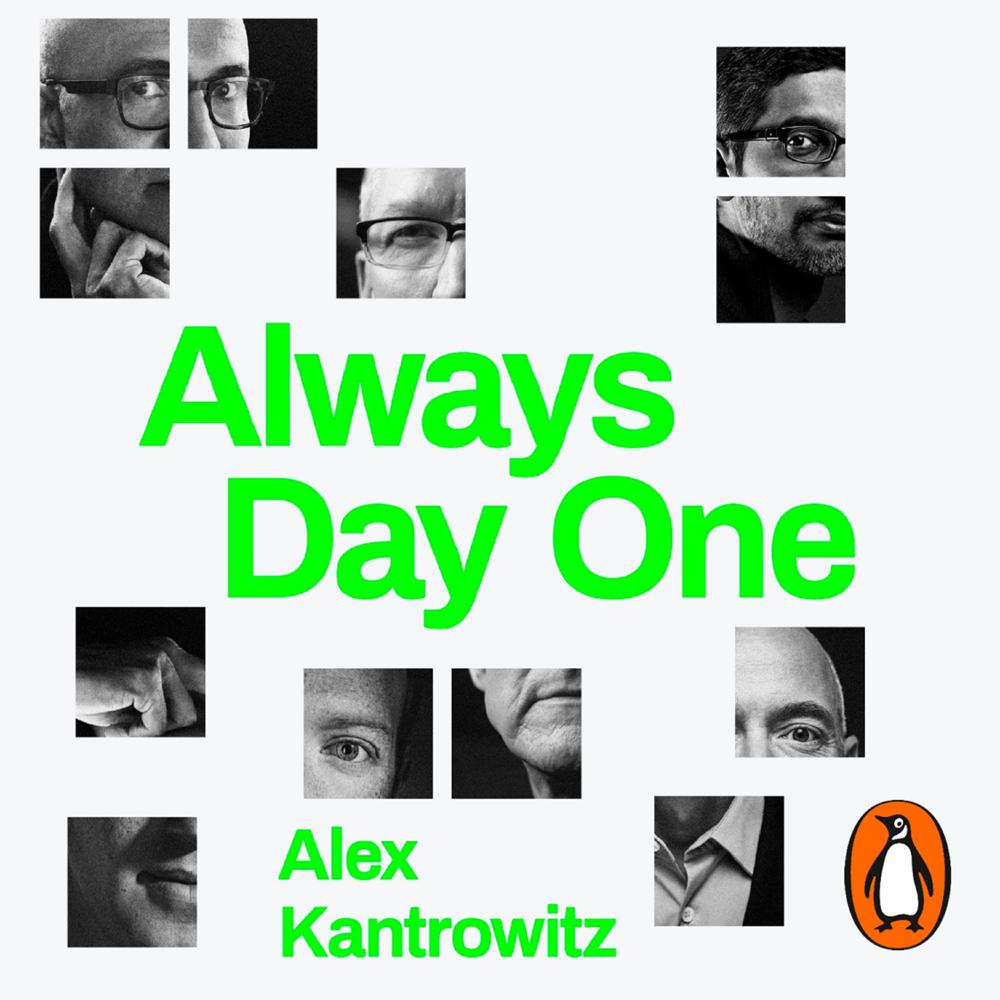 Narrated By: Alex Kantrowitz
Duration: 6 hours and 10 minutes
What to expect
Brought to you by Penguin.

At Amazon, 'Day One' is code for inventing like a startup with little regard for legacy. Day Two is, in Jeff Bezos's own words, is 'stasis, followed by irrelevance, followed by excruciating, painful decline, followed by death.'

Most companies today are set up for Day Two. They build advantages and defend them fiercely rather than invent the future. But Amazon and fellow tech titans Facebook, Google, and Microsoft are operating in Day One: they prioritize reinvention over tradition and collaboration over ownership.

Through 130 interviews with insiders, from Mark Zuckerberg to hourly workers, Always Day One reveals the tech giants' blueprint for sustainable success. Kantrowitz uncovers the engine propelling the tech giants' continued dominance at a stage when most big companies begin to decline. And he shows the way forward for everyone who wants to compete with, and beat, the titans.

© Alex Kantrowitz 2020 (P) Penguin Audio 2020
Genre
Entrepreneurship, Technology: general issues, Management: leadership and motivation, Disruptive innovation, Industrial applications of scientific research and technological innovation, Systems analysis and design, Artificial intelligence, Impact of science and technology on society, Social media / social networking
Listen to a sample
The Tech Giants are far from perfect, but Always Day One reveals the inventive elements of their culture that entrepreneurs can and should learn from.
Always Day One is the gangster read that provides an inside look at the culture that has allowed the tech titans to perform infanticide on their competition. Alex Kantrowitz is both thorough and critical while reminding us to remain optimistic about our future living alongside big tech.
This book is a must-read for anyone trying to understand how successful companies operate in the age of the tech giants, and anyone hoping to explore the secrets behind those giants' dominance. It is a delightful romp through Silicon Valley and beyond.
Not your traditional leadership book, Always Day One takes you deep inside the tech giants, revealing the inner workings of the world's most innovative companies.
The world's most successful technology companies have secrets behind why they've thrived. Those secrets are the reason why they are, in equal parts, inspiring and infuriating. Read Always Day One to learn some of the most important ones.