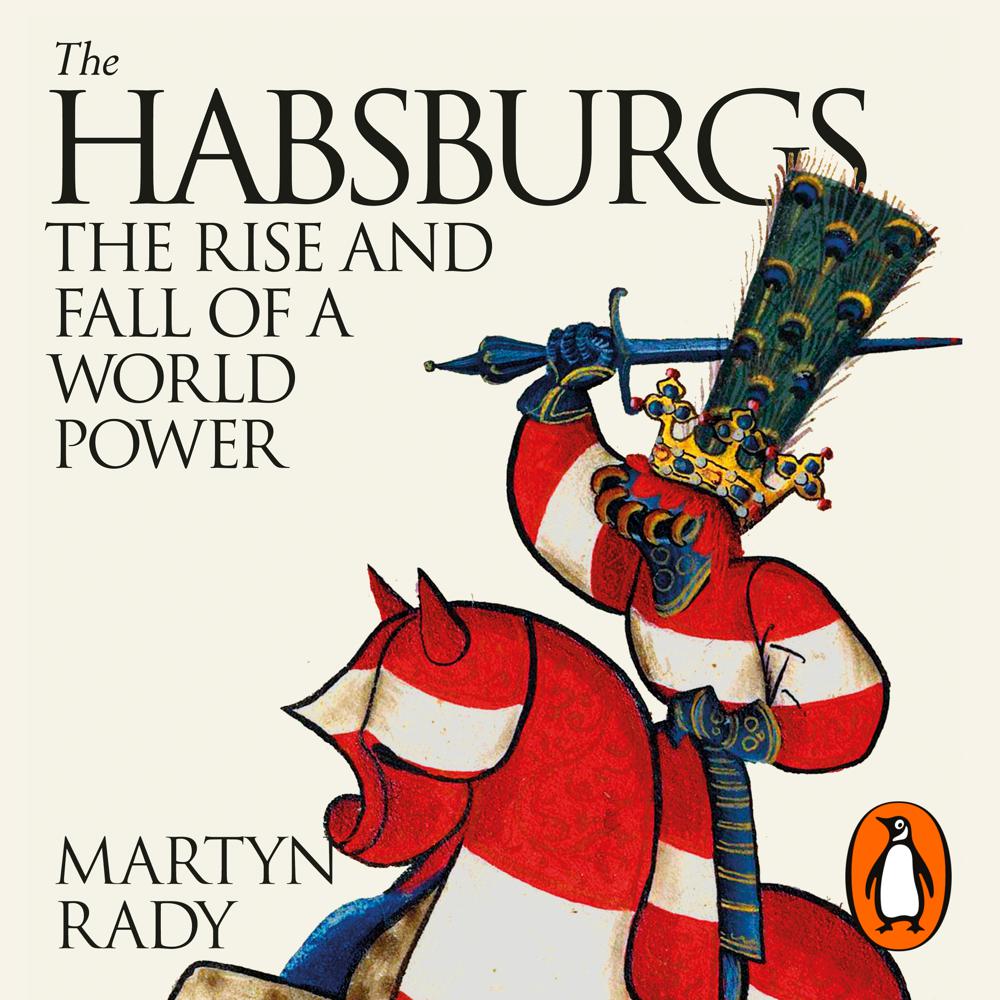 Narrated By: Simon Bowie
Duration: 14 hours and 58 minutes
What to expect
Brought to you by Penguin.

In The Habsburgs, Martyn Rady tells the epic story of a dynasty and the world it built - and then lost - over nearly a millennium. From modest origins, the Habsburgs grew in power to gain control of the Holy Roman Empire in the fifteenth century. Then, in just a few decades, their possessions rapidly expanded to take in a large part of Europe stretching from Hungary to Spain, and from the Far East to the New World. The family continued to dominate Central Europe until the catastrophe of the First World War.

With its seemingly disorganized mass of large and small territories, its tangle of laws and privileges and its medley of languages, the Habsburg Empire has always appeared haphazard and incomplete. But here Martyn Rady shows the reasons for the family's incredible endurance, driven by the belief that they were destined to rule the world as defenders of the Roman Catholic Church, guarantors of peace and patrons of learning. The Habsburg emperors were themselves absurdly varied in their characters - from warlords to contemplatives, from clever to stupid, from idle to frenzied - but all driven by the same sense of family mission. Scattered around the world, countless buildings, institutions and works of art continue to bear witness to their overwhelming impact.

The Habsburgs is the definitive history of a remarkable dynasty that, for better or worse, shaped Europe and the world.

© Martyn Rady 2020 (P) Penguin Audio 2020
Genre
European history
Listen to a sample
An ambitious, wide-ranging, briskly written narrative that crams a vast amount of often surprising information into twenty-nine dense but very readable chapters.
This panoramic account manages to make more sense of the European dynasty than its rulers often did.
It's staggering how much of the continent we recognise today is the result of the machinations of one family, much of it inbred and with really weird chins, and Rady manages to condense the story into one pacy and highly readable account of generations of chancers, liars, political masterminds, battlefield heroes and ruthless schemers who shaped Europe for centuries.
Riveting ... Rady is a lucid and elegant writer - historians are advised to follow his model of economy and concision. It is impossible to imagine a more erudite and incisive history of this fascinating, flawed and ultimately tragic dynasty.
Martyn Rady has written a splendid account of the grandest old dynasty of Europe: the Habsburgs. With wit and firm opinion, he takes the reader on something akin to a tour of the Wunderkammer of the dynasty's many-centuries-long career. Including vampires, an empress's waist size, and cocaine-laced health drinks, Rady's narrative glitters with apt quotes and telling, often ironic details.
A tour de force. Thorough, accessible, and resolutely erudite, this is the volume that this vitally important subject so desperately needed. Martyn Rady should be congratulated.
Rady restores the Habsburgs to the heart of European history ... An enjoyable, clever and colourful introduction to the subject, with plenty of memorable details.
This is a first global history of Europe's most famous and durable dynasty, chronicling its exploits with great panache over nearly a millennium of rule across wide swathes of the continent and beyond. Martyn Rady writes incisively and judiciously, drawing on much recent international scholarship in a range of languages to illustrate multiple facets of Habsburg governance in theory and practice. At the same time his text is accessible and entertaining, his ready wit providing a delectable counterpoint to the notorious humourlessness of so many of the dynasts he examines.
The Habsburgs is gripping, colorful, and dramatic but also concise, scholarly, and magisterial. Martyn Rady recounts the story of Europe's greatest dynasty that ruled an empire, on which the sun never set, from Peru to the Philippines. Revealing a key player in world history for almost a thousand years, The Habsburgs is a chronicle of high politics and family intimacy involving religion, murder, incest, madness, suicide, assassination. History on an epic scale!
The Habsburgs - ambitious, illustrious, and at times incestuous - were once Europe's foremost royal family. Rady tells their story with verve and authority, casting a curious eye over their eccentricities and peccadilloes while all the time revealing their extraordinary influence and global vision. A fascinating read!
In The Habsburgs, Martyn Rady has produced a Rolls-Royce of a narrative that motors through ten centuries of history with an effortlessness that belies the intellectual horsepower beneath the bonnet ... The vast cast of characters is depicted with a mix of insight, sympathy and astringent Gibbonian wit that makes them instantly memorable ... It is not the least of Martyn Rady's achievements that his book sheds light on the present almost as brightly as it illuminates the past.
This volume takes it all in. That Mr. Rady can, in under 350 pages, cover everything from the division of the family's lands in the Swiss Argau in 990 to the surrender of power in 1918 by Charles, the last Habsburg monarch, without sacrificing essential details or losing the reader's attention, is a feat of both scholarship and storytelling.
This is probably the best book ever written on the Habsburgs in any language, certainly the best I have ever read ... a brilliant achievement. Lucid, comprehensive and witty, it is not merely a pleasure to read but a complete education. Students, scholars and the general reader will never find a better guide to Habsburg history. No one will ever again know as much about the subject as Rady.
Lucid and entertaining ... Rady is as good on the Habsburgs' artistic and cultural legacy as he is on the politics.
This profile of the Habsburgs is concerned as much with the personal as it is the political. It is a tale of survival, from modest origins to control of an empire and, finally, twentieth-century catastrophe.
The Habsburgs are a writer's gift, offering a regal cast of mad, colourful and deeply flawed characters ... Rady's sparkling study is certainly a good place to start.
Magnificent ... Rady maintains unerring poise as he steers through the depths and complexities of his material. His erudition seems effortless, he never gets bogged down in detail, his prose is pellucid, and he spices the narrative with delightfully dry asides and telling anecdotes.