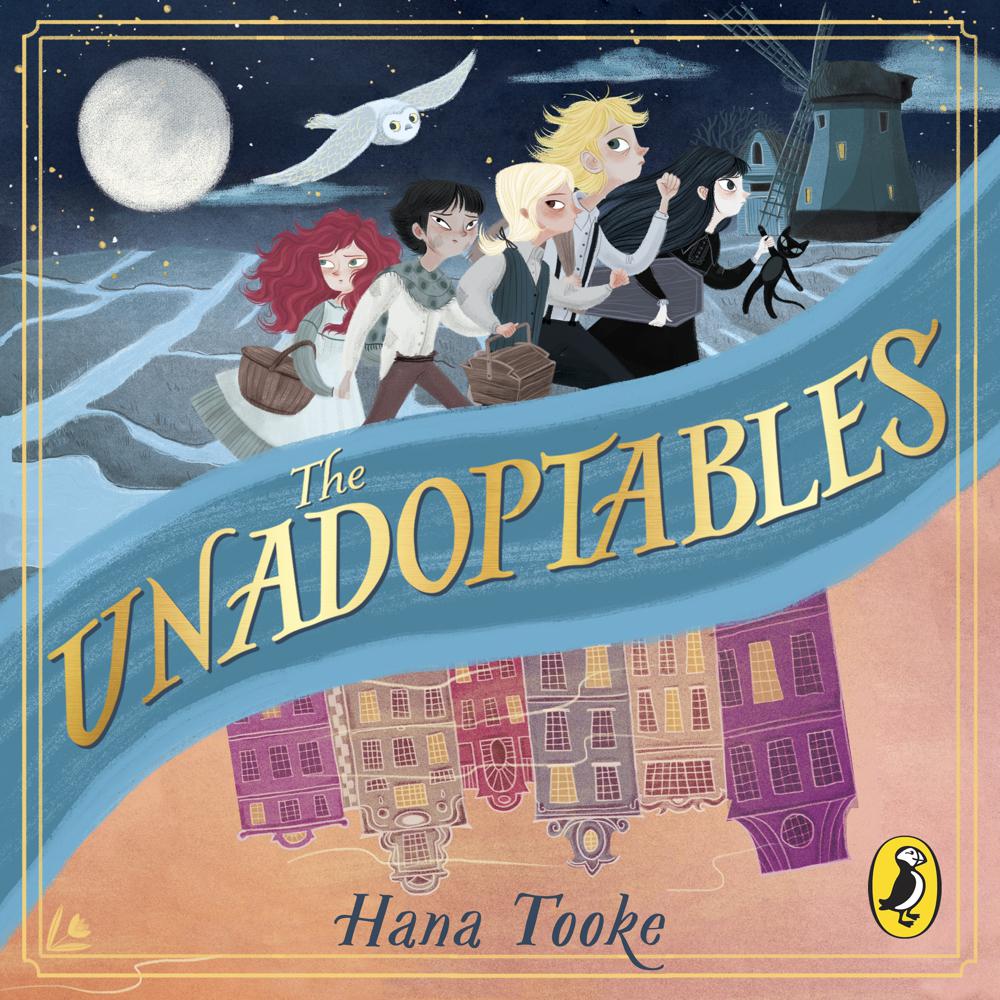 Narrated By: Gemma Whelan
Duration: 9 hours and 28 minutes
What to expect
Brought to you by Puffin.

The remarkable. The extraordinary. The brave.

Way back in the autumn of 1880, five babies are discovered at the Little Tulip Orphanage in most unusual circumstances. Those babies are Lotta, Egbert, Fenna, Sem and Milou.
The vile matron calls the children 'the unadoptables' but this talented gang of best friends know that their individuality is what makes them so special - and so determined to stay together.
When a sinister gentleman tries to get them in his clutches, the children make a daring escape across the frozen canals of Amsterdam, embarking on an adventure packed with pirate ships and puppets. But is their real home - and their real family - already closer than they realize?

© Hana Tooke 2020 (P) Penguin Audio 2020
Genre
Children's / Teenage fiction: Action & adventure stories, Children's / Teenage fiction: Crime & mystery fiction, Children's / Teenage personal & social topics: divorce, separation, family break-up
Listen to a sample
While the vivid, Dickensian setting - grim orphanage, icy mists, and shadowy dockyards - and quaint clockwork creations and life-size puppets spin a web of Gothic creepiness, the bonds among this found family of lively orphans add plenty of warmth and light. Unfolding with the clarity of a fairy tale, this sure-footed debut casts a delightfully spooky spell
Effortlessly merging the gothic and ghastly with the eccentric and absurd, Hana Tooke's mesmerising debut sends a quintet of abandoned orphans off on a caper across nineteenth-century Amsterdam, complete with sinister supervillains, heart-in-mouth cliff-hangers and lashings of evocative period flavour.
Targeted in a wicked scheme, five resourceful kids flee their orphanage in 1892 Amsterdam. Each longs to be adopted, but would-be parents reject them when they see the kids' atypical attributes: Lotta's 12 fingers, Egg's East Asian ancestry (other characters default to white), Fenna's muteness, clumsy Sem's ears, and Milou's wild ferocity. That is, until sinister Meneer Rotman sees their remarkable gifts - but Milou's special sense warns her that Rotman's evil.

Indeed: They discover he intends to buy them as slave labor to crew his ship. Milou, who keeps a Book of Theories regarding why her birth family hasn't claimed her, persuades them to escape to the puppet-making Poppenmaker family she's sure she belongs to. Loyal if not convinced, the others join her. Lotta's math and Egg's cartographic acumen help them follow coordinates on Milou's mysterious timepiece to the Poppenmakers' windmill home and puppet theater, now abandoned. Thanks to Lotta's technical ingenuity, Egg's artistry, Fenna's culinary prowess, and Sem's needlework-assisted by clockmaker and dike warden Edda Finkelstein - it's almost home. Then Milou forgets the other orphans have family longings, and the orphans discover Rotman has not forgotten them....While the vivid, Dickensian setting - grim orphanage, icy mists, and shadowy dockyards - and quaint clockwork creations and life-size puppets spin a web of Gothic creepiness, the bonds among this found family of lively orphans add plenty of warmth and light. Unfolding with the clarity of a fairy tale, this sure-footed debut casts a delightfully spooky spell.
A corker of a story. I loved the writing, the setting, the STUPENDOUS action scenes, how well-paced it was, with such drama, revelations, plot twists and the loveliest of final lines... and one of the most satisfying endings I've read in a long while, with the promise of more in the epilogue. Bravo, Hana - what a book!
A book to absolutely fall in love with
Perfection!
Offbeat orphans! Sinister villains! Sort of creepy life-sized puppets! In her debut middle-grade book, Hana Tooke has crafted a terrific, atmospheric story wherein five 'unadoptable' orphans, each of whom showed up in the orphanage in very unusual ways and have unique not-quite-powers, are about to be taken in by the callous Rotman for nefarious purposes and must go on the run. The Unadoptables will make you wish your own parents had loved you enough to leave you at a Dutch orphanage in the 19th century to join in their adventures. Great for readers of A Series of Unfortunate Events and the Serafina series.
A high-speed, witty, absurd and joyful adventure
A corker of a story.
I adored this story from the very first page. Sleek as Amsterdam velvet and full of heart-clutching mysteries, moonlit escapes on frozen canals, puppets with heartbeats and secret messages engraved upon pocket watches. Follow Milou and her adopted family on a glorious adventure as they race through the streets of Amsterdam, determined to fight for their freedom with spectacular wit, dazzling theatrical wonder and huge amount of hope, courage and everlasting friendship. A book to absolutely fall in love with.
When Milou discovers the orphanage matron's plot to sell her and her friends to a nefarious figure, she hatches an escape plan. Using only the clues left with her as a baby (a coffin-shaped basket, a cat puppet, a velvet dress), Milou and her friends dive headlong into a new adventure outside the orphanage's walls. The Unadoptables has everything: evil ship captains, lifelike puppets, a charming Dutch setting complete with windmills and canals, a ragtag group of orphans looking for a family, and a mystery at the heart of it all. Perfect for reading out loud, and just the right amount of scary, this has the feel of a classic in the making.
A compelling, gorgeously-written story about the power of friendship and the true meaning of family. It's a mystery with a hint of magic, featuring characters who feel entirely real ... perfection!
This delicious debut had me reading late into the night... Beautiful but accessible writing, thrilling action, a hint of magic and unforgettable characters are delivered with wit, wisdom and heart in an enviably distinct voice. It's a story of unforgettable friendship and what it really means to be a family... I can't wait to see what Tooke does next.
The world building in The Unadoptables was absolutely unforgettable. This book has everything you need: villians, action, comedy and adventure all rolled into one. Perfect for fans of Nevermoor and Hero's Guide to Saving Your Kingdom.
In a cold, dark, Amsterdam winter, a group of unique orphans shine brightly with hope and love. Milou and her band of talented friends set out from the Little Tulip Orphanage on a quest for freedom and family, over frozen canals to evade a despicable villain. With a little bit of spookiness and a whole lot of quirkiness, this book will capture your heart!