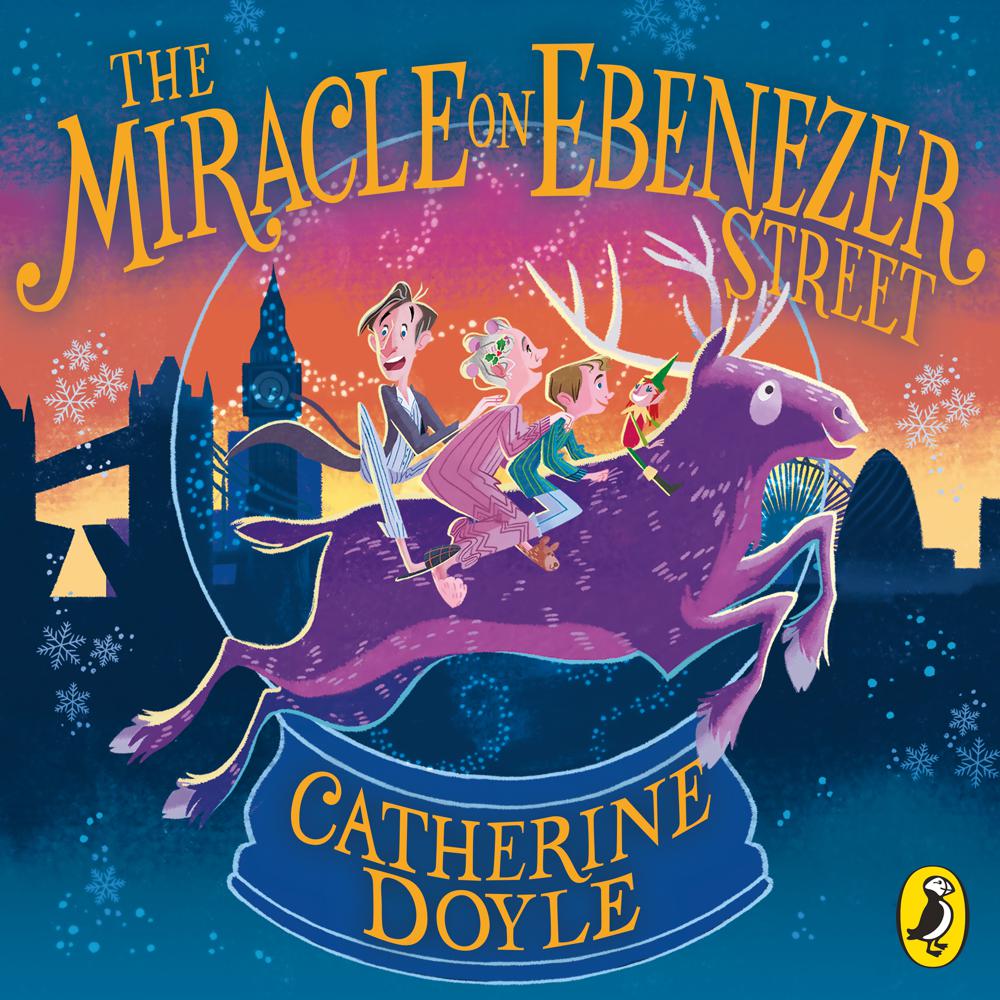 Narrated By: Remmie Milner
Duration: 5 hours and 16 minutes
What to expect
Brought to you by Puffin.

An enchanting tale of Christmas magic from multi-award-winning and bestselling writer Catherine Doyle. A treat for the whole family, perfect for fans of The Christmasaurus and A Boy Called Christmas.

'An absolute Christmas cracker!' Ross Montgomery
'Fizzes with festive fun!' Abi Elphinstone

When George stumbles across Marley's Curiosity Shop at the Christmas fair he finds a mysterious snow globe. The scene it contains is just the first in a series of impossibilities . . .
George and his Scrooge of a dad are soon swept on a hilarious adventure to Christmases past, present and future. With help from an enthusiastic elf, a rather grumpy purple reindeer and a very mischievous Nan, can George find a way to bring the joy of Christmas home once again?
This is a fabulously festive story about finding Christmas, family, and magic!

'Simply spellbinding' iNews
'Vividly exciting and poignant . . . Destined to become a Christmas classic' Louise O'Neill
Genre
Children's / Teenage fiction: Magical realism, Children's / Teenage fiction: Fantasy, Children's / Teenage fiction: Action and adventure stories, Children's / Teenage fiction: Family and home stories, Children's / Teenage fiction: Classic fiction
Listen to a sample
Both a celebration of a Christmas classic while also being a magical adventure all of its own. Heart-warming, incredibly funny, and action-packed, it's a story that truly captures the spirit of Christmas
An absolute Christmas cracker: whip-smart, witty and warm, bursting with emotion and laugh-out-loud jokes. A classic Christmas treat reconfigured into a heartwarming family romp for the 21st century, featuring an elf on the shelf that's bad for your health. Kids and adults alike will love spotting how Doyle has ingeniously adapted the original text, but more than anything else, they'll be swept away by George's fight to bring back Christmas and save his father. I utterly loved it
A dazzling feat of imagination. Enchanting: I was bewitched
A well-balanced, well-told Christmas story as heartwarming as you could wish for
Full of Catherine Doyle's signature blend of humour, hope, and heart, this is a modern Christmas classic in the making. With clever nods to the original, Doyle's fresh take on the familiar tale will delight readers of all ages.
Delightfully festive . . . Warm, imaginative, and brimming with Christmas magic
An instant Christmas classic
This is a beautiful, magical adventure
Action-packed, full of imagination...uplifting
Fizzes with festive fun!
This reimagining of A Christmas Carol is simply spellbinding
A charming reimagining of one of my favourite childhood reads, managing to be both heart-warmingly familiar, and refreshingly new at the same time. It's filled with miracle-making curiosities, a delightfully bonkers cast, a purple reindeer with a grudge, and a quest to mend two very broken hearts. All-in-all, a magical whirlwind of an adventure filled with heart, hilarity, and miraculous mayhem
Catherine Doyle has done the impossible - she has breathed new life into this much loved and oft retold story, sprinkling it with her inimitable warmth, charm, and humour. This vividly exciting and poignant retelling made me believe in magic as fervently as I did when I was a child. It is, to my mind, destined to become a Christmas classic
Catherine Doyle's delightful novel moves deftly from melancholy to "jolly holly", genial all the way
A heartwarming retelling of Charles Dickens' A Christmas Carol