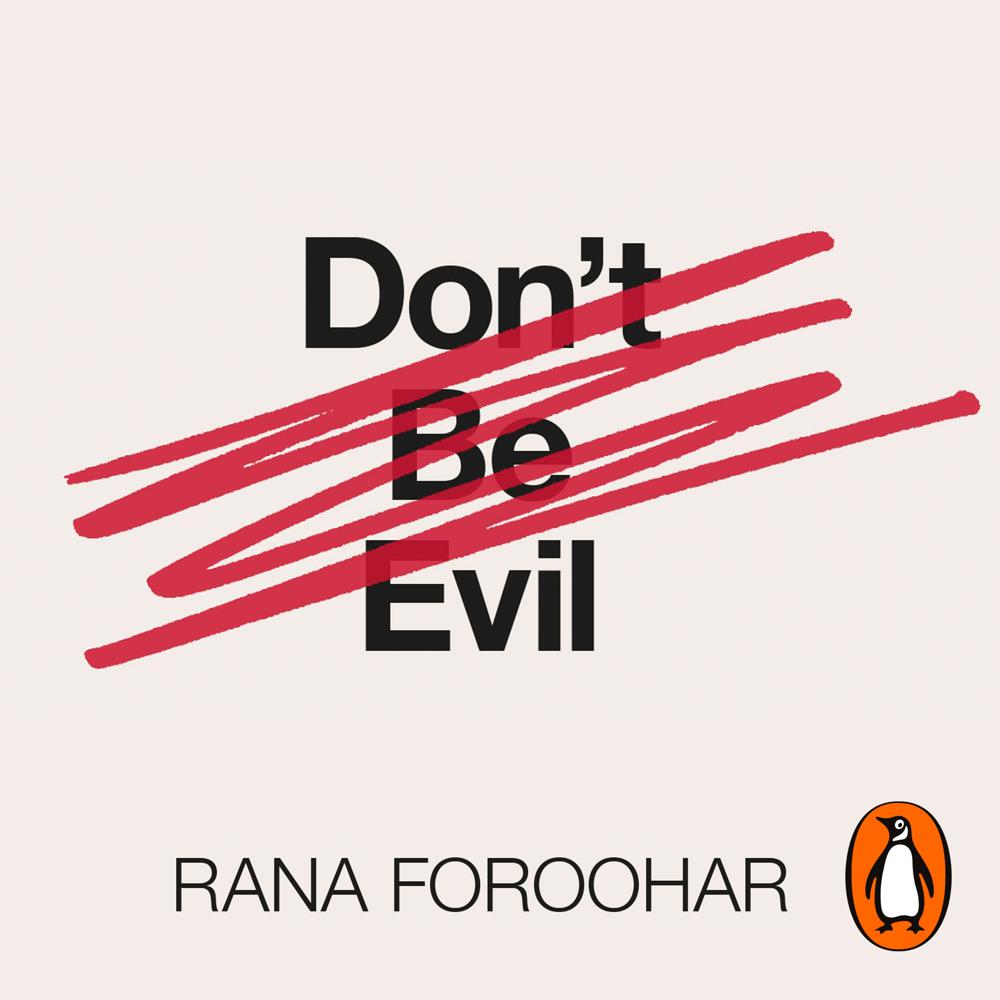 Narrated By: Rachel Fulginiti
Duration: 11 hours and 58 minutes
What to expect
Brought to you by Penguin.

An award-winning Financial Times columnist exposes the threat that Big Tech poses to our democracies, our economies and ourselves

Today Google and Facebook receive 90% of the world's news ad-spending. Amazon takes half of all ecommerce in the US. Google and Apple operating systems run on all but 1% of cell phones globally. And 80% of corporate wealth is now held by 10% of companies - not the GEs and Toyotas of this world, but the digital titans.

How did we get here? How did the tech industry get to dominate our world so completely? How did once-idealistic and innovative companies come to manipulate elections, violate our privacy, and pose a threat to the fabric of our democracy? In Don't Be Evil, Financial Times global business columnist Rana Foroohar documents how Big Tech lost its soul - and became the new Wall Street.

Through her skilled reporting and unparalleled access - won through nearly 30 years covering business and technology - she shows the true extent to which the 'Faang's (Facebook, Apple, Amazon, Netflix and Google) crush or absorb any potential competitors, hijack our personal data and mental space and offshore their exorbitant profits. What's more, she reveals how these threats to our democracies, our livelihoods and our minds are all intertwined. Yet Foroohar also lays out a plan for how we can resist, creating a framework that fosters innovation while also protecting us from the dark side of digital technology.
Genre
Ethical issues: scientific, technological and medical developments, Business ethics and social responsibility, Impact of science and technology on society, Information technology industries, Digital and information technologies: social and ethical aspects
Listen to a sample
A masterful critique of the tech giants that now dominate our world . . . The great thing about her book is that it breaks the mesmerising spell that the tech giants seem to have cast upon governments, mass media and users everywhere
Frightening . . . a readable and well-marshalled indictment of the sins of these new corporate empires.
Powerful
An insightful and powerfully argued investigation into the murky world of 'Big Tech' and its impact on our lives.
Rana Foroohar is a savvy and wise commentator and a keen observer of the global economy. This book goes beyond the economic problems and examines the broader implications for society of the untrammeled and under regulated Silicon Valley companies. She demonstrates that while the creed 'don't be evil' may have initially inspired the Silicon Valley giants, its principle has long been left behind
We are most fortunate to have Foroohar's laser vision and trenchant business analysis turned on the tech giants and the gluttonous anti-democratic surveillance capitalism that is their most far-reaching innovation. A crucial contribution to the growing debate.
Rana Foroohar's urgent message: 'Yes, we really are living in the Matrix,' and it's time to rise up and resist our algorithmic overlords. This book shows us how.