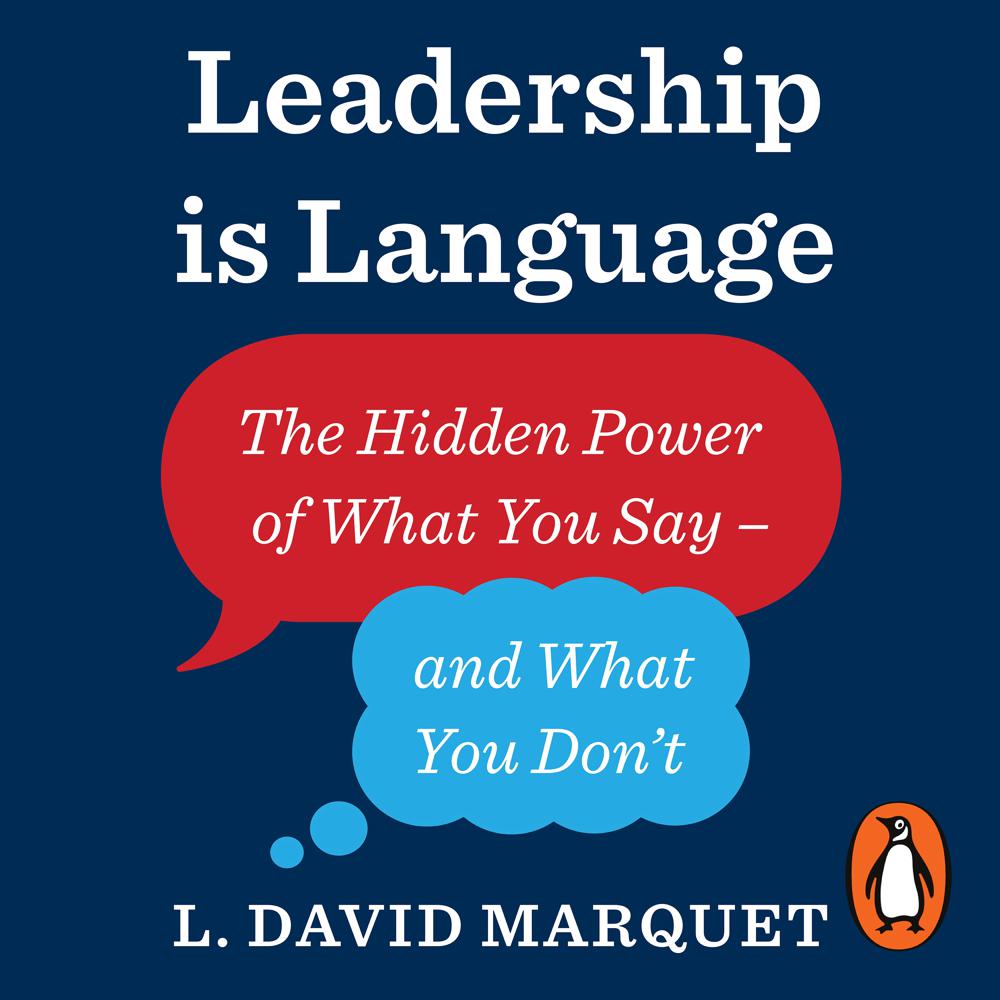 Narrated By: L. David Marquet
Duration: 10 hours and 40 minutes
What to expect
'Full of compelling advice on how to lead more effectively by choosing your words more wisely' -ADAM GRANT, author of Originals and Give and Take

Your words matter more than you think

Most of us use the language we inherited from a time when workers worked with their hands and managers worked with their heads. Today, your people do much more than simply follow orders. They contribute to performance and solve problems, and it's time we updated our language to reflect that.

In Leadership Is Language, former US Navy captain L. David Marquet offers a radical playbook to empower your people and put your team on a path to continuous improvement. The framework will help you achieve the right balance between deliberation and action, and take bold risks without endangering your mission. Among other things, you'll learn:

· How to avoid the seven common sins of questioning, from binary questions (should we do A or B?) to self-affirming questions (B is the better option, right?)
· Why you should vote first, then discuss, when deciding on a plan with your team, rather than voting after discussion
· Why it's better to give your people information instead of instructions

As a submarine captain, Marquet used his counterintuitive model of leadership to turn the worst-performing submarine crew into the best-performing one in the fleet, a story he recounted in his bestselling book Turn the Ship Around! Now, in Leadership Is Language, he draws on a wide range of examples, from the 2017 Oscars Best Picture mishap to the tragic sinking of the SS El Faro, to show you exactly how the words you use (and don't use) impact how your people contribute.
Genre
Business communication and presentation, Media, entertainment, information and communication industries, Communication studies, Decision theory: general, Management: leadership and motivation, Knowledge management, Project management, Personnel and human resources management
Listen to a sample
This book is brilliant. Seriously
Illustrates the powerful intersection of communication and leadership and offers simple steps to transform your thinking, your influence, and the lives in your span of care
A truly unique take on leadership that re-engineers our language. Anchored in how teams actually talk, Marquet shows leaders how to leave the Industrial Age language behind us
In Turn The Ship Around, Marquet challenged us to change the way we lead; Now, in Leadership is Language, he challenges us to change the way we talk as leaders by dropping the archaic language of command and control and learning the language of creativity, collaboration, and commitment
Drawing on a wide variety of examples from all kinds of organisation, David Marquet has written an impressive and engaging book which is not just thought-provoking, but offers simple, actionable ways of escaping the traps that our words lay for us
A refreshing, actionable framework that helps leaders navigate uncertainty and tackle thorny problems by bringing out the best in their people
The definitive guide for those seeking to be real leaders in transformative times. David not only shows us how business and leadership has drastically changed and why the structures of yesterday are hindering our ability to business, but also how to reinvent our leadership style to meet the evolving demands of the new marketplace
Full of compelling advice on how to lead more effectively by choosing your words more wisely
A fascinating new paradigm for our modern leader that relies on a balance between thinking and doing, welcoming and minimizing variability, to get the most out of our teams and organizations
I have seen David in action using words to truly inspire and empower. This is a must-read for every leader!
A useful framework for better teamwork