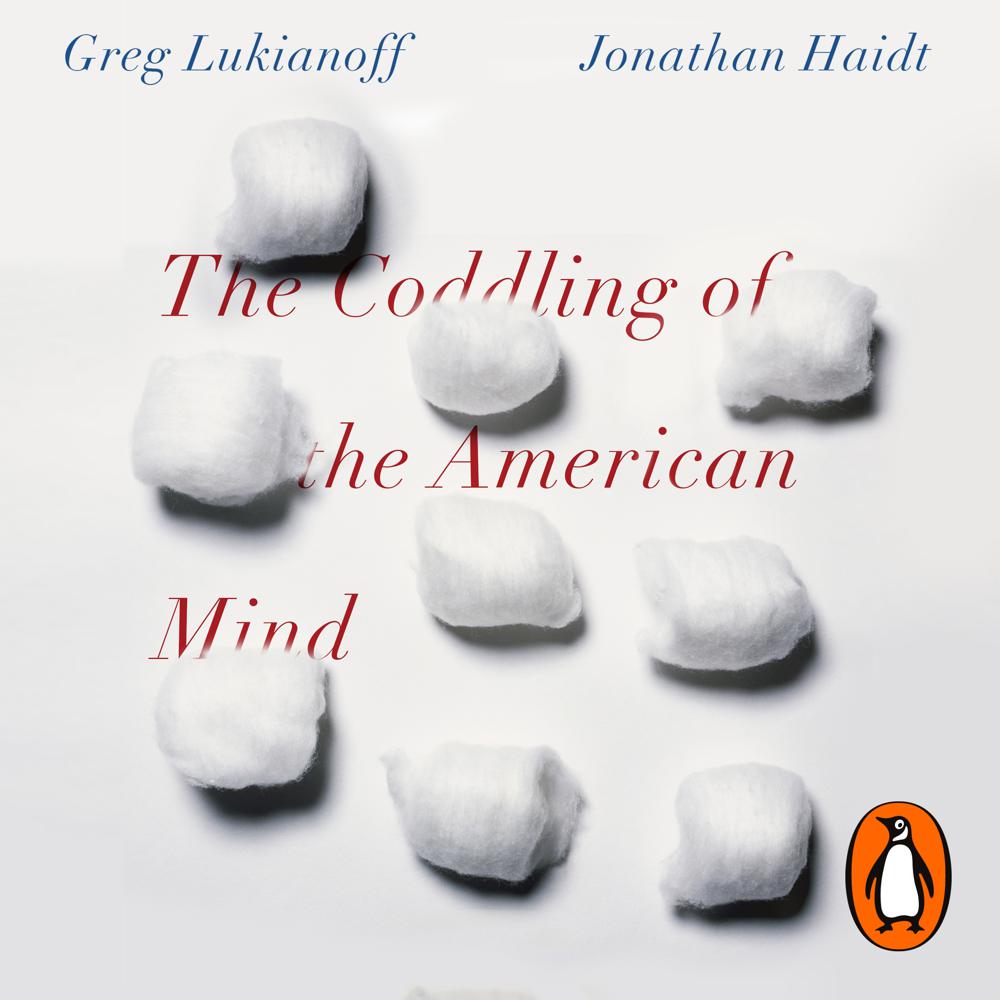 Narrated By: Jonathan Haidt
Duration: 10 hours and 6 minutes
What to expect
Penguin presents the audiobook edition of The Coddling of the America Mind by Jonathan Haidt and Greg Lukianoff, read by Jonathan Haidt.

What doesn't kill you makes you weaker
Always trust your feelings
Life is a battle between good people and evil people
These three Great Untruths contradict basic psychological principles about well-being, as well as ancient wisdom from many cultures. And yet they have become increasingly woven into education, culminating in a stifling culture of "safetyism" that began on American college campuses and is spreading throughout academic institutions in the English-speaking world.
In this book, free speech campaigner Greg Lukianoff and social psychologist Jonathan Haidt investigate six trends that caused the spread of these untruths, from the decline of unsupervised play to the corporatization of universities and the rise of new ideas about identity and justice.
Lukianoff and Haidt argue that well-intended but misguided attempts to protect young people can hamper their development, with devastating consequences for them, for the educational system and for democracy itself.
Genre
Human rights, civil rights, Ethical issues: censorship, Moral & social purpose of education, Social, group or collective psychology
Listen to a sample
An important if disturbing book . . . Lukianoff and Haidt tell a plausible story
Their message is an urgent one... it is one that resonates well beyond dusty libraries and manicured quadrangles, into all of our lives
Our behavior in society is not immune to the power of rational scientific analysis. Through that lens, prepare yourself for a candid look at the softening of America, and what we can do about it.
The book models the virtues and practical wisdom its authors rightly propose as the keys to progress. Lukianoff and Haidt teach young people -and all of us- by example as well as precept
A compelling and timely argument against attitudes and practises that, however well-intended, are damaging our universities, harming our children and leaving an entire generation intellectually and emotionally ill-prepared for an ever-more fraught and complex world. A brave and necessary work.
No one is omniscient or infallible, so a willingness to evaluate new ideas is vital to understanding our world. Yet universities, which ought to be forums for open debate, are developing a reputation for dogmatism and intolerance. Haidt and Lukianoff, distinguished advocates of freedom of expression, offer a deep analysis of what's going wrong on campus, and how we can hold universities to their highest ideals.
We can talk ourselves into believing that some kinds of speech will shatter us, or we can talk ourselves out of that belief. The authors know the science. We are not as fragile as our self-appointed protectors suppose. Read this deeply informed book to become a more resilient soul in a more resilient democracy.
Excellent . . . their advice is sound . . . liberal parents, in particular, should read it