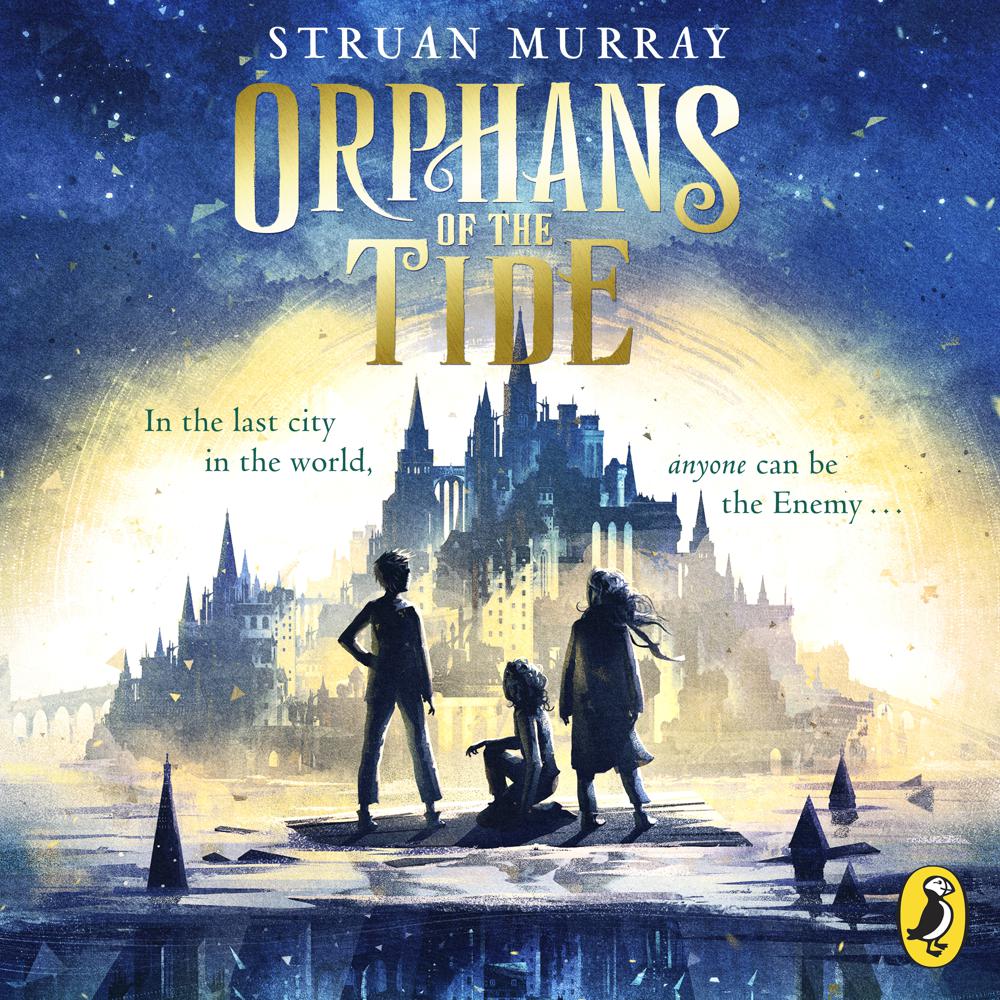 Narrated By: Lucian Msamati, Georgina Campbell
Duration: 9 hours
What to expect
Brought to you by Puffin.

The City was built on a sharp mountain that jutted improbably from the sea, and the sea kept trying to claim it back. That grey morning, once the tide had retreated, a whale was found on a rooftop.

When a mysterious boy washes in with the tide, the citizens believe he's the Enemy - the god who drowned the world - come again to cause untold chaos.

Only Ellie, a fearless young inventor living in a workshop crammed with curiosities, believes he's innocent.

But the Enemy can take possession of any human body and the ruthless Inquisition are determined to destroy it forever.

To save the boy, Ellie must prove who he really is - even if that means revealing her own dangerous secret . . .

© Struan Murray 2020 (P) Penguin Audio 2020
Genre
Children's / Teenage fiction: Fantasy, Children's / Teenage fiction: Action and adventure stories, Children's / Teenage fiction: Family and home stories
Listen to a sample
The energetic steampunk vibe overlies a thoughtful fable about compassion and justice
Unputdownable . . . Murray has an extraordinary imagination
I loved it! Dark and thrilling. Great characters to root for. Perilous plot. Extraordinary, vivid world building . . . brilliant!
Absolutely cracking! Great characters, with quite the nastiest villain I've met in a long while.
A sumptuously atmospheric adventure . . . Murray is a tirelessly inventive storyteller
Gripping . . . with a touch of Frances Hardinge's bizarre brilliance
Outstanding and immersive . . . I devoured this in one go
Struan Murray . . . effortlessly joins the ranks of the most skilled world-creators . . . Unpredictable, filled with plot twists and shades of moral grey, Orphans of the Tide is both gripping and original.
There is a touch of Phillip Pullman about the world that Murray creates, and Murray matches Pullman lyrical prose [...] The comparison, however, should not take away from Murray's originality [...] the characters themselves, led by the plucky Ellie, anchor Orphans of the Tide in an urgent, human reality.
Energetic and inventive . . . and with some startling surprises, this is also touching about friendship, siblings, loss and courage
A beautifully written fantasy adventure with prose that is both muscular and musical, and outstanding world building.
The most original opening I've read in years and a plot twist that turns brilliantly
Orphans of the Tide is singularly brilliant. So inventive, and weird, and beautiful, with just the right amount of bite and darkness. I predict big things!
This is a terrific debut of strange myths and dark secrets, fierce loyalties and ruthless villains, told against the thrilling backdrop of a half submerged city.
An imaginative journey to a stunning fantasy world, full of twists and heart . . . an absolute corker . . . filled with swashbuckling adventure . . . an enthralling fantasy that moves through dark and grisly scenes of grave peril to positively touching moments of profound friendship. An incredibly imaginative narrative that fills its reader with wonder and thrills while also not being afraid to share quieter moments of real heart.
Compellingly inventive and unpredictable, kept me guessing right till the end.