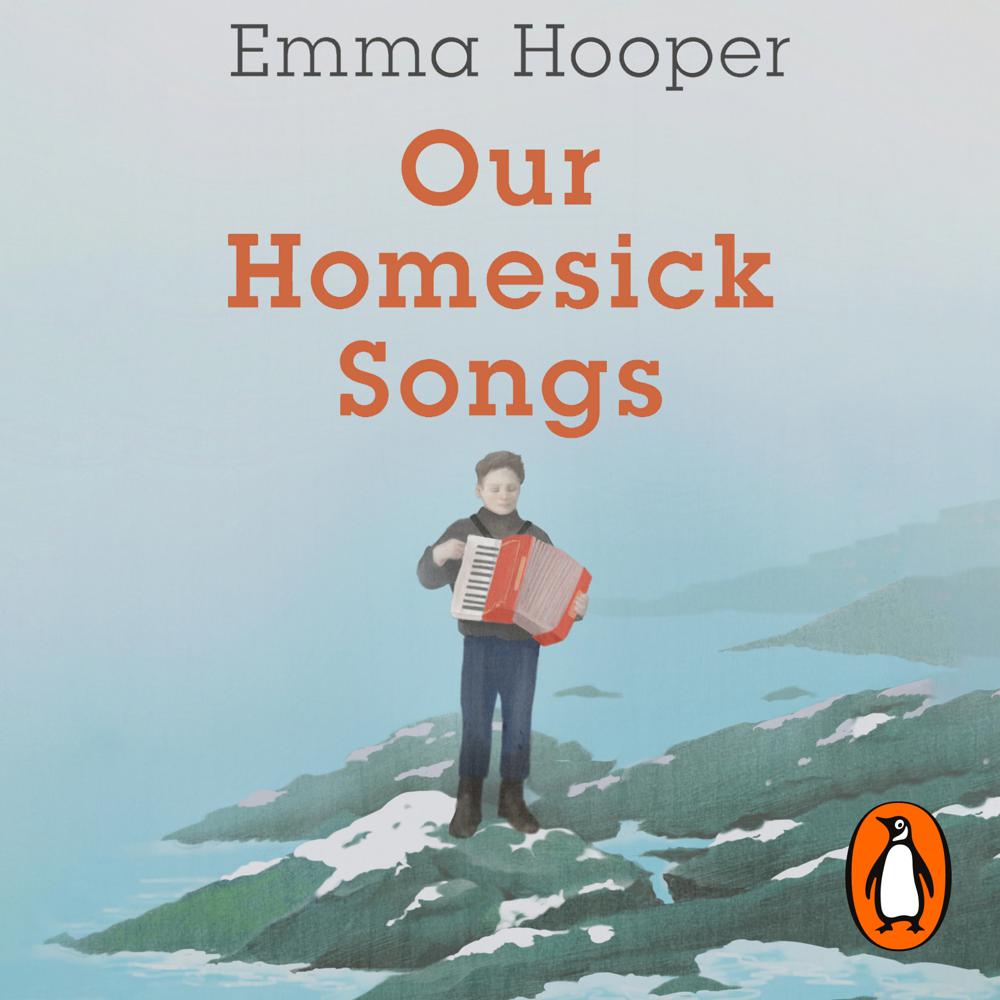 Narrated By: Nicole Power
Duration: 7 hours and 17 minutes
What to expect
enguin presents the audiobook edition of Our Homesick Songs by Emma Hooper.

There was nothing to do but tell stories. Tell this story.
And then? Asked Cora.
And then everything, said Finn.

Newfoundland, Canada, 1992. When all the fish vanish from the waters, and the cod industry abruptly collapses, it's not long before the people begin to disappear from the town of Big Running as well. As residents are forced to leave the island in search of work, ten-year-old Finn Connor suddenly finds himself living in a ghost town. There's no school, no friends and whole rows of houses stand abandoned. And then Finn's parents announce that they too must separate if their family is to survive.
But Finn still has his sister, Cora, with whom he counts the dwindling boats on the coast at night, and Mrs Callaghan, who teaches him the strange and ancient melodies of their native Ireland. That is until his sister disappears, and Finn must find a way of calling home the family and the life he has lost.
'A Wes Anderson-esque tale to fall for' Stylist
'Warm-hearted and winsomely imaginative' Sunday Times
'A novel in love with music, magic and the idealism of childhood' The Times
Genre
Modern & contemporary fiction, Family life fiction
Listen to a sample
A Wes Anderson-esque tale to fall for
Wonderful! Incredibly moving, beautifully written and luminous with wisdom. A book that restores one's faith in life even as it deepens its mystery
The town is filled with magic, and so is Hooper's writing
Magnificently arresting, fresh, gripping. A bright new star of literature ... will leave you thinking on a new level about the connections between men, women and places
Hooper is fascinated by the emotional territory of migration and how individual lives are shaped by forces as powerful and inexorable as the sea
Emma Hooper has used her craft and knowledge to weave together a plot mindful of narrative's oral and lyrical beginnings, integrating folk tale and song into her work . . . an almost musical rhythm and pulse not often found in fiction writing
With stark prose, Hooper captures the desperation and difficulty of life on the edge of civilization. Heartbreaking and empathetic, Hooper's fine novel is a haunting evocation of changing times and the power of place
Warm-hearted and winsomely imaginative
Emma Hooper has constructed such an authentic sense of place from such a distant shore
The prose flows like the waves it recounts: back and forth seamlessly . . . it is elegant and musical
A sweet, disarming story of lasting love
Lovely and lyrical. A story about storytellers told with a beguiling simplicity. Hooper's work brims with mermaids and music and memory
Our Homesick Songs tells a relevant, strong story about the impact of environmental change on rural communitiesand the way the young generation can feel responsible for and angry at what their forebears have done [...] This is a novel in love with music, magic and the idealism of childhood
Beautiful, eccentric, romantic, hugely satisfying