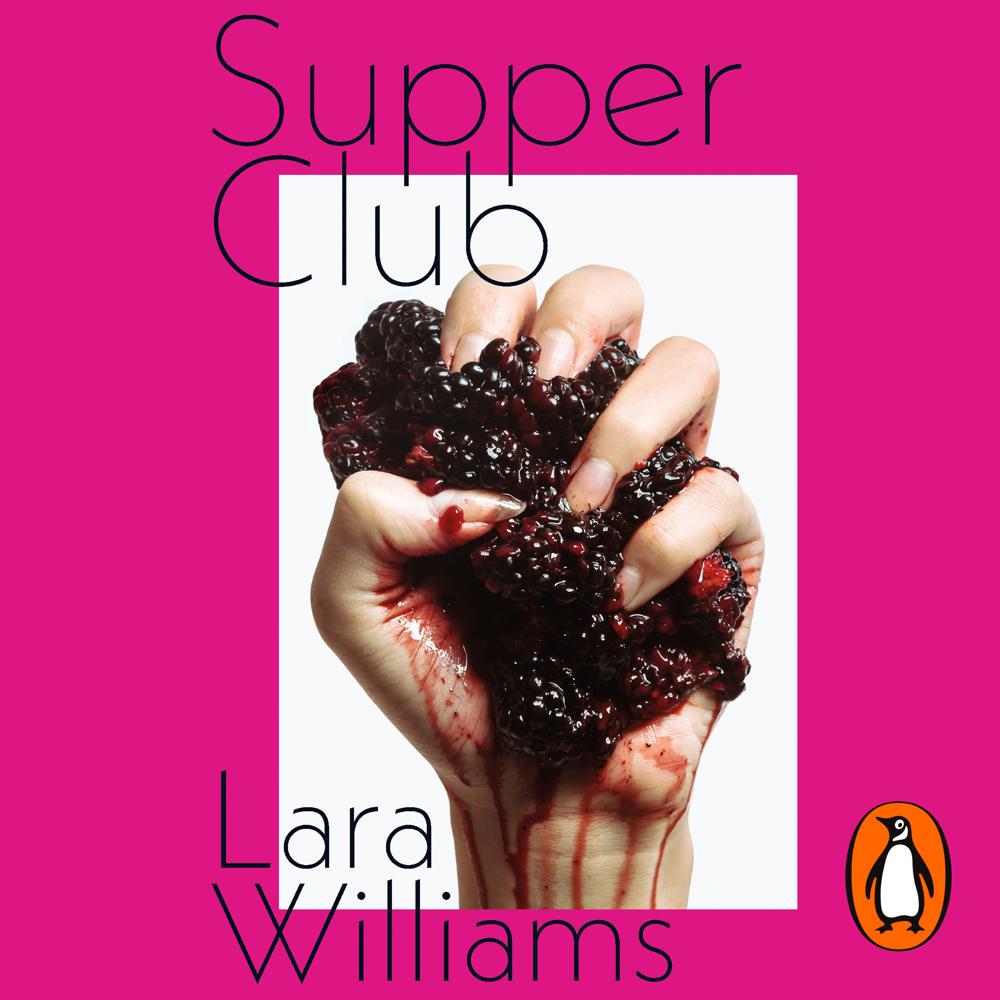 Narrated By: Stefanie Martini
Duration: 9 hours and 33 minutes
What to expect
Brought to you by Penguin.

WINNER of the GUARDIAN 'NOT THE BOOKER' PRIZE 2019

Selected in BEST BOOKS OF THE YEAR - Vogue, TIME, Vulture, Woman and Home

Devastatingly perceptive, savagely funny and wildly original - the essential coming-of-age story for our times. With the deadpan wit of Fleabag and ruthless insight of Cat Person, Lara Williams tells a tale of rage and joy, hunger and friendship, bodies and the space they take up in the world.

Twenty-nine year old Roberta has spent her whole life hungry - until the day she invents Supper Club.

Supper Club is a secret society for hungry women. Women who are sick of bad men and bad sex, of hinted expectations to talk less, take less, be less. So they gather after dark and feast until they are sick. They drink and dance and roar. And, month by month, their bodies expand.

At the centre of the Supper Club stands Roberta - cynical yet anxious, precocious and lost. She is seeking the answer to a simple question: if you feed a starving woman, what will she grow into?

This is a story about the hunger that never goes away. And it is a story about the people who make us what we are - who lead us astray and ultimately save us. You look hungry. Join the club.
Genre
Modern and contemporary fiction, Humorous fiction, Contemporary lifestyle fiction, Narrative theme: Coming of age, Narrative theme: Social issues
Listen to a sample
Darkly delicious... A celebration of female power and friendship with wonderful food writing
Sophisticated, attentive, visceral, sensual.... Following in the footsteps of Elena Ferrante and Sally Rooney, Williams explores the shifting dynamics of female friendships
A bacchanalian homage to women's rage and female friendship
An homage to female rage and the bonds of friendship, Supper Club will entice readers like a gourmet feast and leave them just as satisfied
Engrossing, humorous and candid, this exploration of a woman on the verge of finding herself makes for an enthralling novel
Rebellious and subversive... Williams excels at visceral descriptions of bodies and food alike
Bold, wild and witty
A bold and fresh story about food, friendship and feminism...compelling reading.
A darkly funny coming-of-age story like no other... Supper Club is the ravenous read we all need
Supper Club will speak to parts of you that you didn't know were yearning. A thought-provoking read that will make you hungry for more
You'll want to feast on this book
Supper Club is SO GREAT. Utterly perfect on loneliness, isolation, friendship, love, appetite, body image. It's about millennial women but I'm reading and nodding: 'Whole Mood'
A love letter to those friends, both retained and lost, who have an irrevocable influence on who we are and how we understand ourselves. It's a powerful interrogation of the current status of women within western societies. But it is also a provocation to demand more, a challenge to hold each other to account, and an enticement to celebrate the vibrancy of women's lives with the raucous abandon they deserve. It's the counter fairy tale: biting the apple brought wisdom and confidence, not a loss of consciousness. No prince necessary
Exquisite. Wise and generous, subtle and superbly attentive... The food in this book eats you, imparting a depth of flavour that resurfaces stylishly when you least expect it
Totally invigorating... With elements of Stephanie Danler's Sweetbitter, Ottessa Moshfegh's My Year of Rest and Relaxation and Phoebe Waller Bridge's Fleabag, Supper Club is a succulent, unapologetic celebration of female friendship, female rage, and female appetite
A small utopia celebrating the intoxications of female friendship and standing as a private bulwark against patriarchy
[A] delicious first novel... Williams writes with warmth, wit, and wisdom, serving up distinctive characters and a delectably unusual story. Supper Club will satisfy your craving for terrific writing and leave you hungry for more from this talented writer
A smart, zeitgeisty, genuinely affecting coming-of-age-tale... Lara Williams is very much a talent in her own right
Like Fight Club but with food... About rebellion and power and all the desires women have suppressed for so, so long
Powerful and original, insightful and moving... The voice feels akin to Sally Rooney's: colloquial, precise, at once uneasy about its place in the world and determined to stand up for itself... Williams suggests convincingly that cooking is as rigorous and complex as any art form
For reading while eating in the bath and licking your lips... There's no other book to read this month
A radical retake on the notion that women must starve themselves to meet society's demands... Written with total glee and rollocking sense of unlimited possibility, Lara Williams is one to watch
Cool and knowing, jam-packed with cultural references, not to mention mouthwatering recipes... Kicks back against the degradations and appetite-shaming strictures of a notionally feminist age
Williams explores the complex relationship many women have with their deepest desires
A bacchanalian debut novel (that) will leaving you panting and ravenous
Extremely well done... Williams's enthusiasm for good food is attractive, and she writes with a pleasingly fluent style