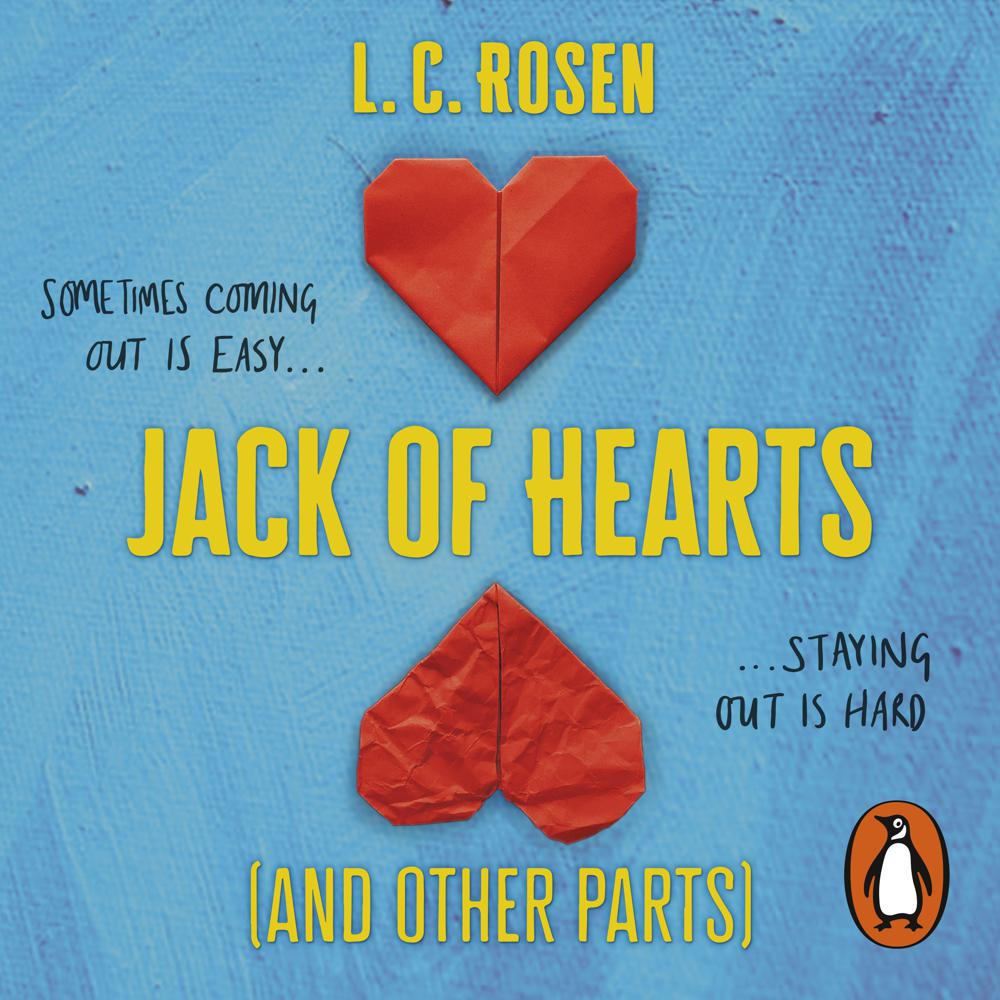 Narrated By: Drew Caidan
Duration: 8 hours and 11 minutes
What to expect
Penguin presents the audiobook edition of Jack of Hearts (And Other Parts) by L.C. Rosen, read by Drew Caidan.

My first time getting it in the butt was kind of weird. I think it's going to be weird for everyone's first time, though.
Jack Rothman is seventeen. A solid student with a talent for art, he likes partying, makeup and boys. Sometimes all at the same time. His active, unashamed sex life makes him a red hot topic for the high school gossip machine, but Jack doesn't really care too much about what the crowd is saying about him. His mantra is: 'It could be worse.'
And then it is.
When Jack starts writing a teen sex advice column for his best friend's website, he begins to receive creepy and threatening love letters. His 'admirer' is obsessed with Jack - they know who he's hanging out with, who he's sleeping with, who his mum is dating. And while they say they love Jack, they don't love his lifestyle. They want him to curb his sexuality and personality. And if he won't, they will force him.
As his stalker starts to ratchet up the pressure, it's up to Jack and his friends to uncover their identity, before their love becomes genuinely dangerous.
Genre
Children's / Teenage fiction: Thrillers, Children's / Teenage fiction: Romance, love & relationships stories, Children's / Teenage general interest: Boys & men
Listen to a sample
Jack of Hearts might be the most important queer novel of the decade
Dispenses sex advice that could be vital to young adult readers
The affirming, sex-positive, brilliant new book that puts the "adult" into young adult literature
A bold, inclusive exploration of teen sexuality that, propelled by Jack's brazen voice, never feels preachy
A sex-positive and thoughtful romp with humour and heart
Jack of Hearts' is a confidently queer story that breaks away from the stereotypes to create refreshing and relatable characters
This book is filth
Rosen (The Memory Wall) creates memorable protagonists and brings a fresh, frank voice to his YA debut
Tackles subjects that many would rather bury and pretend teens don't want (or need) to talk about
A fierce, frank high school thriller which depicts gay intimacy in a sex positive and unapologetic way.
Contemporary sex advice meets mystery in this high school story of bullying and being true to oneself . . . an essential addition to library collections that serve teens.
A joyously sex positive exploration through teenage life with an unashamedly unapologetic queer hero
Jack of Hearts (And Other Parts) is the sex ed class you didn't get in high school - positive, frank and inclusive, but also hilarious, heartfelt and impossibly fun. This book is like a hug that also slaps you on the ass (in the consensual flirtatious sexy way).
Humane, sex-positive writing of the funniest, filthiest and most heartening kind.
Readers will be talking about Jack for years to come
It's the book about high school that gives you the sex ed class desperately lacking from high school education.
The book I needed growing up as an isolated gay teen in a straight boy's world
I know that when I was coming out I would have loved to have been able to pick up a book that did not ignore or demonise gay sex