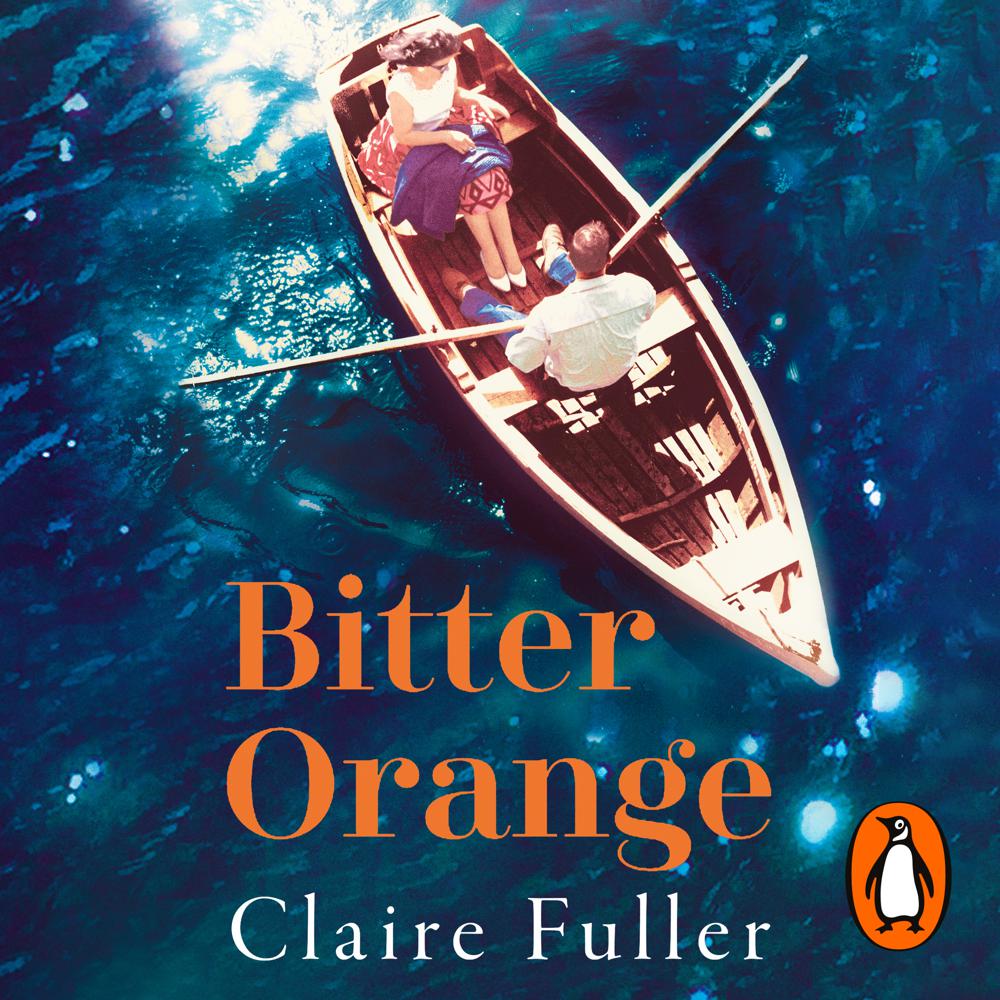 Narrated By: Rachel Bavidge
Duration: 9 hours and 25 minutes
What to expect
Penguin presents the audiobook edition of Bitter Orange by Claire Fuller, read by Rachel Bavidge.

From the attic of a dilapidated English country house, she sees them - Cara first: dark and beautiful, clinging to a marble fountain of Cupid, and Peter, an Apollo. It is 1969 and they are spending the summer in the rooms below hers while Frances writes a report on the follies in the garden for the absent American owner. But she is distracted. Beneath a floorboard in her bathroom, she discovers a peephole which gives her access to her neighbours' private lives.

To Frances' surprise, Cara and Peter are keen to spend time with her. It is the first occasion that she has had anybody to call a friend, and before long they are spending every day together: eating lavish dinners, drinking bottle after bottle of wine, and smoking cigarettes till the ash piles up on the crumbling furniture. Frances is dazzled.

But as the hot summer rolls lazily on, it becomes clear that not everything is right between Cara and Peter. The stories that Cara tells don't quite add up - and as Frances becomes increasingly entangled in the lives of the glamorous, hedonistic couple, the boundaries between truth and lies, right and wrong, begin to blur.

Amid the decadence of that summer, a small crime brings on a bigger one: a crime so terrible that it will brand all their lives forever.

'A twisty, thorny, darkly atmospheric page turner about loneliness and belonging' Gabriel Tallent, author of My Absolute Darling

'Incredibly atmospheric, vivid and intriguing. I had to keep reminding myself that I wasn't reading a forgotten classic' Emma Healey
Genre
Modern & contemporary fiction, Thriller / suspense fiction, Narrative theme: Sense of place, Narrative theme: Interior life
Listen to a sample
Dark, beautifully written. It reminds me very much of Ian McEwan's Atonement, with similar slow-build tension and claustrophobic atmosphere
A stealthy shocker about thwarted desire. A sinister, slow-burn tale that saves its most heart-wrenching revelation for last
Sumptuous and sinister with gothic hints, this is a compelling tale of blurred friendships
A twisty, thorny, darkly atmospheric page turner about loneliness and belonging
Bitter Orange reads like an assured, old-school, du Maurieresque classic. It's an atmospheric page-turner that speeds us towards a bloody climax of shocks and surprises
Multi-layered, lush, twisty and brilliantly clever
A rich and hypnotic read
Full of complex characters and narrative richness
This darkly smouldering, desperately sad, superior psychological thriller contains shades of Zoe Heller's Notes On A Scandal
Bewitching, otherworldly . . . full of dark foreboding. Claire Fuller is a dazzling storyteller.
Sinister and suspenseful, this gothic novel simmers with guilt, lust and envy
Fuller is a master at summoning the atmosphere of a heady, hot summer that thrums with tension
A delicate and disturbing read, alive with love, lust, envy and guilt
As haunting as tuberose and delicate as a scalpel
An exquisite and skilfully written novel, which worms its way under your skin while Frances's loneliness seeps off every page
Nothing is quite what it seems in this engrossing, moreish novel about a naïve woman and the hedonistic couple who beguile her
With shades of Brideshead and Manderley, Claire Fuller's atmospheric third novel plays a satisfyingly unpredictable game with reader expectations. Prepare to be meticulously unsettled and horribly enthralled
Full of dark foreboding. Claire Fuller is a dazzling storyteller
Rich and compelling. Fuller is an accomplished writer
A sinister story that considers the terrifying lengths people will go to escape their pasts. In the vein of Shirley Jackson's bone-chilling The Haunting of Hill House, Fuller's disturbing novel will entrap readers in its twisty narrative, leaving them to reckon with what is real and what is unreal. An intoxicating, unsettling masterpiece.
A rich, dark pressure cooker of a novel that simmers with slow heat and suppressed tension
Elegant, atmospheric, vivid
A compulsive page-turner. Fuller creates an atmosphere of simmering menace with all the assurance of a latter-day Daphne du Maurier
It is rare for me to put down a novel and then immediately consider rereading it to see what cleverness I might have missed. This time, though, I am tempted.
Cannily releasing clues on the way to an explosive finale . . . The lush setting and remarkable characters make for an immersive mystery
Heady, claustrophobic . . . makes for perfect heatwave reading. Echoes Penelope Lively's Booker-winning Moon Tiger, Anita Brookner's Look At Me, and Sarah Waters' The Little Stranger
Beautifully written, with echoes of Barbara Vine and Daphne du Maurier
A smart creation from a skilled writer: a heady psychological novel that builds its layers carefully to allow gradual revelations and stomach-churning surprises
Loneliness, guilt and atonement are at the heart of the atmospheric Bitter Orange
Naturally engaging and elegantly written. Fuller is an amply gifted storyteller
Atmospheric. Rich, clever and very readable.
Reminds me of JL Carr's A Month in the Country, Daphne Du Maurier's Jamaica Inn, and Shirley Jackson's We Have Always Lived in the Castle. Incredibly atmospheric, vivid, and intriguing. I had to keep reminding myself that I wasn't reading a forgotten classic.