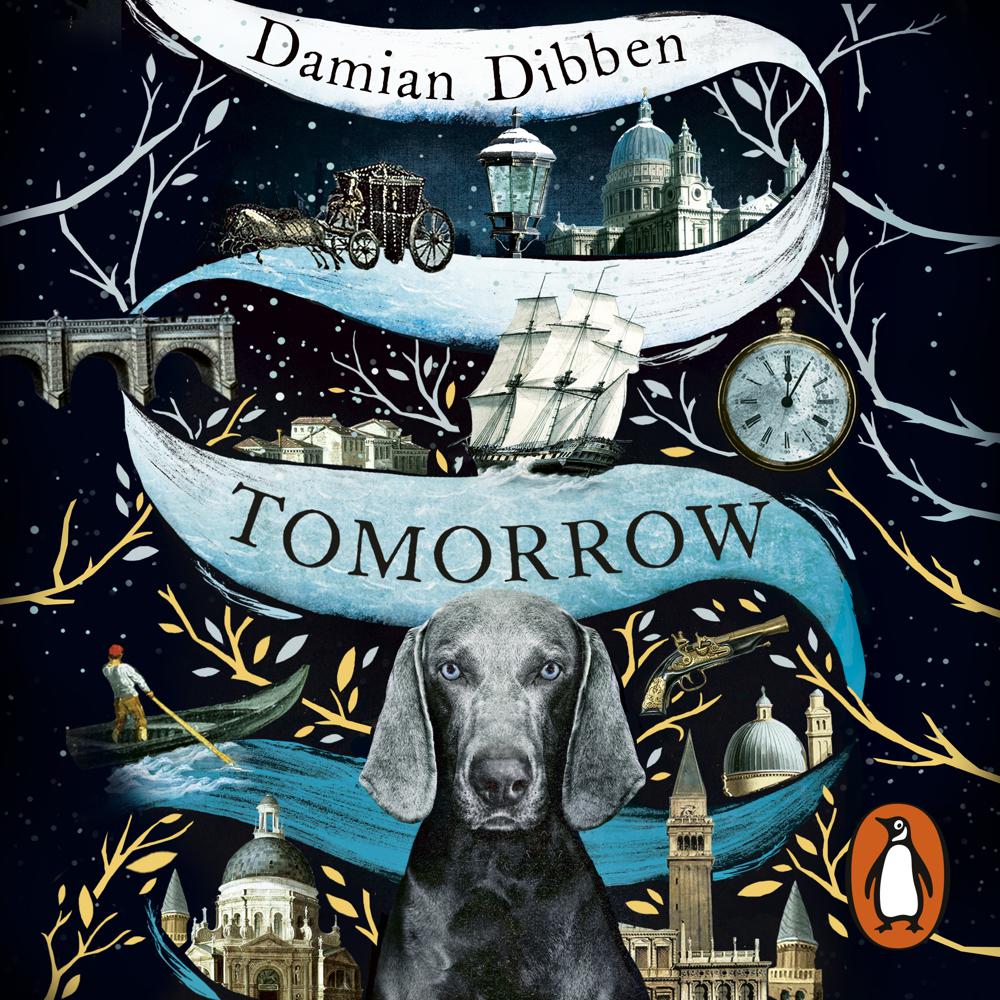 Narrated By: George Blagden
Duration: 10 hours and 42 minutes
What to expect
Penguin presents the audiobook edition of Tomorrow by Damian Dibben, read by George Blagden.

Tomorrow tells the story of a 217-year-old dog and his search for his lost master. His adventures take him through the London Frost Fair, the strange court of King Charles I, the wars of the Spanish succession, Versailles, the Golden Age of Amsterdam, 19th Century Venice and the Battle of Waterloo. As he journeys through Europe, he befriends both animals and humans, falls in love (only once), marvels at the human ability to make music, despairs at their capacity for war and gains insight into both the strength and frailties of the human spirit.
With the rich historical vision of Jonathan Strange & Mr Norrell and the captivating canine perspective of The Art of Racing in the Rain, Tomorrow draws us into a unique, century-spanning tale of the unbreakable connection between dog and human.
Genre
Magical realism, Historical fiction, Historical adventure fiction, Modern & contemporary fiction, Dogs as pets, Fiction: general & literary, Alternative history fiction, Adventure fiction
Listen to a sample
Dog lovers will want to have this heartbreaking, century spanning novel for their next discovery
Timeless. Humanity's foibles and failings are on full display. This soulful debut is a charmer
Damian Dibben's novel is guaranteed to make you shed a tear . . . sure to appeal to readers who enjoy fiction embedded in history
A tale of love and unbreakable bonds
A lyrical commentary on war, rivalry, sacrifice, and above all else, loyalty
It's a rich and complex tale, beautifully told. Historic detail and dog-like thinking are vividly conveyed, carrying the reader along. It is a joy to read. It raises deep questions about what it means to be human
Original, ambitious, moving
A stunning and captivating tale
Definitely - HIGHLY - worth the read!
Ornate, vivid, deeply coloured, and so precise I could smell and taste the world . . . the story of a dog crossing continents and centuries in search of the man he loves is moving and tender. I was captivated by its charm from the beginning
My heart swelled with FEELINGS!
Beautiful. Rich in perseverance, love and the sweetness of life
A grand sweep of adventure and travel, war and romance, and a rich exploration of love, life and loyalty
What a novel! Ambitious and wonderfully achieved. A book to read again and again
With a hint of Mary Shelley's Frankenstein, Tomorrow confronts big questions about life's purpose and celebrates life's pleasures
Bask in the brilliance . . . Golden Age Amsterdam, Versailles, the court of Charles I - it's armchair travel with a unique companion
The story of a dog that doesn't die, of the wonders he'd seen, and the horrors, who lost his master a hundred years ago and has been searching for him ever since, Tomorrow is an epic tale of love, of courage, of hope