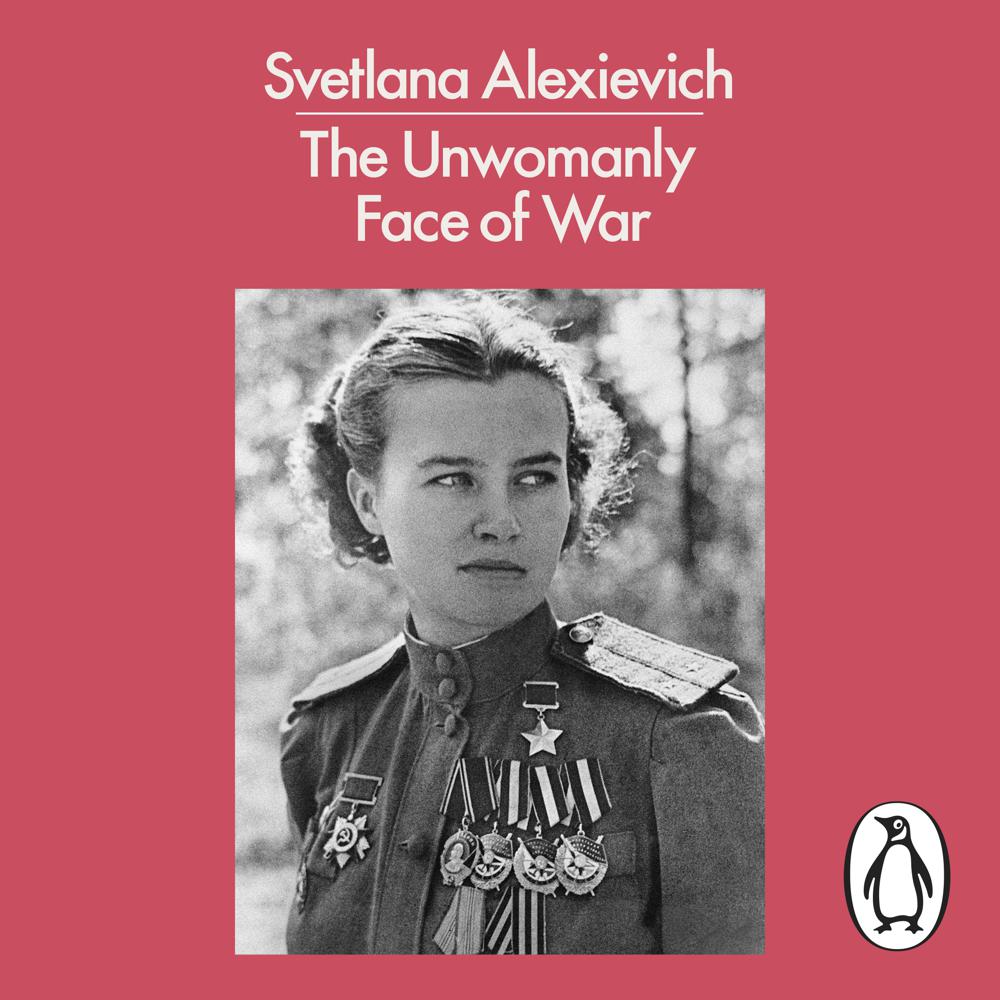 Narrated By: Julia Emelin, Yelena Shmulenson
Duration: 14 hours and 18 minutes
What to expect
Penguin presents the audiobook edition of The Unwomanly Face of War by Svetlana Alexeivich, read by Julia Emelin and Yelena Shmulenson.
Bringing together dozens of voices in her distinctive style, The Unwomanly Face of War is Svetlana Alexievich's collection of stories from Soviet women who lived through the Second World War: on the front lines, on the home front and in occupied territories. As Alexievich gives voice to women who are absent from official narratives - captains, sergeants, nurses, snipers and pilots - she shows us a new version of the war we're so familiar with, creating an extraordinary alternative history from their private stories.
Published in 1985 in Russia and now available in English for the first time, The Unwomanly Face of War was Alexievich's first book and a huge bestseller in the Soviet Union, establishing her as a brilliantly revolutionary writer.
Genre
Oral history, Second World War, Social & cultural history, Marxism & Communism
Listen to a sample
Magnificent. . . After decades of the war being remembered by 'men writing about men,' she aims to give voice to an aging generation of women who found themselves dismissed not just as storytellers but also as veterans, mothers and even potential wives. . . Alexievich presents less a straightforward oral history of World War II than a literary excavation of memory itself
The Belarusian writer has spent decades in listening mode. Alexievich put in thousands of hours with her tape recorder across the lands of the former Soviet Union, collecting and collating stories from ordinary people. She wove those tales into elegant books of such power and insight, that in 2015 she received the Nobel prize for literature
We should resolve to read this book alongside the world news report. . . Ms. Alexievich never tries to simplify. . . Refusing to pass judgment, crediting all, she listens, suffers and brings to life
These stories about the women warriors of Mother Russia are a symphony of feminine suffering and strength. . . Read this book. And then read it again
The exploitation of the memory of the war has been the central element of modern Russian ideology. It is what makes Ms Alexievich's work so relevant today
Astonishing. . . Her years of meticulous listening, her unobtrusiveness and her ear for the telling detail and the memorable story have made her an exceptional witness to modern times. . . This is oral history at its finest and it is also an essay on the power of memory, on what is remembered and what is forgotten
Groundbreaking. . . a mosaic of Russian women's stories - from the home front to the front lines, from foot soldiers to cryptographers to antiaircraft commanders
The least well-known wonderful writer I've ever come across
Extraordinary. . . it would be hard to find a book that feels more important or original. . . Alexievich's strength - and a mark of her own courage - is that she is forever on the lookout for the seemingly inconsequential, almost trivial human moments. . . Her achievement is as breathtaking as the experiences of these women are awe-inspiring
Alexievich's artistry has raised oral history to a totally different dimension. It is no wonder that her brilliant obsession with what Vasily Grossman called "the brutal truth of war" was suppressed for so long by Soviet censors, because her unprecedented pen portraits and interviews reveal the face of war hidden by propaganda
A revelation. . . Alexievich's text gives us precious details of the kind that breathe life into history . . . This is a book about emotions as much as it is about facts. It is not a historical document in the accepted sense. . . and yet ultimately, which historical documents are more important than this?
One of the most heart-breaking books I have ever read. . . I urge you to read it
Reveals the harrowing, brave, and even quotidian memories of Soviet women whose voices were nearly stifled by the mores of history. These accounts fight our ingrained ideas about what makes a war story
Alexievich's "documentary novels" are crafted and edited with a reporter's cool eye for detail and a poet's ear for the intricate rhythms of human speech. Reading them is like eavesdropping on a confessional. This is history at its rawest and most uncomfortably intimate. . . The book is not merely a corrective to male-centred accounts of conflict; it is a shattering and sometimes overwhelming experience
Svetlana Alexievich rightly says she is a writer, not a historian. In her hands, the spoken word, even written down, conveys the vividness of individual experience, for it has the power of witness
A landmark in the study of female soldiers. . . Alexievich's method is the close interrogation of the past through the collection of individual voices; patient in overcoming cliché, attentive to the unexpected, and restrained in exposition, her writing reaches those far beyond her own experiences and preoccupations, far beyond her generation, and far beyond the lands of the former Soviet Union
A profoundly humbling, devastating book, it should be compulsory reading for anyone wishing to understand the experience of the war and its haunting legacy in the former Soviet Union
A must read
As with her other books, terrifying documentation meets great artfulness of construction
A remarkable collection of testimonies. . . Sitting at kitchen tables, Alexievich coaxes out of the women stories that describe a reality vastly different from the officially sanctioned version
A powerful and deeply moving document . . . giving voices to the women who served alongside their male counterparts only to have been rendered invisible, afterward, through sexist societal and bureaucratic systems