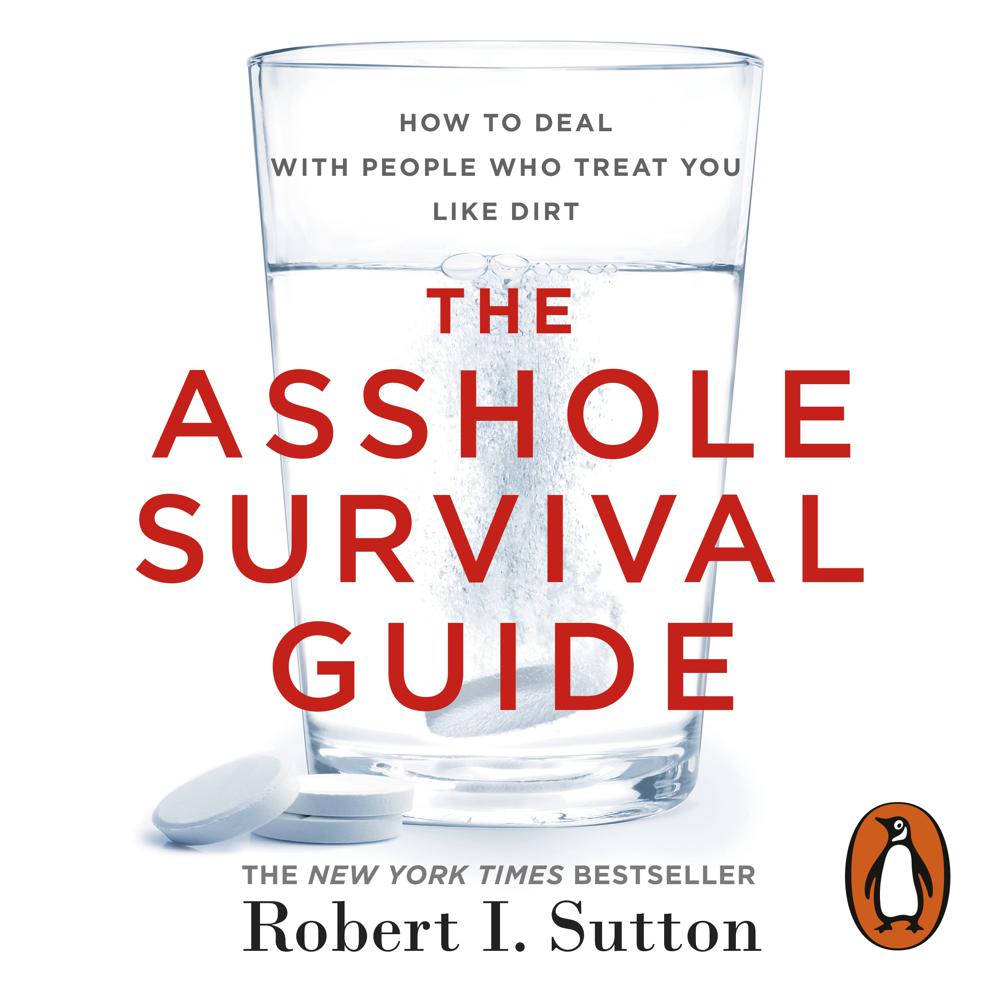 Narrated By: Robert I Sutton
Duration: 5 hours and 58 minutes
What to expect
Penguin presents the audiobook edition of The Asshole Survival Guide written and read by Robert I Sutton.
Being around assholes, whether at work or elsewhere, can damage performance and affect wellbeing: having one asshole in a team has been shown to reduce performance by 30 to 40%. And social media has only given rise to further incivility -- 40% of people have experienced harassment online.
But in The Asshole Survival Guide, Stanford professor Robert Sutton offers practical advice on identifying and tackling any kind of asshole -- based on research into groups from uncivil civil servants to French bus drivers, and 8,000 emails that he has received on asshole behaviour.
With expertise and humour, he provides a cogent and methodical game-plan to fight back. First, he sets out the asshole audit, to find out what kind of asshole needs dealing with, and asshole detection strategies. Then he reveals field-tested, sometimes surprising techniques, from asshole avoidance and asshole taxes to mind-tricks and the art of love bombing. Finally, he explains the dangers of asshole blindness - when the problem might be yours truly.
Genre
Soft skills & dealing with other people, Assertiveness, motivation, self-esteem & positive mental attitude, Management & management techniques
Listen to a sample
Assholes are like the weather-everybody complains about them but nobody ever does anything about them. Until, that is, Robert Sutton's Asshole Survival Guide. Sutton offers a wealth of helpful, and dare I say wise suggestions about how to identify and deal with the assholes in your organization, or at least minimize the damage they do to the well-being and productivity of others. (I'd also suggest bringing it along to family reunions and PTA meetings
As much as we try to avoid assholes, inevitably they appear in our lives. Bob Sutton gives a menu of clear, thoughtful, and practical solutions for surviving and thriving in that painful situation. With cutting-edge research and real-life examples that are thought-provoking and often hilarious, The Asshole Survival Guide is an indispensable resource.
One of the biggest impediments to achieving a great workplace is assholes. Their behavior creates a hostile work environment that leads to decreased engagement, productivity and employee loyalty. Bob Sutton has written a fantastic book that explains the severity of the problem and provides useful strategies for dealing with it
Bob Sutton is very wise and very funny, AND he can tell you exactly how to handle the unfortunate reality that into every life a few assholes must fall. The Asshole Survival Guide is destined to become your go-to resource whenever you find yourself dealing with people who would treat you poorly
In this most-welcome sequel to Sutton's bestselling The No Asshole Rule, the author turns from an organization-wide perspective to an individual one, outlining strategies for dealing with difficult people at work. Readers will shake their heads-both in horror and recognition-at Sutton's real-life examples of egregious behavior. However, Sutton also shares true stories, provided by readers, of successful strategies for thwarting the bullies.
At last someone has provided clear steps for rejecting, deflecting, and deflating the jerks who blight our lives. Better still, that someone is the great Bob Sutton, which ensures that the information is useful, evidence-based, and fun to read
It's hard to know how to react to a jerk, so The Asshole Survival Guide is a Godsend. Obnoxious behavior is a double whammy. First, you feel mad at the other person. Next, you feel mad at yourself for your response / lack of response. It's being mad at yourself that is both hard to be aware of, and is most debilitating. With this brilliant and funny book, Bob Sutton saves you from fear, loathing, and self-loathing!
This is the guide you need for handling the worst people in your life-and making sure they don't rub off on you. If you've ever had a horrible boss, client, or colleague, this book is bursting with advice that's often ingenious and always actionable. And if your world has been free of jerks, consider this an insurance policy
No matter what industry or profession you work in, you will always encounter people who are unpleasant, off-putting, or downright self-centered. Thank goodness Bob Sutton has provided us with such a well-crafted guide for surviving these jerks. It is mandatory reading for anyone who strives to endure, escape, fend-off, and bring them down
A contemporary classic

Reading The Asshole Survival Guide made me wistful. If only Bob Sutton's book had been available to help me deal with the full complement of 1st-class assholes I've encountered in my 50-year professional life. No names shall be mentioned
With humor, understanding and comprehensive research - and an ah-ha moment on every page - this is a must-have for leaders and climbing stars alike, from the expert on the subject. Bravo!