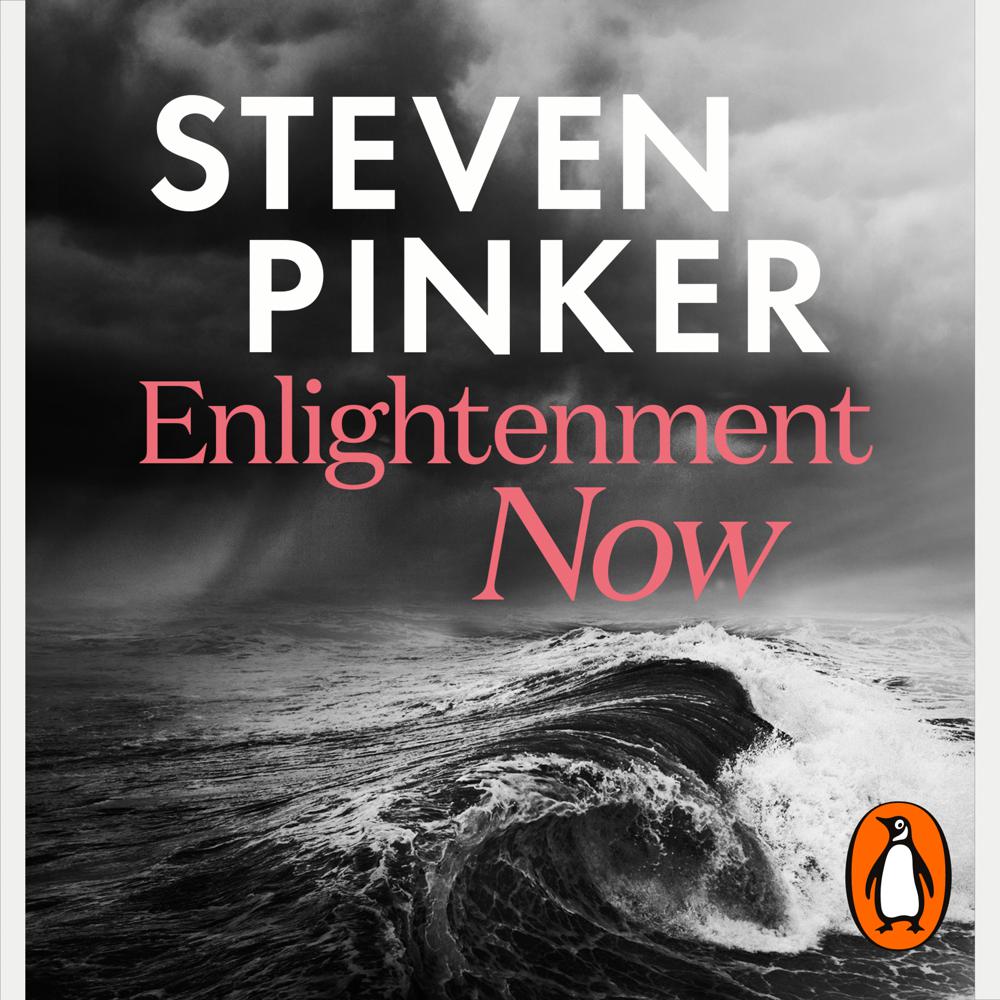 Narrated By: Arthur Morey
Duration: 19 hours and 49 minutes
What to expect
Brought to you by Penguin.

Is modernity really failing? Or have we failed to appreciate progress and the ideals that make it possible?

If you follow the headlines, the world in the 21st century appears to be sinking into chaos, hatred and irrationality. Yet, as Steven Pinker shows, if you follow the trendlines, you discover that our lives have become longer, healthier, safer and more prosperous - not just in the West but worldwide.

Such progress is no accident: it's the gift of a coherent value system that many of us embrace without even realising it. These are the values of the Enlightenment: of reason, science, humanism and progress. The challenges we face today are formidable. But the way to deal with them is not to sink into despair or try to lurch back to a mythical idyllic past; it's to treat them as problems we can solve, as we have solved other problems in the past. This is the case for an Enlightenment newly recharged for the 21st century.

PLEASE NOTE: When you purchase this title, the accompanying reference material will be available in your Library section along with the audio on our desktop site.

© Steven Pinker 2018 (P) Penguin Audio 2018
Genre
Social and political philosophy, Ethics and moral philosophy, Philosophy of science, Western philosophy: Enlightenment, General and world history, Humanist philosophy
Listen to a sample
A forceful defense of the democratic, humanist institutions that [Pinker] says brought about these changes, and a declaration that reason, science and humanism can solve the problems to come.
A salutary reminder of the material progress modern science and commerce have delivered
It's easy to feel dour about the future of mankind. But constant, widespread doomsday prophecies are not going to help - it's only going to make matters worse. If every doomsday scenario feels possible, then people are actually disincentivized to take action, says Steven Pinker ... Things like nuclear war and climate change can, with careful and diligent work, be mitigated
An excellent book, lucidly written, timely, rich in data and eloquent in its championing of a rational humanism that is - it turns out - really quite cool.
A valuable book ... Enlightenment Now can hardly be bettered
In his new book, Enlightenment Now, cognitive scientist Steven Pinker makes a more convincing case for the sciences benefiting the arts
After devouring all 453 pages and 75 graphs of psychologist Steven Pinker's Enlightenment Now, I admit defeat. The defeat of defeatism. This man has done the math. Since the 18th century things have been getting better in pretty much every dimension of human wellbeing.
In Enlightenment Now, Steven Pinker extols the amazing achievements of modernity, and demonstrates that humankind has never been so peaceful, healthy and prosperous. There is of course much to argue about, but that's what makes this book so interesting.
Pinker has a coherent theory of progress.
The most uplifting work of science I've ever read
[ENLIGHTENMENT NOW] proves that much of the handwringing and doom-saying promulgated in the popular press, academia, and politics can't be justified on the facts. . . it's both a manifesto of ideas that [Bill] Gates himself has espoused through the years, as well as a paean to individuals, like Gates, who have committed their time and money to changing the world for the better.
Pinker offers numbers to show that the world has, on the whole, become safer, healthier and wealthier. These benefits are more pronounced in the West, but even in developing countries conditions have improved ... His optimism is resilient
Awesome. The confidence with which Pinker tears through the issues that cause such deep anxiety today is compelling
Words can hardly do justice to the superlative range and liveliness of Pinker's investigations
The world is better than ever before. And Steven Pinker can prove it.
A careful and deeply researched piece of work ... Pinker is bravely prepared to be the bearer of good news
Enlightenment Now seeks to undo, with facts and figures, the pessimism that has paralysed the world ... We must read this book and absorb its message
[Steven Pinker has] become a deep and important critic of the visceral hostility to nature and science now so sadly prevalent on the left and right, a defender of reason and the Enlightenment against the 'social justice' movements on campus, and his new book is a near-relentless defense of modernity.
Modern life has gotten much better despite ever-present complaints. Technology has reduced the need for physical labor. Mortality rates are down. IQ scores are on the rise. Wars are less frequent and less deadly ... the Enlightenment's championing of reason, science, humanism and moral progress is a model for our own times
A goldmine of startling graphs and killer facts about the way we live now. Everyone should read this book and, just for once, be enthralled by what humankind has achieved
Compelling ... At a moment when liberal Enlightenment values are under attack, from the right and the left, this is a very important contribution ... An impressive and useful accomplishment
My new favourite book of all time
An engaging, compelling set of reasons to be cheerful ... it is a welcome antidote
An erudite defence
Persuasive... Pinker's book focuses on the Enlightenment as a philosophical perspective, as a distinctive way of looking at the position of individuals within modern society. Enlightenment Now is a spirited defence of the enduring ideals of this tradition
Vindication has arrived in the form of Steven Pinker's latest book. ENLIGHTENMENT NOW: The Case for Reason, Science, Humanism, and Progress is remarkable, heart-warming, and long overdue.
Pinker is a paragon of exactly the kind of intellectual honesty and courage we need
If 2017 was a rough year for you, look no further than Steven Pinker's engaging new book, Enlightenment Now, to cheer you up. Conceived before Donald Trump even announced his candidacy, it could not have been better timed to clarify - and, for some, refute - the habits of mind that brought Trump and the GOP to power ... Pinker's gift is to challenge us not only to update the Enlightenment, but to think beyond it
Things are not as bad as your Facebook news feed makes them seem ... a cheerful, contrarian tract for dark times
Today we are living healthier, wealthier lives - and it's thanks to the values of the Enlightenment ... a passionate book in praise of Enlightenment values
Useful and exciting ... Pinker doesn't declaim, he demonstrates - with dozens of graphs and charts - that humankind has spent two centuries winning the battle against entropy in all fields: from health to peace, the environment to democracy, wealth to happiness, to equality between men and women. He asks us crucial questions ... Steven Pinker is right
A new, optimistic view of the world ... Things are not as bad as your Facebook news feed makes them seem ... a cheerful, contrarian tract for dark times
Extremely hopeful... Steven Pinker argues that people are happier, healthier, wealthier, and safer than they've ever been ... we're living in the best moments humans have experienced yet
Brimming with surprising data and entertaining anecdotes ... a genuinely enlightening book
Pinker is a deep and important critic of the visceral hostility to nature and science now so sadly prevalent on the left and right, a defender of reason and the Enlightenment ... Pinker is right
Pinker is right ... Much good news today tends to be underreported, even unreported. Human beings today lead longer, safer, healthier, wealthier and indeed happier lives than at any point in recorded history ... Pinker surveys the stupendous advancements that the human race has made in modern times according to a dizzying range of metrics
A substantial and wide-ranging book on the state of our world today ... In forensic detail, Pinker enumerates the myriad ways in which life is getting better ... The book is packed with statistics vaunting the gifts of progress
A characteristically fluent, decisive and data-rich demonstration of why, given the chance to live at any point in human history, only a stone-cold idiot would choose any time other than the present
Pinker is ahead of his critics... [he] is in no way complacent. To accuse him of smugly sipping cocktails at the End of History café is simply to ignore his repeated calls to work for the better future that is there for the taking, but also for the losing
Pinker is right. Not just a bit right, but completely, utterly, incontrovertibly right ... for most people, life is better, even if they don't realise it
A highly topical and much-needed book
Shock therapy for pessimists.
Exhilarating, magnificent, uplifting
Guys, it's really not that bad. In fact, it's the best it's ever been ... Pinker urges people to look at the bigger picture and dive into the data
Steven Pinker has a cure for your despair ... life is better than it has ever been. Pinker's case is compelling
This is the biggest story of our time. It's about the many ways in which the world is improving, and why we don't believe it