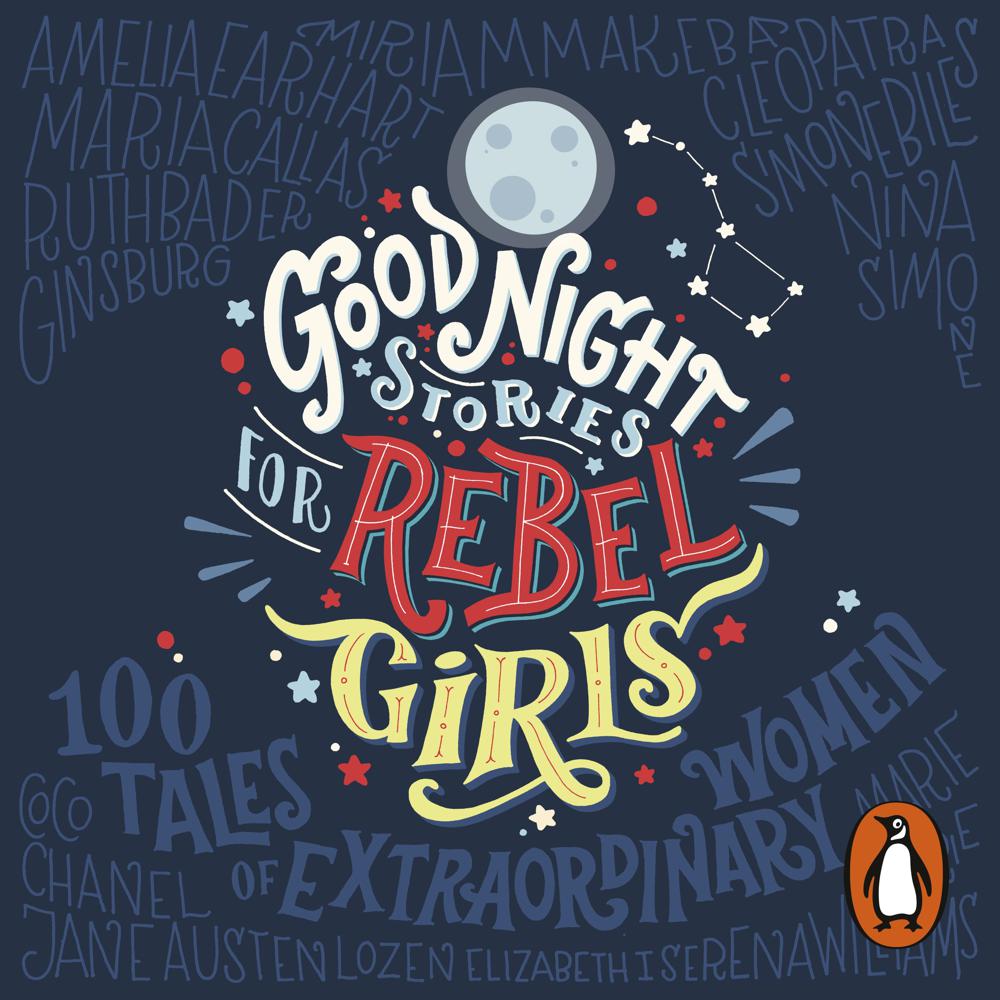 Narrated By: Elena Favilli, Francesca Cavallo, Mozhan Marno, Alicia Keys, Ashley Judd, Danai Gurira, Esperanza Spalding, Janeane Garofalo, Phillipa Soo, Samira Wiley, Rowan Blanchard
Duration: 3 hours and 20 minutes
What to expect
Penguin presents the audiobook edition of Good Night Stories for Rebel Girls by Elena Favilli and Francesca Cavallo, read by Alicia Keys, Ashley Judd, Danai Guriria, Esperanza Spalding, Janeane Garofalo, Julianna Wilson, Mohzan Marno, Phillipa Soo, Samira Wiley and Rowan Blanchard. With an introduction read by the author
Includes a bonus PDF so you can write your very own Rebel Girl story!
What if the princess didn't marry Prince Charming but instead went on to be an astronaut? What if the jealous step sisters were supportive and kind? And what if the queen was the one really in charge of the kingdom? Good Night Stories for Rebel Girls introduces us to one hundred remarkable women and their extraordinary lives, from Ada Lovelace to Malala, Elizabeth I to Serena Williams. Empowering, moving and inspirational, these are true fairy tales for heroines who definitely don't need rescuing.
'The definitive book of the year in our house, for both parents and offspring' Maggie O'Farrell, Guardian Books of the Year
'Absolutely beautiful - get one for yourself and one to inspire a woman in your life' Stylist
*Sunday Times and New York Times bestseller*
*Blackwell's Book of the Year*
*Foyles Children's Book of the Year*
*Shortlisted for Waterstones Book of the Year*
Genre
Collected biographies, General & world history, True stories of heroism, endurance & survival, Social & cultural history, Feminism & feminist theory
Listen to a sample
From politics to sport to technology to entertainment, Good Night Stories for Rebel Girls wonderfully celebrates the power of a woman's touch. It is a book that makes you proud to be a woman and allows little girls to dream big!
If you're looking for something to help your daughter (or son) dream big tonight, there's one book up for the task... Uncovering the art of asking a lot of questions, Good Night Stories for Rebel Girls is about the moments that make a life truly extraordinary - the trying, the failing, and most importantly, the trying again
A welcome reminder to girls that nothing stands in their way - except a lack of self-belief. This book started as a crowd-funded project and has become a best-seller which is the best news of the year
You have to buy it for the little ones in your lives, but you also need a copy for your grown-up bookshelf... There is serious girl power between the covers of this book
An excellent book... it should be top of every girl's reading list - and boys too, so they can see the vital role played by women throughout history. This crowdfunded book has become a smash hit, and quite rightly so
The key message is perseverance rather than success. Crucially, the book also gives exposure to female illustrators. Their diverse styles are universally attractive, with bright appealing colours and expressive faces. Goodnight Stories for Rebel Girls would be a valuable addition to the bookshelves of any child interested in history, regardless of their gender
Forget passive simpering princesses and damsels in distress - the heroines of Good Night Stories for Rebel Girls are famed for their real-life achievements
A book to keep, treasure and read again, and the end pages are a call to arms: space for readers to write their own story and drawn their own portrait. Essential reading for girls and indeed boys; children who read this at bedtime are guaranteed some big and inspirational dreams
The feminist bedtime story book you'll wish you had growing up
Elegant, colourful... and captivatingly told... In an ideal world, not only would mothers read this aloud to daughters, but teachers would read it to schoolboys
This amazing book shows young girls they can be anything they want
Trust me, your life needs Good Night Stories for Rebel Girls... Absolutely beautiful - get one for yourself and one to inspire a woman in your life
A cracking book... beautifully illustrated, a great source for young women to be inspired
Featuring spies, pirates, astronauts, activists, scientists, writers, sports stars and more, many of the stories are so thrilling and uplifting your child's heart may beat a little faster, her mind racing with possibilities. If she leaps out of bed to get to work, blame the authors
Modern and fundamentally feminist, this riot grrrl reinvention of the fairytale is so inspiring adults are also reading it in droves
The feminist book every child needs in their bedroom... bedtime stories which tell of real women shattering the glass ceiling and challenging patriarchy should be read to all children - not just to little girls, but to little boys, too
Potted biographies of lots of great women - not just rebels (although many of them are), but scientists, writers, artists, politicians. A great ethnic and historical mix too, and lots of women who did great things as children and teenagers
A must-have for the nightstand of every girl or young woman you know
A revolution at bedtime... Esther Walker thought she had parenting down until she read the hit book to her daughter. It has changed their lives
The definitive book of the year in our house, for both parents and offspring. It offers celebratory, non-judgmental paeans to the varied lives of influential women. Anyone needing an antidote for certain oversexualised, underoccupied screen heroines need look no further
Really inspiring for all young girls, they should all read it
In a sign of the times - that rebellion is good - there's a book dominating the Christmas bestsellers list this year. It is Good Night Stories for Rebel Girls by Elena Favilli and Francesca Cavallo... what the title says to girls is that history has placed laurels on the heads of men, that children's books have left them out, and that this is their time for revolution
The exceptional women included here come from many times and places... Each is celebrated in a brief biography written in the style of a modern fairy tale - with the twist that she is often an unsung shaper of our society. Illustrations by female artists add to the joy of this ebullient, inspiring collection
Our favourite bedtime read
The all-female team behind a pioneering new book called Good Night Stories for Rebel Girls are confronting the tired, patriarchal narrative head-on. It sets out to challenge gender stereotypes and inspire young girls to aim high in their career goals
A worldwide hit
The publishing sensation of the year
Go out now and add Good Night Stories for Rebel Girls to your bookshelf. Gripping and beautiful, Sofya has paused her Harry Potter obsession to tell me all about Aung San Suu Kyi and Anna Politkovskaya. Be still my feminist heart