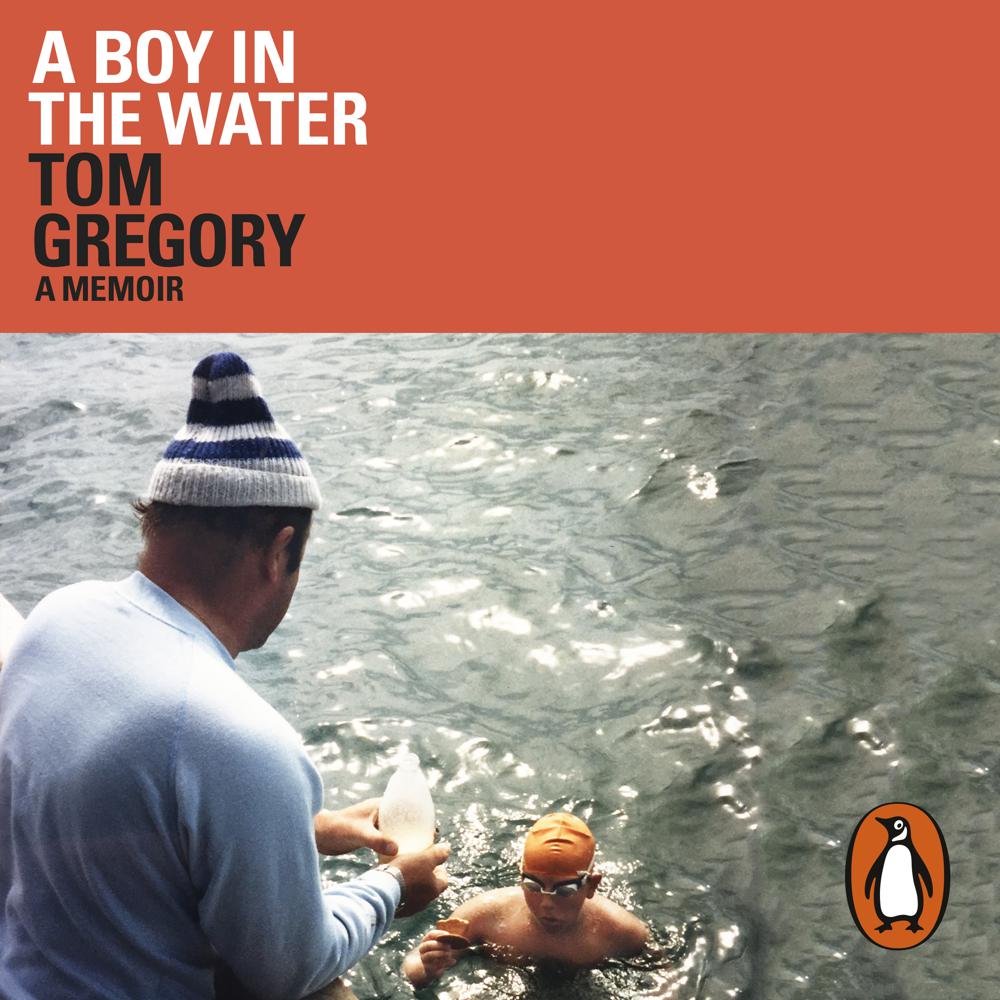 Narrated By: Tom Gregory
Duration: 5 hours and 30 minutes
What to expect
Penguin presents the audiobook edition of A Boy in the Water written and read by Tom Gregory.

Eltham, South London. 1984: the hot fug of the swimming pool and the slow splashing of a boy learning to swim but not yet wanting to take his foot off the bottom. Fast-forward four years. Photographers and family wait on the shingle beach as a boy in a bright orange hat and grease-smeared goggles swims the last few metres from France to England. He has been in the water for twelve agonizing hours, encouraged at each stroke by his coach, John Bullet, who has become a second father.

This is the story of a remarkable friendship between a coach and a boy, and a love letter to the intensity and freedom of childhood.

'Written beautifully through the eyes of a child yet to enter his teens, 'A Boy in the Water' resonated strongly taking me back to my own childhood. A fascinating story full of innocence, achievement, ambition and trust.' Ellen MacArthur

"I am absolutely in awe; a mindblowing and phenomenal feat. A Boy in the Water will challenge ideas of what is possible". Chrissie Wellington OBE

Charming and different; a lovely, brilliant memoir. What a boy! What a feat! - Victoria Derbyshire
Genre
Memoirs, Autobiography: sport, Swimming and diving, Sports training and coaching
Listen to a sample
Written beautifully through the eyes of a child yet to enter his teens, 'A Boy in the Water' resonated strongly taking me back to my own childhood. A fascinating story full of innocence, achievement, ambition and trust.
His immersive, colourful writing takes the reader through a challenge that even the most experienced adult long-distance swimmers would balk at. The story keeps you gripped from the start, all the way to an unexpected and heart breaking twist towards the end.
Beautifully written . . . often heart-wrenching.
I am absolutely in awe; a mind-blowing and phenomenal feat. A Boy in the Water will change ideas of what is possible
A compelling story of dedication and commitment. It'll make a great movie, but you should read the book first.
A Boy in the Water is a truly wonderful read of resilience, determination and courage. Whether you are interested in what it takes to be a Channel swimmer, or love a sport memoir, or simply like stories of our different experiences in the water, this book will win your heart.
A compelling account that serves above all as tribute to John Bullet, [Tom Gregory's] charismatic coach.
This evocative memoir recounts an agonising, hallucination-filled swim across the English Channel in 1988, when Gregory was just 11 years old.
The gruelling, awe-inspiring feat is recounted with poignancy and affection here, and this becomes a thrilling and moving tribute to the joys and perils of open-water swimming, too. Gregory's devotion to his incredibly tough challenge is remarkable
Charming and different; a lovely, brilliant memoir. What a boy! What a feat!
Gregory convinces us that for all his flaws, Bullett (who died of a stroke not long after the swim) was an extraordinary, inspirational man. He seems less willing to acknowledge that there is something even more remarkable about a chubby eleven-year-old fuelled by chocolate Digestives and Heinz tomato soup, with the sound of "Together in Electric Dreams" in his head, swimming in temperatures of around 16 degrees for 11 hours and fifty-four minutes. But A Boy in the Water allows the reader his own private amazement.
'Reading this and it's extraordinary. The challenge and the exhilaration of open water swimming brilliantly evoked. A really different and interesting read.' Clare Balding
An extraordinary story ... his account of his swim is certainly a tough read ... A Boy in the Water is a fascinating study, at its core there remains an extraordinary achievement by a dogged, huge-hearted kid. Reading this, you have to remind yourself that this was just a little boy, smothered in grease, who was bobbing about in one of the world's busiest maritime routes, battling the tide, waves and wind.
A lifelong journey begins with an incredible swim
Just part of a story that began at a swimming pool in south London, where one man changed countless young lives
An 11-year-old boy slaps on the grease, adjusts his goggles and plunges into a grey, cold sea in an attempt to become the youngest person to swim the Channel. This is Tom Gregory's true story about the events that led him to this chilly endeavour.
A memoir about the power of a good teacher, about family, about loss, about growing into the man you are meant to be
A Boy in the Water is an uplifting and truly remarkable story of innocence, dedication, and commitment
This book really struck a chord with me and I couldn't put it down until I read it all . . . amazing, a must read
'Written beautifully through the eyes of a child yet to enter his teens, 'A Boy in the Water' resonated strongly taking me back to my own childhood. A fascinating story full of innocence, achievement, ambition and trust.' Ellen MacArthur
"I am absolutely in awe; a mindblowing and phenomenal feat. A Boy in the Water will challenge ideas of what is possible".
Chrissie Wellington OBE