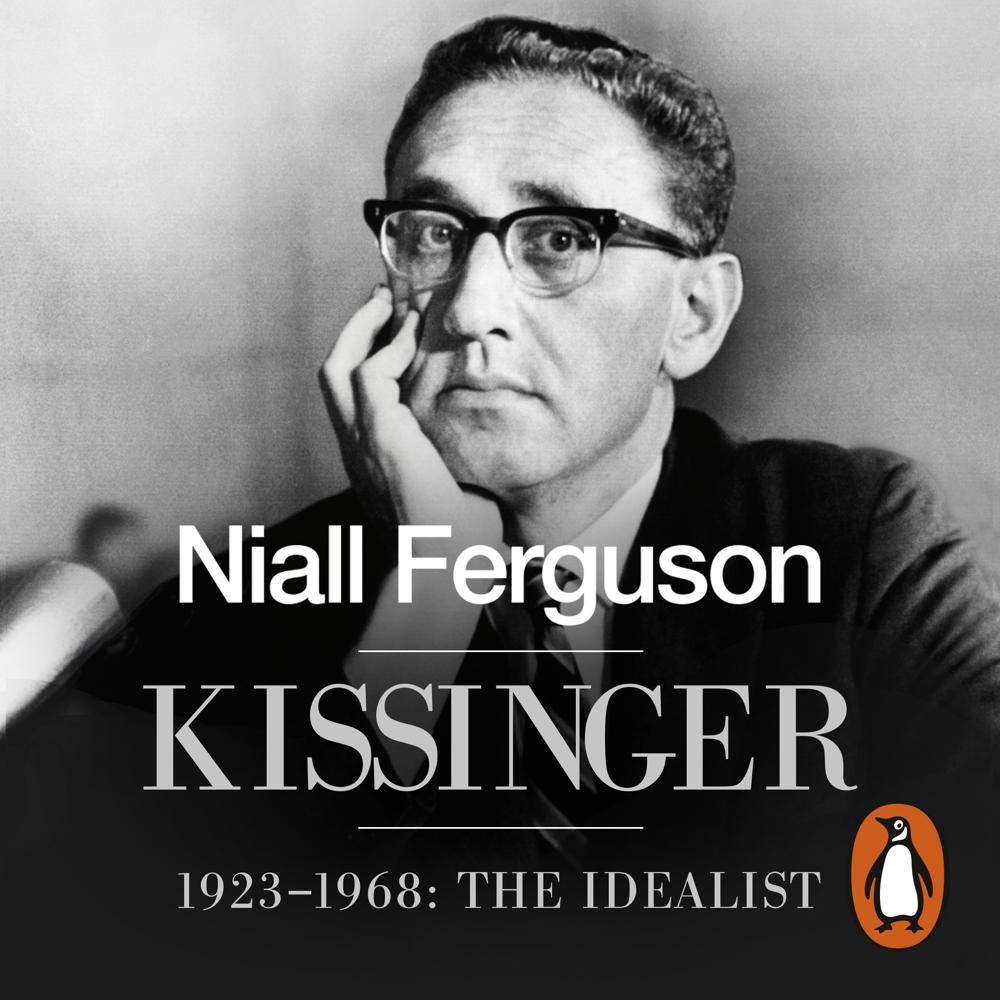 Narrated By: Roy McMillan
Duration: 1 day, 9 hours and 13 minutes
What to expect
Penguin presents the audiobook edition of Kissinger: The Idealist by Niall Ferguson, read by Roy McMillan.

'Riveting ... this will be his masterpiece' - Andrew Roberts, The New York Times

'For big, bold and compelling, it is impossible to ignore Kissinger' - John Bew, New Statesman, Books of the Year

'This is a superb history of the modern world as well as a biography of Kissinger ... a tour de force' William Shawcross, The Times

No American statesman has been as revered and as reviled as Henry Kissinger. Hailed by some as the "indispensable man", whose advice has been sought by every president from John F. Kennedy to George W. Bush, Kissinger has also attracted immense hostility from critics who have cast him as an amoral Machiavellian - the ultimate cold-blooded "realist".

In this remarkable new book, the first of two volumes, Niall Ferguson has created an extraordinary panorama of Kissinger's world, and a paradigm-shifting reappraisal of the man. Only through knowledge of Kissinger's early life (as a Jew in Hitler's Germany, a poor immigrant in New York, a GI at the Battle of the Bulge, an interrogator of Nazis, and a student of history at Harvard) can we understand his debt to the philosophy of idealism.

And only by tracing his rise, fall and revival as an adviser to Kennedy, Nelson Rockefeller and, finally, Richard Nixon can we appreciate the magnitude of his contribution to the theory of diplomacy, grand strategy and nuclear deterrence.

Drawing not only on Kissinger's hitherto closed private papers but also on documents from more than a hundred archives around the world, this biography is Niall Ferguson's masterpiece. Like his classic two-volume history of the House of Rothschild, Kissinger sheds dazzling new light on an entire era.
Genre
History of the Americas, Biography: historical, political and military, Central / national / federal government
Listen to a sample
A work of engrossing scholarship
a formidably detailed, closely argued study of the making of one of the giants of 20th-century foreign policy
I acquired valuable knowledge, elegantly conveyed
Ferguson is undoubtedly persuasive in presenting the young Kissinger as a man of ideals as well as ideas. His advantage as the authorised biographer, deployed with full force, has been access to a vast mass of previously unseen private correspondence that reveals his subject as nothing like the calucating cold fish of legend
This will be his masterpiece
this is a superb history of the modern world as well as a biography of Kissinger... Ferguson's tour de force shows that because Kissinger was a refugee from horror he understood from the day he first saw the Statue of Liberty that US engagement is vital to the peaceful development of the world
For big, bold and compelling, it is impossible to ignore Kissinger - 1923-1968: the idealist (Allen Lane), the first volume of Niall Ferguson's biography of Henry Kissinger, which asks us to reconsider America's best-known "realist" as more Kantian than Machiavellian, more Castlereagh than Meternich, at least up to 1968, when President Nixon first granted the Harvard academic high office.
The book illustrates just what an extraordinary human being Kissinger is