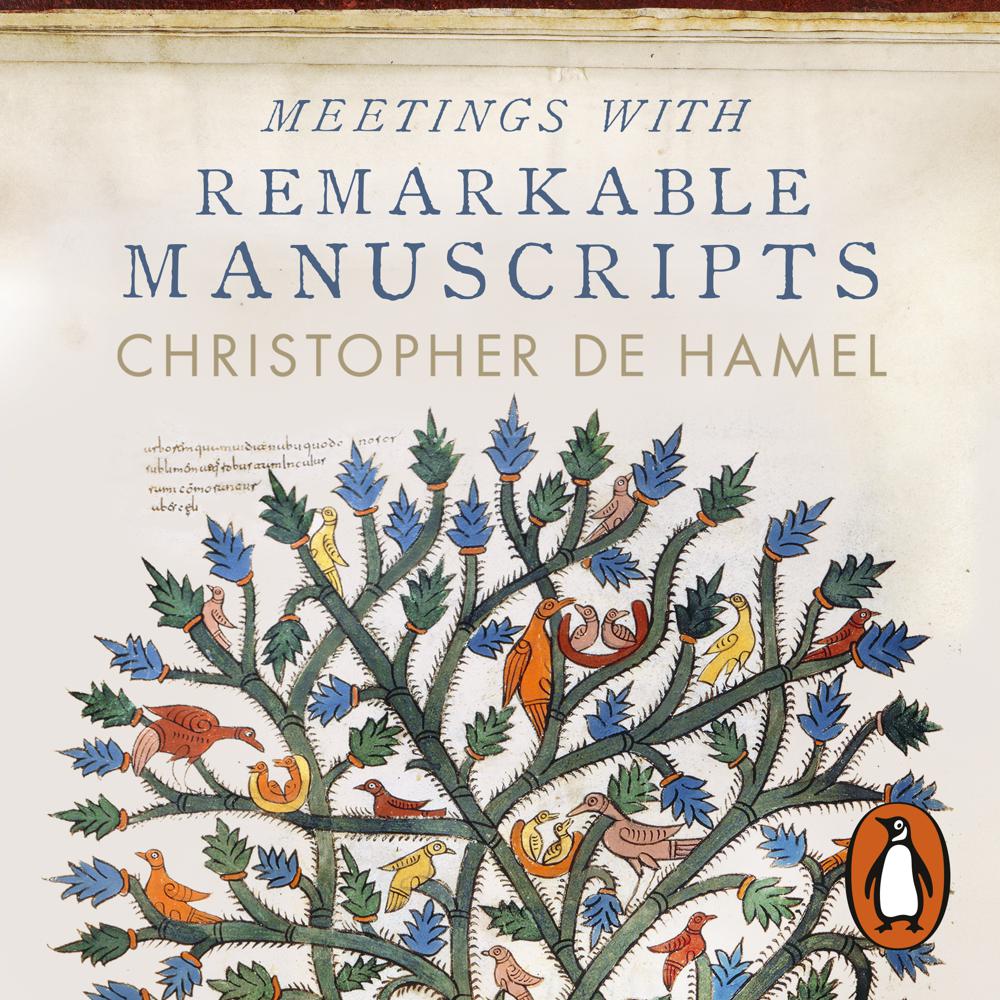 Narrated By: Christopher de Hamel
Duration: 17 hours and 41 minutes
What to expect
Penguin presents the audiobook edition of Meetings with Remarkable Manuscripts written and read by Christopher de Hamel.
This is a book about why medieval manuscripts matter. Coming face to face with an important illuminated manuscript in the original is rather like meeting a very famous person. We may all pretend that a well-known celebrity is no different from anyone else, and yet there is an undeniable thrill in actually meeting and talking to a person of world stature.
The idea for this book, which is entirely new, is to invite the reader into an intimate conversation with a selection of the most famous manuscripts in existence, and to let each of those manuscripts illuminate the Middle Ages and sometimes the modern world too. Meetings with Remarkable Manuscripts invites the reader to accompany the author on exclusive private visits to a dozen very varied collections, in different parts of the world, to discover twelve great manuscripts and to explore their historical and intellectual significance.
Genre
History of art, European history: medieval period, middle ages, Christianity, European history, History of religion, Conservation, restoration & care of artworks, Forgery, falsification & theft of artworks
Listen to a sample
One of the cultural highlights of the autumn is an edge-of-the-seat tale inspired by Medieval Manuscripts. Christopher de Hamel has turned a lifelong obsession with ancient literature into a book that critics are comparing to A History of the World in 100 Objects and the wonderful The Hare with Amber Eyes.
Reading is my life, but only about once a decade do I find a book that seems to tilt the world, so afterwards it appears different.
Christopher de Hamel's exploration of medieval manuscripts - a dozen peaks from St Augustine to Chaucer and beyond, gorgeously and copiously illustrated - is itself an extraordinary book, a work of scholarship and history salted with the author's excitement as he conducts us among the great libraries of Western civilization. It is full of delights
Spectacular ... If I could walk you to your nearest bookshop, take £30 from your wallet, and place this wonderful book in your hands, I would
Great manuscripts are the reclusive stars of European cultural history; to be close to one is to enter a secret garden to which few have ever been granted access. With scholarly elegance, Christopher de Hamel opens the door and invites us to join him for the intellectual expedition of a lifetime. As he introduces us to twelve star manuscripts in their sanctuary homes, these complex creations emerge as major players in the great game of ideas and power. They are agents as well as creatures, with histories that embrace and explain our own. This is an endlessly fascinating and enjoyable book.
A book of marvels
De Hamel's book, scholarly but unfailingly readable, is the beginning of wisdom in all things scribal and scriptural
Christopher de Hamel's outstanding and original book pushes the boundaries of what it is and what it means to write history. By framing each manuscript of which he writes as the story of his own personal encounter with it, he leads the reader on many unforgettable journeys of discovery and learning. Deeply imaginative, beautifully written, and unfailingly humane, Meetings with Remarkable Manuscripts distils a lifelong love of these astonishing historical treasures, which the author brings so vividly to life. It is a masterpiece.
Truth, as this entrancing book proves, is wonderfully stranger than fiction. Christopher de Hamel's learned adventures amid some of the West's greatest manuscript treasures effortlessly outclass Eco's The Name of the Rose in elegance and excitement. They are also much funnier.