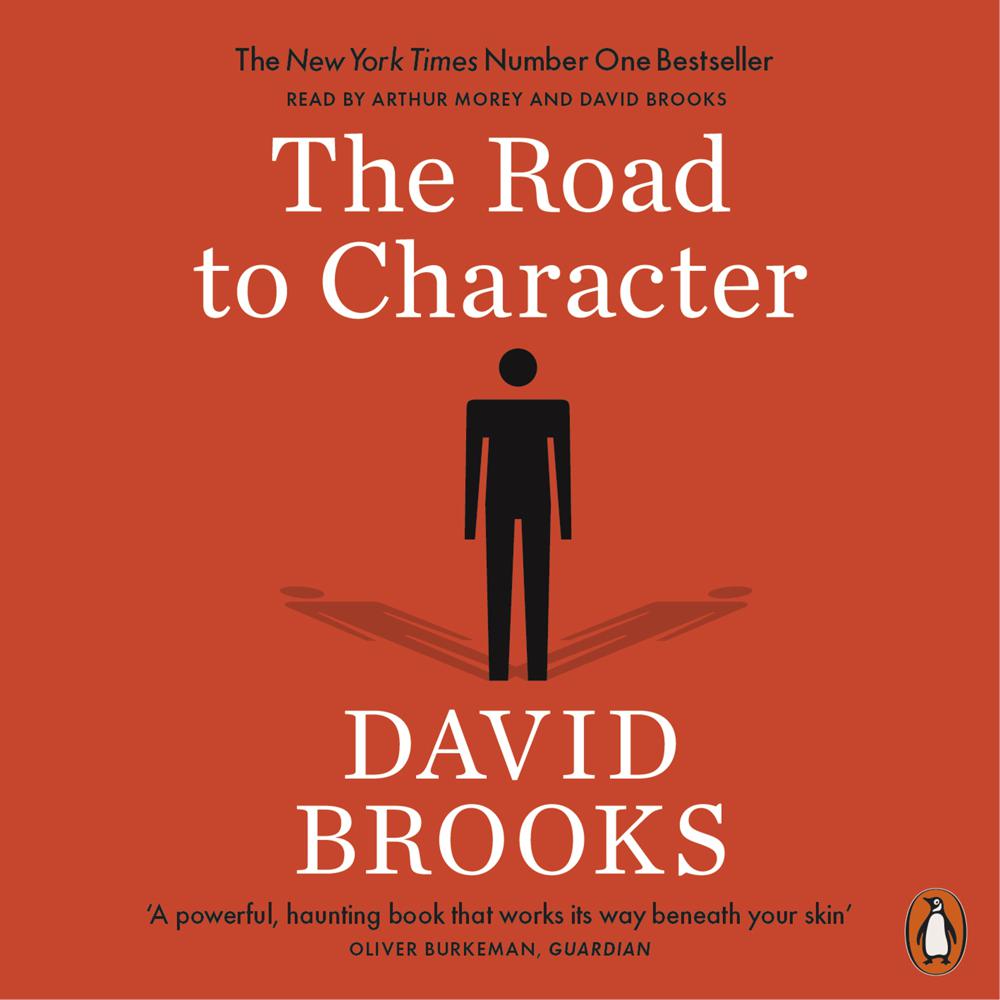 Narrated By: Arthur Morey, David Brooks
Duration: 12 hours and 17 minutes
What to expect
Penguin presents the unabridged downloadable, audiobook edition of The Road to Character by David Brooks, read by Arthur Morey and David Brooks.
#1 NEW YORK TIMES BESTSELLER

In The Road to Character David Brooks, best-selling author of The Social Animal and New York Times columnist, explains why selflessness leads to greater success

We all possess two natures. One focuses on external success: wealth, fame, status and a great career. The other aims for internal goodness, driven by a spiritual urge not only to do good but to be good - honest, loving and steadfast. The inner self doesn't seek happiness superficially defined; it seeks emotional commitments without counting the cost, and a deeper moral joy. Individuals and societies thrive when a general balance is struck between these two imperatives, but we live in a culture that encourages us to think about the external side of our natures rather than the inner self. We hanker for praise instead of following our hearts, and we self-promote rather than confront our weaknesses.
In this urgent and eye-opening book, David Brooks asks us to confront the meaning of true fulfilment. A famous columnist for The New York Times and best-selling author, Brooks found himself living in a shallow mode. For years, he remained focused on getting ahead and reaping the rewards for his efforts, placing his career before his character. Finding himself at a crossroads, Brooks sought out men and women who embodied the moral courage he longed to experience. Citing an array of history's greatest thinkers and leaders - from St. Augustine and George Eliot to Dwight Eisenhower and Samuel Johnson - he traces how they were able to face their weaknesses and transcend their flaws. Each one of them chose to embrace one simple but counterintuitive truth: in order to fulfil yourself, you must learn how to forget yourself.
An elegant interweaving of politics, spirituality and psychology, The Road to Character proves that it is how we want to be remembered - and not what we put on our CVs - that truly matters.
Genre
Popular psychology, Psychology: the self, ego, identity, personality
Listen to a sample
Engrossing treatise on personal morality in today's materialistic, proud world... Brooks's poignant and at times quite humorous commentary on the importance of humility and virtue makes for a vital, uplifting read
Everyone concerned about the good life should read this book
This profound and eloquent book is written with moral urgency and philosophical elegance
[Brooks] emerges as a countercultural leader. . . The literary achievement of The Road to Character is inseparable from the virtues of its author. As the reader, you not only want to know about Frances Perkins or Saint Augustine. You also want to know what Brooks makes of Frances Perkins or Saint Augustine. The voice of the book is calm, fair and humane. The highlight of the material is the quality of the author's moral and spiritual judgments
If you like thoughtful polemics, it is worth logging off Facebook to read it
David Brooks is the New York Times's in-house conservative. But he is no strident free marketer or Tea Party crazy; rather he is interested in moral, religious and philosophical questions, and this gives depth and complexity to his column. His latest book, The Road to Character (Allen Lane) - a series of mini-biographies of outstanding individuals from St Augustine to Samuel Johnson - explores how to cultivate the inner life and what it means to be good in an age when the "consumer marketplace encourages us to live by utilitarian calculus"
David Brooks's gift - as he might put it in his swift, engaging way - is for making obscure but potent social studies research accessible and even startling... [The Road to Character is] a hyper-readable, lucid, often richly detailed human story... In the age of the selfie, Brooks wishes to exhort us back to a semiclassical sense of self-restraint, self-erasure, and self-suspicion
Elegant and lucid... a pitch-perfect clarion call, issued not with preachy hubris but from a deep place of humility, for awakening to the greatest rewards of living...The Road to Character is an essential read in its entirety - Anne Lamott with a harder edge of moral philosophy, Seneca with a softer edge of spiritual sensitivity, E. F. Schumacher for perplexed moderns
For the Prime Minister's summer reading, I would recommend The Road to Character by the New York Times columnist David Brooks
A powerful, haunting book that works its way beneath your skin