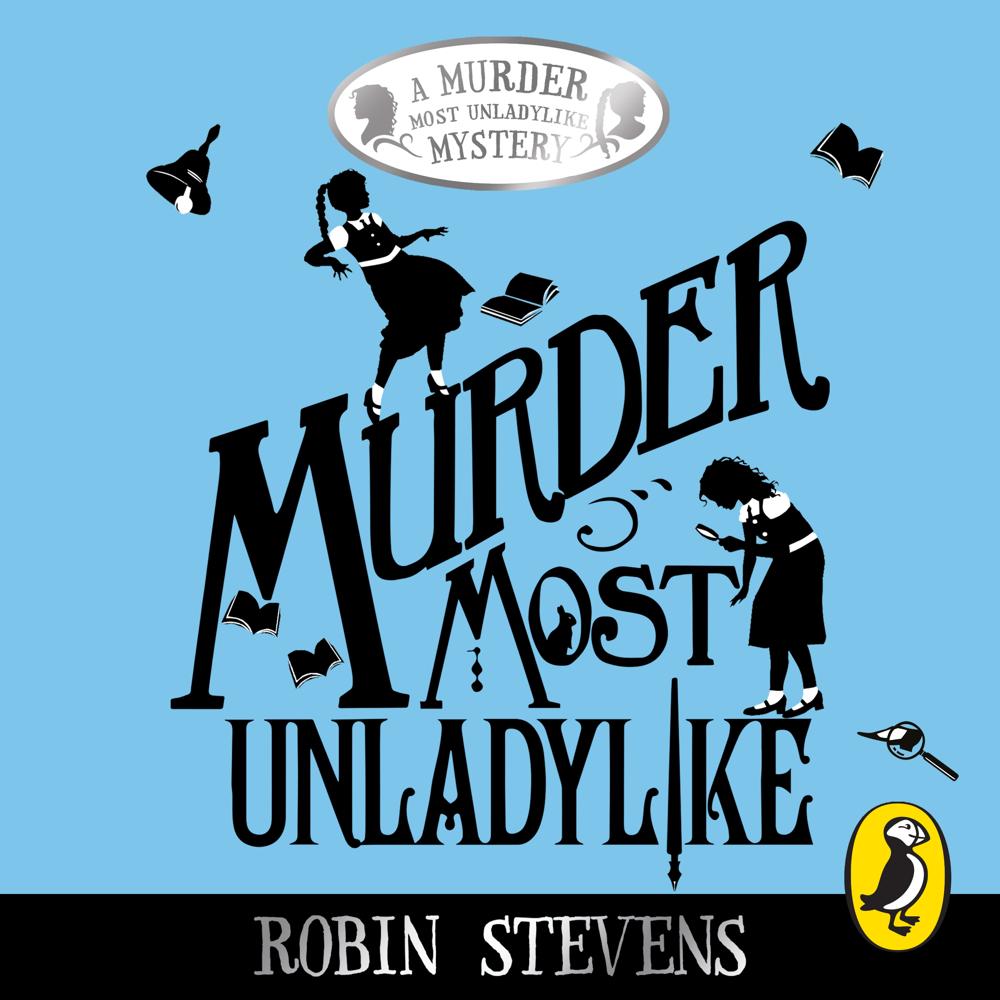 Narrated By: Gemma Chan
Duration: 5 hours and 48 minutes
What to expect
Penguin presents, the unabridged, downloadable, audiobook edition of Murder Most Unladylike by Robin Stevens, read by Gemma Chan.

When Daisy Wells and Hazel Wong set up their very own secret detective agency at Deepdean School for Girls, they struggle to find any truly exciting mysteries to investigate. (Unless you count the case of Lavinia's missing tie. Which they don't.)

Then Hazel discovers the Science Mistress, Miss Bell, lying dead in the Gym. She assumes it was a terrible accident - but when she and Daisy return five minutes later, the body has disappeared. Now Hazel and Daisy not only have a murder to solve: they have to prove one happened in the first place.

Determined to get to the bottom of the crime before the killer strikes again (and before the police can get there first, naturally), Hazel and Daisy must hunt for evidence, spy on their suspects and use all the cunning and intuition they can muster. But will they succeed? And can their friendship stand the test?

'Ripping good fun' The Times

'A skilful blend of golden era crime novel and boarding school romp . . . The novel works both as an affectionate satire and an effective murder mystery, and Stevens can go places Enid Blyton never dreamt of . . . Top class' Financial Times

'Plotting is what sets this book apart; this is about who was where at the time of the murder, and it's about finding the chink in the alibi' Telegraph
Genre
Children's / Teenage fiction: Crime & mystery fiction, Children's / Teenage fiction: School stories, Children's / Teenage fiction: Historical fiction, Children's / Teenage personal & social topics: friends & friendship issues, Crime & mystery: private investigator / amateur detectives, Children's / Teenage fiction: Action & adventure stories
Listen to a sample
I got so caught up in their relationship and friendship . . . Really exciting and engaging
Enormous fun
This book had a strong first chapter which kept me glued to the book, wanting to read on. I liked the build-up of tension and lots of strong describing words which help get the feeling of the story. I loved the plan of the school, teacher list and character list in the front of the book. The rumours in the book of 'who did it' make you really intrigued as to who it was that was involved. The two main characters, Daisy and Hazel, have very different personalities yet are the best of friends. They have a headstart on the police in trying to solve the murder mystery. I tried to guess who the murderer was . . . but didn't get it right! Until the book revealed a twist in the tale. It's the best book I have read in a long time and I can't wait for another adventure. I would definitely recommend you to read this book!
The reader is kept enthralled
I envy any young reader discovering this enchanting new series and writer. It's such a clever idea to marry the Malory Towers girls' boarding school novel with the Golden Age of detective fiction, and doing it through the eyes of Hong Kong Chinese heroine Hazel Wong is an especially good touch . . . A real treat
Ripping good fun
Irresistible . . . It feels both delightfully old-fashioned and current - a difficult balance to pull off, but it's been done with style here. Imagine Agatha Christie visiting Malory Towers and add in some modern sensibilities and you are about there. The plot twists and turns like nobody's business and I didn't guess the real culprit for a very long time, but the real draw is the relationship between the two main characters. Daisy and Hazel are like chalk and cheese but they are perfect foils for one another and together, they make a brilliant detective duo
I really enjoyed this book. It was very different to anything I'd read before. I love the time it is set in - the 1930s, and the references to Sherlock Holmes were really interesting! It reminded me of Cluedo, one of my favourite games. I liked all the twists and turns in the plot and the characters were really believable and intriguing. I'm looking forward to the next book in the series!
It's far too easy to describe this story of murder and sleuthing in a 1930s girls' boarding school as 'Agatha Christie meets Enid Blyton'; yes, author Robin Stevens is clearly inspired by those writers, amongst others - but there's a glorious alchemy at work here in the way she blends her influences, creating something that is simultaneously recognisable and totally original. The slightly claustrophobic atmosphere of Deepdean School for Girls is conveyed with authenticity; the tensions between her two young detectives are explored with intelligent sympathy . . . The stereotypes are subtly challenged and twisted in the most affectionate and accomplished way. All in all, this is an immensely satisfying work; neatly planned, stylishly presented, and superbly readable
I really liked how Hazel Wong and Daisy Wells solved the mysteries together even though they didn't always get along, and I liked how the mysteries unravelled . . . I think lovers of adventure and mystery will enjoy this book greatly
A skilful blend of golden era crime novel and boarding school romp . . . The novel works both as an affectionate satire and an effective murder mystery, and Stevens can go places Enid Blyton never dreamt of . . . Top class
I absolutely loved it - it's charming and witty and there's so much in terms of in-jokes and she really grabs hold of all the traditions of this type of story and runs with them. You've got bunbreak, squashed fly biscuits and dormitories . . . but at the same time as this thrilling murder mystery
An addictive debut, full of wit, panache and iced-bun breaks
A glorious romp through the dormitories and daily quirks of life in a 1930s girls' school . . . Hazel's endearing voice is the key to this wonderful story's success . . . Delighting in its traditional setting, this neat little story will charm fans of all generations with its sharp and surprising crime, loveable lingo and memorable characters. The first Wells & Wong Mystery is a real gem that deserves spending several bun-breaks over
Friendship, boarding school and a murder worthy of Agatha Christie
Angela Brazil meets Agatha Christie all mixed up with some Sherlockian tips and winks that made me snuggle down and read with a contented smile. It is a jacket potato on a winter's day book; warm, satisfying, filling . . . This is such a glorious book and it is one which has reinterpreted the school story for the contemporary reader and opened it up with a swift moving and accessible plot line. In Star Trek terms, it is the next generation as compared to the original series. It is very, very gorgeous. Daisy is glorious. Hazel is awesome. I want more, please. It's as simple as that
This first book in the Wells & Wong Mystery series is part murder mystery, part diary, and a pitch-perfect snapshot of adolescent friendship. Daisy is the classic mean girl: privileged, selfish, and as beautiful as she is heartless - all qualities that Hazel lacks. (Narrator Hazel isn't even the heroine of her own story!) The girls are in over their heads, but Daisy, used to bending everyone to her whims, refuses to admit it, so it's up to pragmatic Hazel to save the case, and their lives. Their yin-yang friendship, like the camaraderie of Sherlock and Watson, is as integral to the story as the revelation of the murderer. A sharp-witted debut for Stevens, one that will leave readers eagerly awaiting subsequent instalments
Plotting is what sets this book apart; this is about who was where at the time of the murder, and it's about finding the chink in the alibi