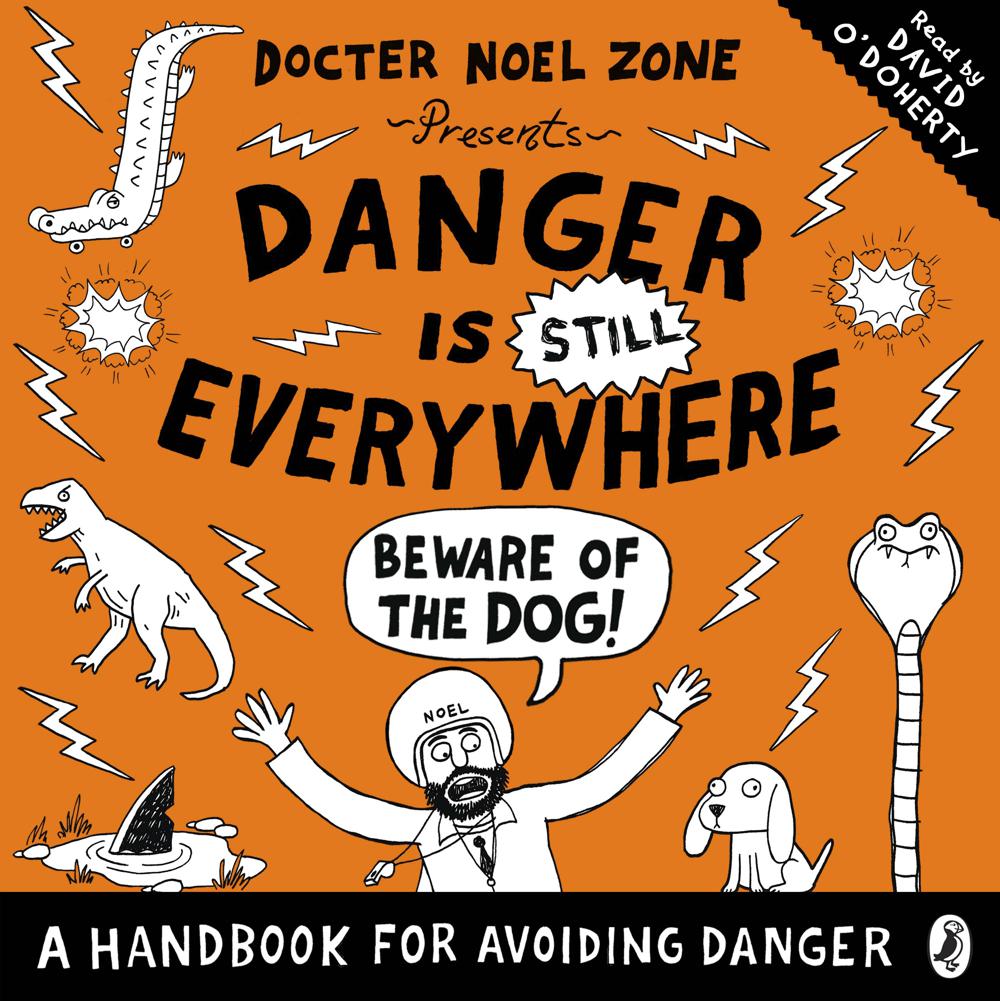 Narrated By: David O'Doherty
Duration: 2 hours and 13 minutes
What to expect
Penguin presents the unabridged, downloadable, audiobook edition of Danger is STILL Everywhere: Beware the Dog, written and read by David O'Doherty.
Will Docter Noel Zone's second book tell you how to combat a CROCUUM*? YES
And reveal the secrets of the world's greatest (and only) Dangerologist? THAT TOO.
Has he written it yet? NO
Is it because he's hiding in a wardrobe? MAYBE

Docter Noel is facing his most terrifying situation EVER - a little dog called Napkin has come to stay. That may not sound particularly dangerous, but every POD (Pupil of Dangerology) knows the only safe pet is a pet rock. So now Docter Noel is stuck in a wardrobe while Napkin wreaks havoc around the Dangerzone. And all the while Docter Noel is supposed to be writing his new VERY IMPORTANT handbook on Dangerology (Level 2).

That is until the Pet of the Year competition is announced and Docter Noel hatches a plan to impress his neighbor Gretel. There's only one problem. Serial safety-flouter Max WURST is the judge. . .

For Docter Noel, it's never been clearer that DANGER IS STILL EVERYWHERE
*A crocodile that looks like a vacuum cleaner that lives under the stairs.
Genre
Children's / Teenage fiction: Humorous stories
Listen to a sample
This book is very good for boys as it contains scary and rude things. . . !
Wicked illustrations that will help you tackle silly dangers. Made me laugh out loud and I know my friends at school will love it!
Brilliantly silly
I dislocated my jaw laughing
Imagine the Mighty Boosh crashed into the Wimpy Kid
A star turn that will amuse smart seven-year-olds, 17-year-olds, and, in our experience, 47-year olds . . . well-paced and funny throughout
Laugh-out-loud
I loved it because it is full of hilarious pictures . . . such as TEPOC - the Emergency Page Of Calm. Make a copy of this page and show it to your Mum when she is getting stressed!
Awesome jokes that made me laugh out loud ... one of the funniest books I have read.
228/10 - That's an understatement.
Loved it! Really enjoyed it - favourite chapter was the danger pets
A surreal, daft and funny book . . . A bracing satirical sideswipe at today's health-and-safety culture, aimed at kids who'll get the irony and relish the silliness.
Brilliantly funny