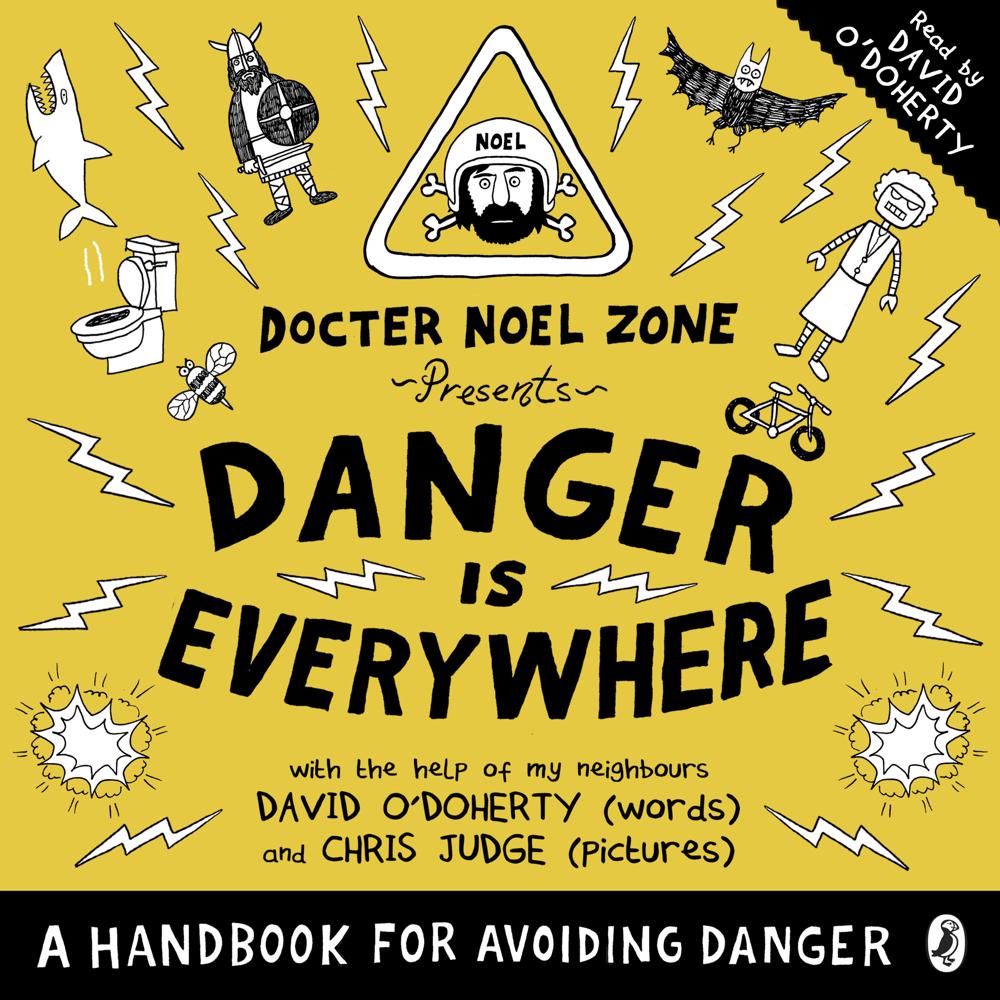 Narrated By: David O'Doherty
Duration: 2 hours and 32 minutes
What to expect
Taken from the tape recordings of the enigmatic and ultra-cautious dangerologist Docter Noel Zone, DANGER IS EVERYWHERE is a brilliantly funny audiobook for avoiding danger of all kinds that will have you laughing out loud (very safely) from start to finish.
DOES IT WARN YOU ABOUT WHAT TO DO IF A SHARK COMES UP OUT OF THE LOO WHILE YOU ARE SITTING ON IT?
Yes it does.
AND WHAT TO DO IF A VOLCANO ERUPTS UNDERNEATH YOUR HOUSE?
After you've made sure it's not a neighbour's barbecue, this audiobook will let you know exactly how to deal with it.
DOES IT INCLUDE AMAZING SOUND EFFECTS AND MUSIC COMPOSED BY DOCTER NOEL ZONE HIMSELF?
Yes it does. But make sure you keep the volume safely down.
'I dislocated my jaw laughing' Eoin Colfer, author of Artemis Fowl
Produced by Docter Noel Zone, the world's greatest (and only) Dangerologist, with the help of his neighbours:
David O'Doherty (words) is a stand-up comedian, writer and regular guest on television shows such as QI, Have I Got News For You and Would I Lie To You? He has written two theatre shows for children, including one where he fixed their bicycles live on stage.
www.DangerIsEverywhere.co.uk
'A brilliantly silly survival guide' Sunday Express
'A Joyful riposte to over-cautious parents . . . well-paced and funny throughout.' Time Out London
'A surreal, daft and funny book . . . A bracing satirical sideswipe at today's health-and-safety culture, aimed at kids who'll get the irony and relish the silliness.' Financial Times
'Brilliantly funny' Gransnet
'A brilliantly mapcap guide' ni4Kids.com
'Laugh-out-loud' TheSchoolRun.com
Genre
Children's / Teenage fiction: Humorous stories
Listen to a sample
228/10 - That's an understatement.
Loved it! Really enjoyed it - favourite chapter was the danger pets
Wicked illustrations that will help you tackle silly dangers. Made me laugh out loud and I know my friends at school will love it!
This book is very good for boys as it contains scary and rude things. . . !
Brilliantly silly
I dislocated my jaw laughing
Imagine the Mighty Boosh crashed into the Wimpy Kid
A star turn that will amuse smart seven-year-olds, 17-year-olds, and, in our experience, 47-year olds . . . well-paced and funny throughout
Awesome jokes that made me laugh out loud ... one of the funniest books I have read.
I loved it because it is full of hilarious pictures . . . such as TEPOC - the Emergency Page Of Calm. Make a copy of this page and show it to your Mum when she is getting stressed!